In this edition of Columbus Blue Jackets unzipped, we ask what most fans have in their heads. Is it time to panic about the state of the Blue Jackets?
After completing a third period comeback Tuesday night in Dallas, the Blue Jackets traveled to Denver in the hopes of starting a winning streak.
Instead they left Colorado colder than the Rockies. The Avalanche pitched a 2-0 shutout over the Blue Jackets on Thursday. Despite playing better as the game went on, the Blue Jackets couldn't solve Jonathan Bernier.
As has been the case most of the year, special teams (or lack thereof) decided this game. Mikko Rantanen scored a power-play goal in the second. The Blue Jackets let power-play chances slip away. The Avalanche added an empty netter and that's all she wrote.
Had the Blue Jackets scored on one of their three power plays, we have a tie game and the outcome could have been different. But here we are again wondering what in the world is wrong with this power play.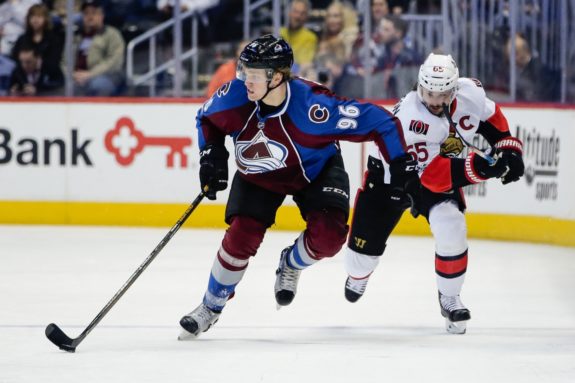 What Gives on the Power Play?
The Blue Jackets came into Thursday's game dead last in the NHL in power-play efficiency. They're dead last at home and on the road. This trend goes back to the middle of last season. This means the power play struggles have gone on for a whole season's worth of games.
Coach John Tortorella is on record as saying he won't answer any questions about the power play. This is a sign that even he doesn't have any answers to share at this point.
It's one thing to struggle at all states such as 5-on-5 and the power play. But yet, the Blue Jackets are one of the best 5-on-5 teams in the league. That's what makes this situation even more bizarre. A team with Zach Werenski and Seth Jones running the points and Artemi Panarin with more room to skate can't find their way.
So what are the reasons for this? In watching game tape from different points of their last 82 games, teams DO NOT fear the Blue Jackets at all.
Watch how opposing penalty kills attack the Blue Jackets. They're ultra aggressive. They force the Jackets into quicker passes and mostly on the outside. When shots do get into the blue, there hasn't been much in the way of bodies in front. Teams easily clear their zone.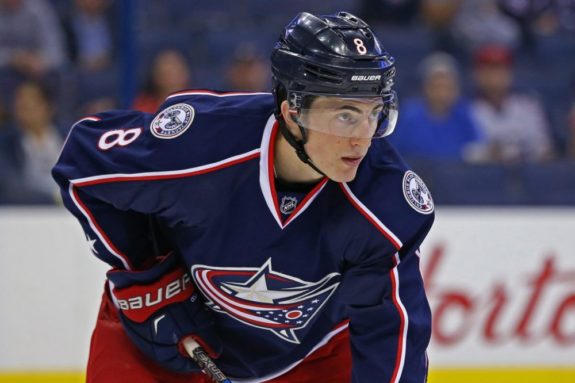 Wait, There's More
The Blue Jackets also have trouble maintaining long zone time. They can get in and make a few passes. But many times, the puck is cleared 3-4 times in a span of a minute. They can't seem to get into a flow.
This isn't bad luck. This is a trend that they haven't found an answer for. They've switched units. They've played 4 forwards and one defenseman. They've tried three forwards and two defensemen. The results have been the same. This is a historically bad power-play situation.
In fairness, missing Alexander Wennberg and Cam Atkinson hurt the power play. The problem is that even when they were in the lineup, they struggled. When you have that much talent and are this bad, this is a philosophy issue.
Whether or not there's been discussion about Brad Larsen I do not know. But given these results of being last at home and on the road, it reflects poorly on Larsen. The team hasn't made him available for comment. If this keeps up, the team needs to consider a change. This is 100% unacceptable for a team with playoff aspirations.
Watch this situation closely. To this point, Larsen still runs the power play. Let's see how the team continues to handle this situation. Changes should have happened a long time ago. They've stood pat in the hopes that players will turn it around. They could. But given we have a whole season of ineptitude, I'm not sure there's a fix this season. You don't fix historically bad overnight.
Bottom line is this. The players must figure it out before it's too late. If there is good news, they have half a season to do it. With this talent, they could find it and go on a run. Let's see who takes ownership of this and does something about it. To this point, no one has. That's disappointing. The team needs to address this and answer questions. Dodging this does nobody any good.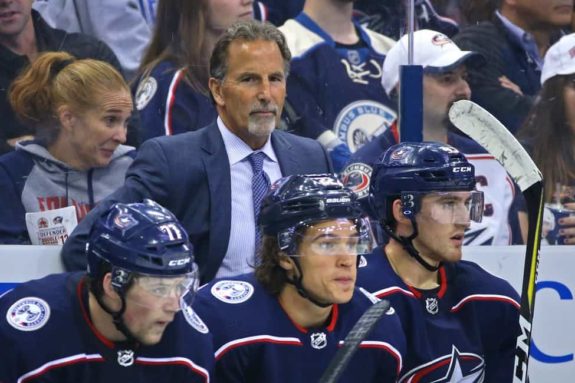 Struggling Veterans
With all the injuries, Nick Foligno had an opportunity to step up and give the team a much-needed boost. Instead, he's been invisible at the worst possible moment.
Jack Johnson enjoyed a great season last year. Thus far in 2017-18, he hasn't carried that momentum in his game.
Boone Jenner was at least noticeable Thursday in Denver. But for much of the season, he's played to a level much less than what he's capable of.
With injuries to key guys, this is their team in the near term. If the Blue Jackets want to start winning, these three in particular must play better.
Foligno looks like someone playing with the weight of the world on his shoulders. As captain, the pressure is on him to try to keep things together. But with his game struggling, you have to wonder how much mental this is.
I keep wondering if Jenner's back is limiting him in any way. No one has said anything about it. He is hitting and creating some chances of late, but is not finishing. Wonder if the upcoming bye-week and All-Star break will jump-start him.
These players must have a better second half. If they don't, we might have to consider the panic button. But is it time to panic yet?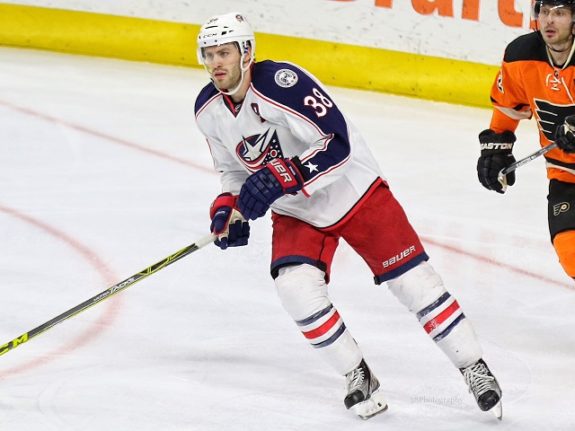 It's Not Time to Panic, Yet
The key word is yet. The first goal is to make the playoffs. Thus far, the Blue Jackets are third in the Metro despite their issues. Only three teams in the East, Tampa Bay, Toronto and Washington, have more wins than Columbus as of this writing. They do have players eventually coming back by February.
That said, it's not wrong to consider panicking. With games in hand considered, the Blue Jackets are closer to being out of the playoffs than you might think.
If the Rangers and Carolina each win their two games in hand, they overtake the Blue Jackets in points. That would put the Blue Jackets fifth in the Metro and in the second wildcard. The Islanders, Penguins and Flyers with games in hand considered are all within six points. If they continue consistent losing, last in the division is not out of the question. The fact this is even a point is amazing.
https://twitter.com/CBJtradecentral/status/949140518977486851
Where do we go from here? The Blue Jackets have four games in six nights starting Sunday against Florida. Then they go to Toronto. Then they play the Sabres and Canucks. This sounds easy, but with many regulars still out, one can never assume.
If for some reason they lose three or all four of these games, then feel free to press the panic button. The Metro is too good to endure losing streaks. The Blue Jackets at a minimum must win two of these games.
For now, let's see if the Blue Jackets respond to this challenge. There is no need to panic, yet. But depending on the results, the narrative will look different. Three or four wins will calm the nerves. Three or four losses will set off alarms.
The Blue Jackets need a wake up call. Who will provide that for them? It's time the players look at themselves and find a way through this challenge. It starts at the top with the veterans. They need them now more than ever.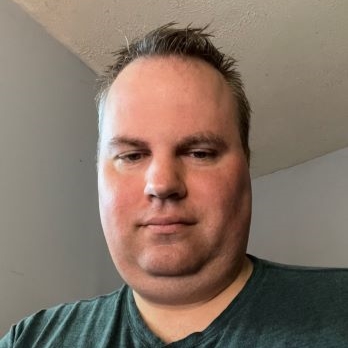 I am a fully credentialed writer who covers the Columbus Blue Jackets, Cleveland Monsters and Erie Otters as well as the Ontario Hockey League and NHL Draft. The 2022-23 season will mark nine seasons with the Hockey Writers. I am also the site's Credentials Manager. Please take note of the updated Twitter handle: @mark_scheig.