Today marks the eight-year anniversary of the suicide of Vancouver Canucks' enforcer Rick Rypien. This may be one of the hardest articles I've ever had to write because Rypien's death hit very close to home for me.
You see, I, like Rick Rypien, suffer from depression.
My Story of Anxiety
I have had problems with anxiety and depression for nearly three years now. It was in the winter of 2010 when I first started having problems. I was feeling really down about myself, couldn't eat or sleep, and just holed myself up in my bedroom.
I have had the thoughts of suicide race through my head in my darkest moments. It's a feeling I wouldn't wish on my worst enemy. You feel paranoid and sad all the time. I would just cry and cry at times and I didn't really know why.
I had trouble breathing as it just felt like there was a huge weight on my chest as if I were drowning. The truth is I was drowning in a sense, I was drowning in a sea of despair and darkness. That is when my mother decided, nay forced me, to go to the hospital to seek help. I spoke with some doctors and they gave me some pills, but that was just a temporary solution.
I am now able to control my anxiety and depression issues a bit better. I still have moments where I feel down about myself, but they are less and less.
My problems first started in 2010 and by 2011, I was still trying to get myself better when I heard this news that really, really hit home.
Rick Rypien – His Story
Rick Rypien was a tough player on the ice for the Canucks. He was wasn't afraid to go after anyone on the ice and garnered the reputation of an enforcer racking up penalty minutes. Although Rypien stood at under six feet, he would often fight players much heavier and taller than he was. He was a guy that gave his body and heart to the game and his team, a player that any team would love to have.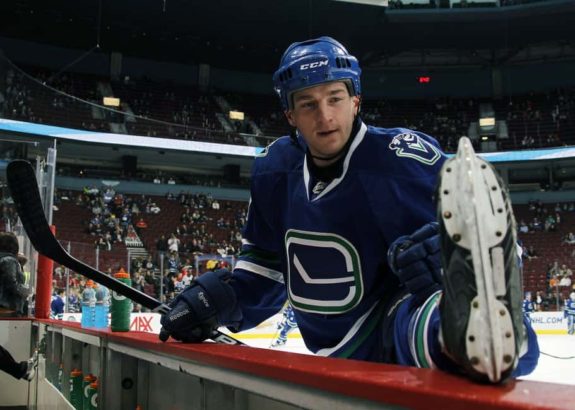 Off the ice was a different story. A completely different story.
Throughout his NHL career, Rypien struggled with clinical depression. The Canucks organization was aware with Rypien's struggles during the 2008 training camp and worked with Rypien on getting treatment. Rypien's friend, Manitoba Moose general manager Craig Heisinger, had said that Rypien had been suffering from depression for more than ten years.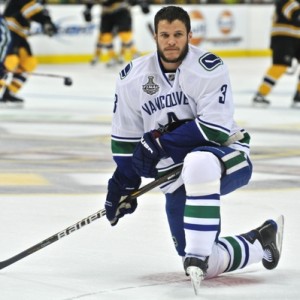 Rypien confided in his close friend and Canucks teammate Kevin Bieksa as the first person he told about his depression. When Rypien disappeared during a leave of absence during the 2008-2009 season, it was Bieksa that found Rypien and took him back to Vancouver to live with his family.
Bieksa and his wife, Katie, did all they could to help Rypien. Bieksa said,
"My wife stayed up to five in the morning talking to him every night. We did what we could. . . just tried to get him through this. He loved hockey, loved coming to the rink. I remember him saying he just missed sitting in the dressing room and listening to guys chirping Hordy (ex-Canuck Darcy Hordichuk). Things like that. Those were the things he enjoyed, the camaraderie. He didn't like to be alone."
Rick Rypien became a free agent in 2011 and he left the Canucks to sign with the reboot Winnipeg Jets in July of that year. Maybe it was what Rypien needed a fresh start in a new city or maybe it was the opposite. On August 15, 2011, just over a month after signing with the Jets, Rick Rypien was found dead inside his Alberta home. He was 27.
Among his circle of friends, family, and support group, it was a sudden death. They said things were looking up for Rypien and he seemed to be doing better. His agent, Allain Roy, said,
"We texted on Saturday morning, and he was supposed to be on his way to Winnipeg the next day. Everything seemed positive. He was excited to get the season going, excited to get to Winnipeg and get settled in. If there were some issues, he was doing a good job of hiding them."
It wasn't long before fans started making a memorial outside of the Rogers Arena as they mourned their fallen Canuck. The Vancouver Canucks and the Winnipeg Jets held tributes for Rypien at the start of the 2011-2012 NHL season.
Rick Rypien's Legacy
Although Rypien's death was a tragedy, his death helped spearhead Mindcheck.ca, a website designed to help young people with mental illnesses. Rypien's close friend, Kevin Bieksa, soon lent his help to the website's 'One Voice' campaign.
If Rick Rypien's death taught us anything, it's that depression can happen to anyone. It doesn't matter if you are a big, tough hockey player or some hockey writer from New England. No one is exempt.
Further research into CTE and its effects on mental health is ongoing.
* originally written in Aug. 2013