With the Vegas Expansion Draft under two months away, The Columbus Blue Jackets, like other 29 NHL franchises, are hard at work to finalize their list of protected players.
First, a quick refresher on expansion rules. In short, teams can expose either 7 forwards, 3 defensemen, and 1 goalie, or 8 skaters (regardless of forward/defense) and 1 goalie. Further, 1st and 2nd year professional players are automatically exempt and do not need protected. Lastly, if a player has a full No-Movement Clause (NMC), they must be one of the 7-3-1 (or 8-1) protected. Vegas will pick one player and one player only from each team. Some teams (Anaheim and Nashville come to mind) will have a hard time shielding Vegas from all of their defensive talent, and may choose to protect the fewer players to ensure the blueline stays intact. Still, most teams will pick the 7-3-1 route as it simply allows the team to protect more assets.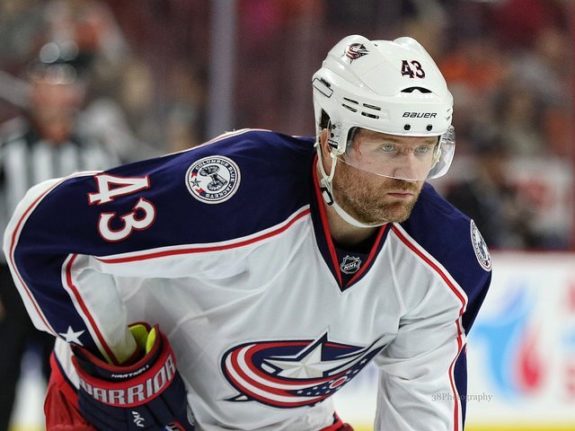 Here's what we can logically assume at this point: the Blue Jackets will almost certainly choose the 7-3-1 route, and even so, will wish they could protect more players. They will undoubtedly protect Hart/Vezina Trophy nominee Sergei Bobrovsky, but he has a NMC anyways, so it's a moot point. The same can be said for Seth Jones. With the season David Savard just posted, coupled with the fact that he's the team's top right-shot defenseman, it's safe to assume he'll be protected. That leaves a healthy debate (coming soon) for which defenseman should be protected between the oft-injured Ryan Murray and Jack Johnson, who may have played the best hockey of his career this past season. But that's an argument for another day.
No-Movement Clauses Create Forward Logjam
For now, the real anxiety comes in the forward group. As of this writing, Columbus has four forwards with NMC's: Brandon Dubinsky, Nick Foligno, Scott Hartnell, and David Clarkson. However, we recently learned that Clarkson will not be asked to waive his NMC but will be granted exemption from the expansion draft by the NHL.
The NHL sent a memo to teams today declaring a list of players exempt from the expansion draft as agreed upon w/NHLPA. Full list: pic.twitter.com/xanQ1PS0QX

— Craig Custance (@CraigCustance) May 2, 2017
Let's assume that management has not asked Dubinsky, Foligno, or Hartnell to waive their NMC's. That means that they can protect any combination of four other forwards. If I were to hazard a guess, I'd say that Brandon Saad, Alexander Wennberg, and Cam Atkinson are three of them. That leaves, amongst others, Boone Jenner, Josh Anderson, William Karlsson, Lukas Sedlak, and Matt Calvert fighting for that last spot.
Here's where it gets touchy. Management could go to Hartnell and ask him to waive his NMC (perhaps, privately, they already have). The pitch would go like this: "Scotty, do us a solid so that we can keep the band together. You're 35 and have two more seasons at $4.75M a year. There's not a chance that Vegas picks you. Please, help us." Exposing the veteran would enable the Jackets to protect Jenner and Anderson, which cannot be overstated. Similar to the aforementioned Murray/Johnson debate, I think there's an argument one could make in protecting Anderson over Jenner.
Hartnell is the Wild Card
Then again, Hartnell would be well within his rights to tell the Jackets brass to get lost. His status in the league afforded him a NMC in his contract for situations just like this. Why should he have to be risk playing for an expansion team at 35? Per Tom Reed of the Columbus Dispatch, Hartnell "loves Columbus, owns a home here and is getting married this summer." Reed even went as far as to call Hartnell the "wild card" in this expansion draft for Columbus.
Much has been made of how individual teams will work with Vegas to 'steer' them away from certain players, essentially bribing them with side-deals. I cannot reasonably see a scenario in which Josh Anderson or Boone Jenner could be ignored. Both are young (22 and 23, respectively), under RFA contract's, and are quality NHL players. Protecting Scott Hartnell will almost certainly spell the end of either Jenner's/Anderson's tenure in the union blue.
If Hartnell is unwilling to waive his NMC, the Blue Jackets should buy out his contract. Per capfriendly.com, buying him out would incur an annual cost of $1,250,000 to Columbus for four seasons, which is pretty negligible in the grand scheme of things. At this point in his career, he's not viewed as a top six forward, a player looked upon to have a role on special teams, or a player who's on the ice up/down a goal late in the 3rd period. The simple fact that the player with a knack for playing his best hockey against a team like the Pittsburgh Penguins was a healthy scratch in the only playoff game that the Blue Jackets won doesn't help his case, either. Frankly, even if he does waive his NMC, it wouldn't shock me if he's bought out, if not this off-season then next.
For the Good of the Team
The elder statesman in the Blue Jackets locker room took on an unfamiliar and diminished role with the team this season. Still, he is a player that, even in an advanced age, can produce offensively. He scored 13 goals and added 24 assists for 37 points in a season in which he averaged the least average ice time/game since his rookie season, as an 18 year old for the Nashville Predators. For comparison's sake, his TOI has dwindled every year he's been a Blue Jacket, from 17:18 per game in 2014-15 (28 goals), to 15:35 in 15-16 (23), to 12:04 this past season.
It's clear that he's seen by Head Coach John Tortorella as a player with less to offer. Even so, he does have something of a penchant for being able to play well with young players. In his time in Columbus, he's played with rookies Wennberg, Marko Dano, Oliver Bjorkstrand, each time over-exceeding expectations. On a still-young team, that has unquantifiable value. I think he is still a guy the Blue Jackets would like to have in their hip pocket, so long as it's the right circumstances.
Scott Hartnell is unquestionably a beloved character in Columbus. Here's hoping he doesn't force the hand of team management into unceremoniously ending his tenure as a Columbus Blue Jacket.