Even if it's not official yet, Andrei Mironov already announced to have dissolved his KHL contract to sign an entry-level deal with the Colorado Avalanche. The NHL franchise drafted him in the fourth round of the 2015 NHL Draft. In this translated interview, originally appearing on the popular Russian website sovsport.ru, Mironov talked about his new venture, some of his future teammates in the NHL and the upcoming IIHF WC.
* You can enjoy the original sovsport.ru interview by Pavel Lysenkov here.*
A New Challenge for Mironov
Pavel Lysenkov: Have I understood right, you're not going to the Olympics?
Andrei Mironov: It's really like that. That's life.
PL: No one from the KHL tried to convince you not to move overseas this season?
AM: No, no one. It's just my decision.
Report: Avalanche bringing D-man Andrei Mironov over from Russia https://t.co/iBMu5gcqyJ pic.twitter.com/ciYLslOLGK

— NBC Sports (@NBCSports) May 1, 2017
PL: Did you watch tapes of the Avalanche games?
AM: I even stayed up on nights when the games were live.
PL: The Avalanche have a good roster on paper. But they ended the season in last place.
AM: It was a hard season. It happens. This means that next year it will be much better.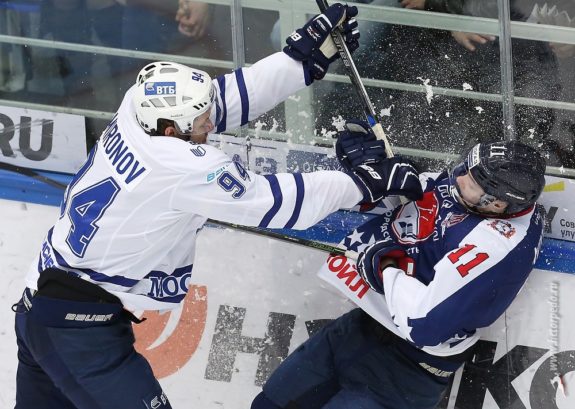 Moving to North America
PL: Do you think in such a team it will be easier to adapt for a rookie?
AM: You need to get there anyway and fight to show what you're worth. To show that you deserve a place in the lineup. To get to a new level. It's hard to tell whether a team is good or bad. Who knows what's going to happen next year? Maybe all of a sudden Colorado will win the Gagarin Cup. Oh, yes. I'm so used to say "Gagarin Cup." Of course, the Stanley Cup (Laughs).
PL: You still had one year on your contract with Dynamo Moscow. How did the talk with [Dynamo general manager] Andrei Safronov go?
AM: Yes, I need to thank him a lot. I am very thankful to him. But what we told each other during our meeting – those are personal stuff. But as a result, we decided to resolve the contract with mutual consent (NOTE: this is the standard way to settle things friendly in Russia/KHL. This way his rights in the KHL will remain with Dynamo Moscow.)
PL: Will you attend the rookie camp?
AM: Of course. As soon as the season is over (NOTE: Andrei Mironov will take part in the IIHF World Championship with Team Russia until the end of May). I will fly to Colorado. I never visited America, nor Denver. I need to visit the city, to get settled. Most likely I'll be there the whole summer. That way I won't get directly from the airplane to the rookie camp. Doing everything in one day would not be correct.
PL: Do you know the Avalanche starting goalie Semyon Varlamov?
AM: No, I do not. I only know Mikhail Grigorenko and Nikita Zadorov. I heard many things about Fedor Tyutin, but I don't know him in person. I'm sure that I'll be friends with every player.
PL: Do you have anything that worries you before your departure? It's a new, unknown league.
AM: If I wasn't worried of course it would be even worse. You should feel it before every game. It's more exciting that way, and winds you up even more.
PL: Are you sure of yourself?
AM: If not, then why should I move to the NHL at all? I need to go and show what I'm worth.
PL: The Colorado Avalanche play at a very high elevation. Will it be harder to breathe? Maybe you will have to change your summer practice?
AM: Maybe then it will be easier for us to play away games.Frankly speaking, giving you a reply to this question is not easy. I never had such an experience. Yes, we played in Switzerland on the mountains [with the national team]. But if an athlete is well-fit, then he can adapt to whatever condition. The only thing is that you get acquainted quickly with the good things, and slowly with the bad ones.
PL: Do you ski? It's popular there.
AM: No, I never tried. I'm not really into skiing or snowboarding. It can be dangerous for potential injuries. You never want [to get injured].
PL: Do you have a clause in your contract that doesn't allow you to ski?
AM: No, I don't think so. I'm not sure. But I doubt these things can be prohibited. But of course should you get injured not during a game, or during practices, you're in trouble. In big troubles.
Andrei Mironov and the IIHF WC
PL: Let's talk about the IIHF WC now. What do you think, what can Team Russia achieve? Did you follow other teams' rosters?
AM: Yes, of course. Not all teams, though. Our task is not to judge our team. We need to win every game and get back home with the gold medal.
PL: Are you waiting for the game against Team Canada? Do you want to play at their level?
AM: No, we have other tasks. We want to win the World Championship. And how the tournament will turn out, if we'll have to play against Canada or Sweden, what's the difference? We simply have to win.