Today, we are going to look at the top 2017 NHL Draft prospects from some of the lesser-known leagues. The focus here is on the United States Hockey League.
Every June, the NHL Draft goes to just a few leagues to stockpile the majority of its draft picks. However, it seems there's another powerhouse prospect league coming into play over the past several years. The United States Hockey League (USHL) is the top junior league in the U.S.A. It hosts 17 teams consisting of players 20 years old and younger. It has become a stepping stone towards the NCAA, and lately, a league to be drafted out of as well.
In 2016, there were 28 players drafted from the USHL, 16 of which were not from the USNTDP, and in 2015, we saw 30 players selected, 19 from teams other than the USNTDP. Those numbers should remain fairly consistent for 2017.
The following is a list of the top 7 2017 NHL Draft prospects from across the USHL, excluding USNTDP players.
1: Casey Mittelstadt – C/LW – Green Bay Gamblers
Ranked 3rd by NHL Central Scouting; 5th by ISS
Although Casey Mittelstadt left the USHL at the beginning of the year to pursue one last high school championship, he would later return to the league, finishing with 13 goals and 30 points over 24 games. Mittelstadt is an elite package of skating, skill, and sense. He is able to change speeds on the fly to keep defenders on their heels, and has hypnotizing hands that often embarrass the opposition.
Not only does Mittelstadt have the raw talent to be moulded into a star, but he also has the competitiveness and desire to win that makes for a coach's dream player. He is able to use his strengths to create time and space for himself, slowing the pace of the game down for himself. With a 6'1″ 201 pound frame, Mittelstadt has the size and strength to make the jump to the next level already.
Mittelstadt is a University of Minnesota commit, where he will play in 2017-18. He may only need one year of NCAA hockey before the lucky team to draft him signs him to a professional contract. Mittelstadt is an all-around force on the ice with the potential to be a dynamic point-producer at the NHL level.
2: Eeli Tolvanen – RW – Sioux City Musketeers
Ranked 8th by NHL CSS; 13th by ISS
Eeli Tolvanen came to North America from Finland as a 16-year-old and has since spent two seasons with Sioux City. His game revolves around a strong compete level and hockey sense, that when paired with his agility and release, make for an exciting goal-scoring prospect.
While it's Tolvanen's wicked shot that creates the majority of his offence, he is a tenacious player with a nose for the net as well. While offensively minded, Tolvanen remains a responsible two-way winger, who can create turnovers with an ability to read and adapt to developing plays on the rush. He finished the 2016-17 season with 30 goals and 54 points in 52 games.
Tolvanen also has plenty of international experience, representing Finland in several world junior tournaments, including the World Under-20 Junior Championship this past December, where he added two goals and six points during a disappointing ninth place finish for Finland. Tolvanen is committed to Boston College for the 2017-18 season, where he will be able to mature into a potentially elite goal-scoring prospect.
3: Shane Bowers – C – Waterloo Black Hawks
Ranked 16th by NHL CSS; 23rd by ISS
Shane Bowers decided to commit to Waterloo of the USHL as a 16-year-old, opting to leave behind Cape Breton of the QMJHL, who drafted him fourth overall in 2015. The decision hasn't held him back, as he remains a promising two-way center prospect for the upcoming draft. Bowers' talent doesn't stand out, but he is a reliable player who plays a strong north-south game and is strong on the face off dot.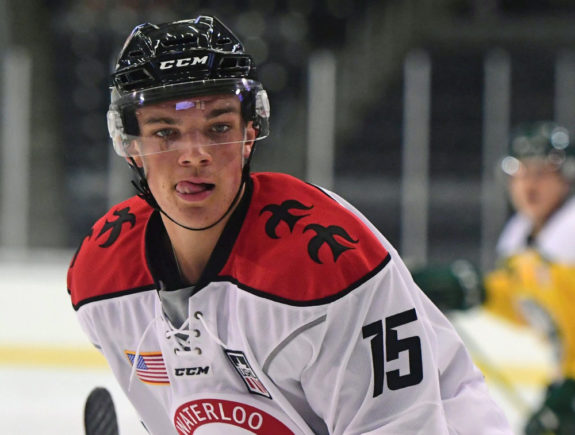 Bowers is a workhorse who drives hard to the net and gains strong position for screens, deflections, and rebounds. As a result, he compiled 22 goals and 51 points in 60 games this year. Despite those 22 goals, Bowers is often labeled as more of a playmaker, citing his excellent vision of the ice and offensive instincts to be one-step ahead of the play.
Bowers has gained invaluable international experience, representing Canada twice so far, most recently at the Ivan Hlinka Memorial Tournament. Bowers is committed to Boston University, where he will play his freshman year in 2017-18, continuing to develop an offensive edge to compliment an already admirable 200-foot game.
4: Keith Petruzzelli – G – Muskegon Lumberjacks
Ranked 2nd by NHL CSS; 78th by Future Considerations
Keith Petruzzelli came into the USHL this year and took the league by storm. As a rookie, he would go on to post a 2.40 GAA and a .918 SV% over 35 games, impressive enough to be ranked the second best draft eligible goaltender in North America. NHL Central Scouting's, Al Jensen, likened Petruzzelli's style to that of Matt Murray's, in that each goaltender aggressively uses their large frame to cut down on shooting angles, while maintaining impressive rebound control and lateral movements in the crease.
Petruzzelli has become known as a competitor who flourishes in the big moments, such as the USHL/NHL Top Prospects Game, where he stopped all 21 shots he faced to earn his team's MVP award. Muskegon general manager, John Vanbiesbrouck, admires Petruzzelli's mental game and his ability to be consistent day in and day out. Petruzzelli is committed to Quinnipiac University for 2017-18.
5: Michael Anderson – D – Waterloo Black Hawks
Ranked 51st by NHL CSS; 71st by Future Considerations
Mikey Anderson recently completed his second season as a member of the Black Hawks, where he more than doubled his offensive totals and continued to become a stronger, more physical defenceman. He has earned the trust of Waterloo head coach, P.K. O'Handley, as he was a key member of the back-end in all situations this year.
Anderson's game focuses on defence first, where he loves to force opponents to the wall and into the corners. He is a tenacious kid and boxes out his net-front very well. He has also found ways to contribute offensively as well, featuring a strong point shot which he regularly gets through screens and on net.
Anderson was lucky enough to participate in both the Ivan Hlinka U-18 tournament, as well as the World Jr. A Challenge for U.S.A. Hockey, where he continued to show his dominating presence in the defensive zone. Anderson has committed to the University of Minnesota-Duluth for the 2018-19 season, which means he will likely have another year of seasoning in the USHL next season.
6: Benjamin Mirageas – D – Chicago Steel
Ranked 63rd by NHL CSS
Ben Mirageas had a very strong showing during his first full season in the USHL this year, showing his ability to adapt to the next level almost seamlessly. Mirageas is a very strong, all-around defender whose game shines in the defensive zone, where he uses his 6'1″ frame to deny access to scoring areas.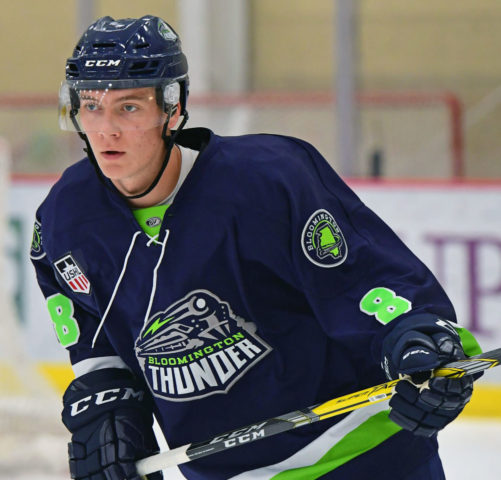 While Mirageas is by no means an offensive defender, he is a smart puck-mover who can quickly transition the play up ice to create opportunities. He is a smooth skater with a strong lower-body which he uses to drive opponents to the outside. He also has a responsible stick, breaking up plays and picking pockets while staying out of the penalty box.
Mirageas is a Providence College commit for 2018-19, meaning he will likely be back with the Steel for a second campaign. He will need to work on his stride and perfecting his physical game, which should both come with time and training.
7: Zach Solow – C – Dubuque Fighting Saints
Ranked 183rd by NHL CSS
Zach Solow had a breakout season of sorts with the Fighting Saints this year, his second season in the league. He would go on to lead the USHL in assists and points, with 51 and 69 respectively, in 56 games. Solow is a natural playmaker, who uses his tremendous vision of the ice to set up teammates, as well as an effortless skating style.
While Solow stands at 5'9″, 181 pounds, he doesn't get knocked around in board battles, using a strong lower-body to shield and protect the puck. Another very smart prospect who has suffered in many draft rankings due to his height, despite being a terrific skater with good edges and sense. Solow represented U.S.A. in the World Jr. A Challenge this year and had a strong showing, with two goals and two assists over four games.
Solow was also named the USHL Forward of the Year for 2016-17, beating out some of this year's top-end draft prospects. He is committed to Northeastern University, where he will play his freshman season in 2017-18.
Contributor for the Toronto Maple Leafs and Prospects. Scout with the Oakville Blades of the OJHL. For questions, concerns, or comments, contact me at devinslawson123@hotmail.com or on twitter @SlawsonTHW.