The 2017 OHL Finals are officially set to begin on Thursday, May 4th in a matchup between the Western Conference's #1 seed, Erie Otters, and the Eastern Conference's #2 seed, Mississauga Steelheads.
Each team has taken their own path to the Robertson Cup, with Mississauga arguably having the easier route through the East. This will mark the first time the Steelheads franchise has made the OHL Finals, while Mississauga as a city has reached the Finals twice; once with the IceDogs in 2003-04 and once with the St. Michaels Majors in 2010-11. However, neither team was able to bring the city a championship.
As for Erie, they have faced their share of adversity, defeating the reigning champion London Knights in seven games before knocking off a powerful Owen Sound Attack team in the Western Conference Finals. The Otters have one OHL Championship to their name, captured in 2001-02, with a team led by the 53-goal scorer, Cory Pecker, Brad Boyes and Carlo Colaiacovo.
Both cities are thirsty for a championship, and ultimately, a berth in the 2017 Memorial Cup.
Let's break down some head-to-head categories to get a sense of which team will come out victorious.
Road to the Robertson Cup
Erie Otters:
Regular Season Record: 50-15-2-1; 103 points; 319 GF, 182 GA
Postseason Record: 12-5; 78 GF, 47 GA
Season Series vs Mississauga: 4-0-0-0; 23 GF, 7 GA
Past Championships: 2001-02
First Round: Swept the #8 seed, Sarnia Sting, in four games, outscoring them 29-12.
Second Round: Defeated the reigning OHL & Memorial Cup Champion, #4 seed, London Knights, in seven games.
Third Round: Defeated the #3 seed, 102-point, Owen Sound Attack, in six games.
Scoring Leaders – 
Alex DeBrincat: 9 goals, 31 points in 17 games
Taylor Raddysh: 9 goals, 26 points in 17 games
Dylan Strome: 11 goals, 25 points in 17 games
Anthony Cirelli: 13 goals, 23 points in 17 games
Darren Raddysh: 8 goals, 19 points in 17 games
Goaltending –
Troy Timpano: 9-3-1, 2.85 GAA, .893 SV%
Joseph Murdaca: 3-0-1, 1.64 GAA, .938 SV%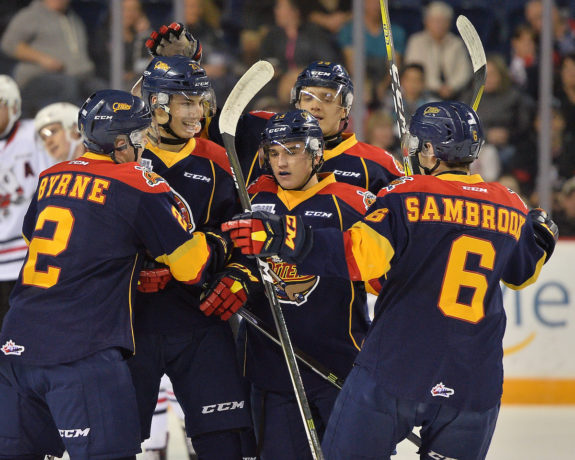 Mississauga Steelheads:
Regular Season Record: 34-21-6-7 – 81 points; 240 GF, 219 GA
Postseason Record: 12-3; 62 GF, 35 GA
Season Series vs Erie: 0-4-0-0; 7 GF, 23 GA
Past Championships: None
First Round: Defeated the #7 seed, Ottawa 67's, in six games, outscoring them 22-17.
Second Round: Defeated the 2015 OHL & Memorial Cup Champion, #3 seed, Oshawa Generals, in five games.
Third Round: Swept the #1 seed, Peterborough Petes, in four games, who were 8-0 entering the series.
Scoring Leaders – 
Michael McLeod: 9 goals, 25 points in 15 games
Spencer Watson: 14 goals, 22 points in 15 games
Ryan McLeod: 3 goals, 16 points in 15 games
Owen Tippett: 7 goals, 15 points in 15 games
Vili Saarijarvi: 5 goals, 14 points in 15 games
Goaltending –
Matthew Mancina: 8-1-0, 1.90 GAA, .924 SV%
Jacob Ingham: 4-2-0, 2.68 GAA, .876 SV%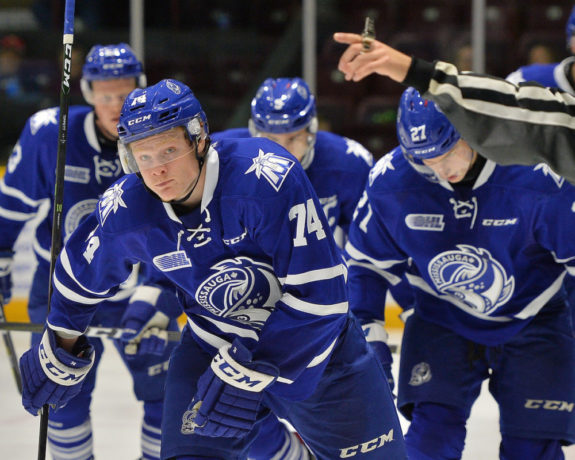 Offence:
Erie Otters –
It's no secret that the Otters have the most powerful offence in the OHL, led by 65-goal-scorer, Alex DeBrincat, and 109-point man, Taylor Raddysh. Don't forget Dylan Strome, who led the league with 2.14 points per game this year. Put those three together and you get the top three point-getters per game across the OHL. Enough said.
But, they have a deep offence as well. Going down the list, we see: the Memorial Cup champion, Anthony Cirelli; Kyle Maksimovich, an underrated playmaker who posted nearly 50 assists; Warren Foegele, an experienced veteran who plays an essential role on the Otters; Ivan Lodnia, a talented draft-eligible winger; and Kyle Petit, yet another experienced vet who plays his role to a tee.
In the end, Erie boasts eight 50-plus point forwards and seven 20-plus goal scorers, a true testament to the depth and durability of this squad.
Mississauga Steelheads –
Mississauga is no slouch on offense, either. Starting with the veteran of the force, Spencer Watson came in and turned the team around. After the Steelheads got off to a poor start, Watson returned from injury to right the ship, starting with the compete level of the team. A 2016 NHL first round pick, Michael McLeod, has only grown stronger as the year has gone on. Projected top-10 pick in the 2017 NHL Draft, Owen Tippett, has been lighting the lamp all year, leading the team with 44 goals and 75 points.
Much like Erie, the Steelheads have succeeded with tested depth. Nathan Bastian can be an exemplary playmaker when he's on his game. Ryan McLeod isn't draft eligible until 2018, but he has found his groove alongside brother, Michael, in the playoffs. Trade deadline acquisitions, Trent Fox and Jacob Cascagnette, have contributed scoring through three solid lines.
In relation to Erie, Mississauga had only three 50-plus point producers and three 20-plus goal scorers. Not a bad total, but certainly quivering in the shadow of the Otters.
Advantage – Erie Otters
Defence:
Erie Otters –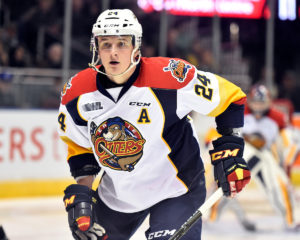 The Otters are led by 2016-17 OHL Defenceman of the Year, Darren Raddysh, who accumulated an insane 16 goals and 81 points in 62 games, leading all OHL defenders. Jordan Sambrook is yet another tough defender with some offensive upside; while second-round pick, Erik Cernak is as reliable as they come, using a huge frame to play a physical game. Not to mention the experienced TJ Fergus, a smart kid trusted by his coach in all situations, who rounds out a top-four that can each transition the game up ice and keep opposing forwards away from the front of their net.
Mississauga Steelheads –
The Steelheads feature a top-four that can shut down opposing pressure and chip in up front as well. A third-rounder in the 2015 NHL Draft, Vili Saarijarvi, has been a workhorse for Mississauga this year after returning from injury, playing at nearly a point-per-game pace. Jacob Moverare joined the team via the 2016 CHL Import Draft and has been heavily relied upon in a shutdown role. Nic Hague, who is projected to be a first-round pick in the upcoming NHL Draft, has grown leaps and bounds this year, with tremendous skating ability and an offensive edge. Rounding out the top-four is Stefan LeBlanc, a gritty veteran who plays every shift like it's his last.
Advantage – Erie Otters
Goaltending:
Erie Otters –
Troy Timpano was as solid as Erie needed him to be during the regular season, posting a .903 SV% through 44 games. However, he's been shaky at times during their playoff run, albeit facing some tough competition along the way. Backup, Joseph Murdaca, who started the year in Mississauga, has been lights out when called upon in the playoffs, but the crease still belongs to Timpano. With the way Mississauga's offence has been rolling, this could be Erie's Achille's heel.
Mississauga Steelheads –
Matthew Mancina had his share of ups and downs during the regular season, finishing the year with a .899 SV%, but he pulled the Steelheads through adversity after the team got off to a disappointing first few months. When Mancina went down to injury, his rookie backup, Jacob Ingham, took over the job with authority. Although Ingham took a bit of time to get accustomed to the next level, he improved each game over the course of the season. Ingham started the first series, with some adversity, but Mancina has manned the pipes since returning from injury and has been a brick wall for Mississauga.
Advantage – Mississauga Steelheads
Special Teams:
Erie Otters –
Erie's first power play unit has been on fire, scoring 13 of the team's 15 power play goals in the playoffs. That unit consists of D. Raddysh and Cirelli, who have combined for 10 power play goals, and DeBrincat, T. Raddysh, and Strome. The team's power play is operating at 26.3% through three rounds, only slightly lower than their regular season rate of 27.2%.
The Otters' penalty kill has been strong as well, killing off 80.4% of their penalties, impressive considering they have faced the regular season's 1st and 3rd ranked power plays, in Owen Sound and London, respectively. Erie's playoff rate is slightly lower than their regular season mark of 83.4%, which ranked fourth overall.
Mississauga Steelheads –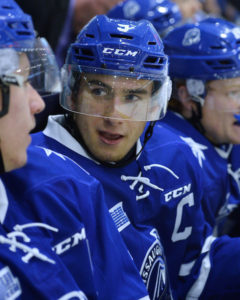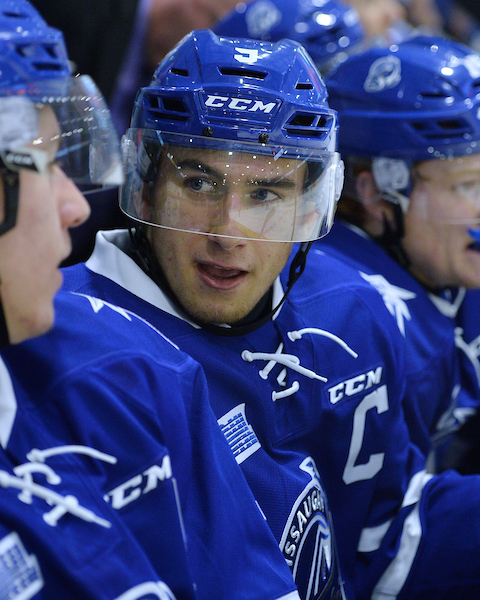 Mississauga's power play has been nearly as effective as Erie's, operating at 22.9% in the postseason, much better than their 19.7% mark of the regular season. Their top unit generally consists of Hague and Saarijarvi along the blue line, with M. McLeod centering R. McLeod and Watson. If the unit isn't working well, head coach, James Richmond, will swap out R. McLeod for his sniper, Tippett.
The Steelheads haven't been bad shorthanded during the postseason, either. They are killing 79.0% of their penalties, although they have faced far less powerful power play teams than the Otters have. During the regular season, Mississauga had the ninth-ranked penalty kill in the league, at 80.6%.
Advantage – Erie Otters
Series Prediction:
Let's face it, it's hard to bet against the Erie Otters. They were the top team in the regular season for a reason and have the experience and depth up front and on the blue line to be considered a heavy favourite over a younger Mississauga team. They have elite goal-scorers, battle tested blue-liners, and have oodles of postseason experience. This could be their year.
With that said, it's the playoffs and anything can happen. The Steelheads are a blazing hot team who are much better than their regular season record indicates. Despite a disappointing first few months, Mississauga found the chemistry and compete to roar back in the second half, and certainly deserve to have a place in the OHL Finals.
But, when it comes down to it, the Otters are a much better team in most major categories. The only concern in Erie is a hot goaltender staring them down, in Mancina, who has the ability to keep the Steelheads in games.
Erie Otters in 5
Feel differently? Feel free to post your 2017 Robertson Cup prediction in the comments section.