The last days of the year 2013 were especially rewarding for the players, club members and supporters of the hockey club Comarch Cracovia from the Polish city of Krakow. They were also a treat for thousands of hockey followers in Poland.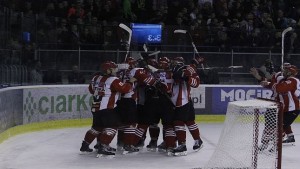 The final game of the Puchar Polski (Polish Cup) took place on December 29, 2013 in the town of Sanok in South-Eastern Poland. The final's participants were the local team Ciarko and the mentioned Comarch Cracovia. It was hard to predict the outcome of the game before the beginning and during the game itself. So tense is the rivalry of the two teams and so intense was the game itself. Cracovia could not score out Sanok for more than one goal during the regular time and the three periods ended in a draw – 3:3.
The winner had to be determined in the overtime. And it took the whole of it but 1.2 seconds to find out whether the Cup would stay in Sanok or go to Krakow. An incredible combination of Cracovia (enjoying one-man advantage) with the shot on goal by Petr Dvořak established that team as the winners. The decisive goal (http://sport.tvp.pl/13481448/ciarko-pbs-bank-comarch-cracovia-34-gol-w-ostatniej-sekundzie) and the whole match (http://sport.tvp.pl/13481614/puchar-polski-final-ciarko-pbs-bank-sanok-comarch-cracovia-mecz) can be watched on the Polish TVP Sport channel.
Petr Dvořak, the author of the winning goal, complemented the opponents after the match saying that the Sanok team was playing very well but that his team was blessed with some luck and Rafał Radziszewski in the home goal.
After the match the coach of Ciarko Sanok Tomasz Demkowicz said his team was unfairly penalized at the very end of the overtime and thus suffered an unfair loss in the final cup game. The result of the game is very unlikely to be appealed, though. Ciarko Sanok have placed a news item on the club's web-page informing its followers that this season the cup winners were their rivals from Krakow, for the first time in Comarch Cracovia's club history: http://khsanok.net/news/10-wiadomosci/99-puchar-nie-dla-nas-cracovia-zwycieza-w-ostatniej-chwili-galeria.