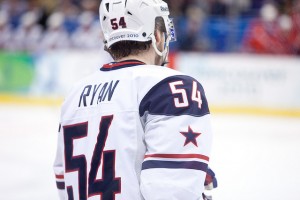 Team USA released their roster on January first for the upcoming Olympic games in Sochi. There were a few notable omissions, mainly Ottawa Senators winger Bobby Ryan. Ryan was part of the silver medal winning team from 2010. The men making the selections pretty much threw Ryan under the bus when citing their reasoning, which really added salt to the wound, and makes you wonder what would happen if there's a significant injury and a replacement is needed.
Bobby Ryan has long been considered one of the best snipers in the league, thanks to his ability to consistently put up numbers. Ryan has not failed to score 30 goals in each season he's played at least 60 games, which is significant in a league where pure goal scorers are at a premium.The general reason was that Ryan, a right winger, wouldn't be able to crack the top six, and his defensive game isn't strong enough to play a shut-down role. Patrick Kane and Phil Kessel are considered to be the top-two right wingers on the team, and with Ryan Callahan and T.J Oshie also making it, the fit wasn't right for Ryan. Does he deserve to be there? That's a topic for another article.
But a lot of parallels can be drawn between this situation and that of Team Canada, most notably a bubble player such as Taylor Hall. Hall's natural position is left wing, one he shares with Chris Kunitz, Patrick Sharp and Rick Nash, all of whom are suspected to be ahead of him on Canada's depth chart.
There has been an endless debate over whether or not Kunitz deserves to be on the team. He has put up staggering numbers with Sidney Crosby, and his inclusion would likely be based on the chemistry they have. Sharp is having a good year offensively, but his strong defensive game makes him a likely fit on the team. Then there's Nash, who has battled injury this season, but boasts a ton of international experience. His game lends itself well to the big ice in Europe. James Neal, who has 30 points in 22 games, will also be in consideration. Now the problem for Hall is not only the log jam of natural wingers, but also the fact that Canada has a glut of strong centermen, and some of them, like Steve Stamkos if he's healthy, John Tavares and possibly Claude Giroux will have to slide over to the wing. Not only is Hall fighting players in his own position, but others as well.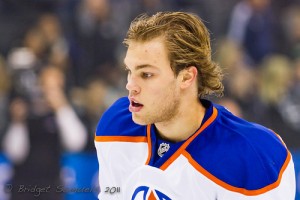 The case for Hall is as follows: he's fast, he's a strong skater, and he has the third most even strength points in the league. Hall has immense skill and plays with a bit of an edge. But will Hall find himself in a similar position to Bobby Ryan? The question has to be whether or not putting Taylor Hall in a bottom six role is for the benefit of the team. His defensive game isn't terrible, but it isn't great either. He can't play his normal role of waiting around for a break-out pass. If he makes team Canada he won't be logging his usual minutes and he might not see a lot of time on the powerplay.
The people in charge of Team Canada have to decide if Taylor Hall is versatile enough to play any role on that team. Can he thrive if he has to play his off wing? Would he be able to kill penalties? Is someone like Andrew Ladd a better fit for a third or forth line role?
Hall probably has a 50% chance of making the team at this point. It will come down to what the decision is made on Kunitz, and whether or not someone like Jamie Benn, who wasn't invited to camp, is in consideration. Just like with the American roster, there will be debate and criticism of the selections. But not everyone can make the team.
So what say you, does Taylor Hall deserve to play on Team Canada at the Olympics?