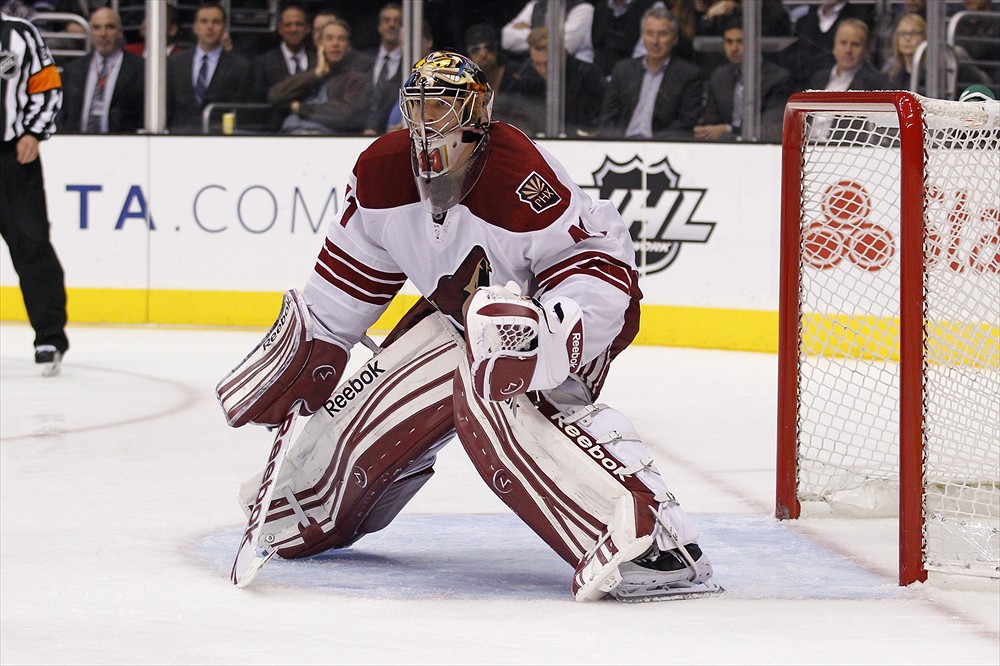 At this point, the odds are that your team is finished. Your favorite player is out golfing (or going on drunken adventures), and only four teams remain in the Stanley Cup Playoffs. Between the Coyotes, Kings, Devils, Rangers, it may be tough to find reason to cheer for one over another. Here are four players (one from each team), who may make it easier to throw your support behind one of the remaining few.
Mike Smith // Phoenix 
After putting together the best regular season of his career (.930/2.21) and setting new career highs in wins (38), shutouts (8), and minutes played (3,903), Mike Smith has been nothing short of spectacular for the Phoenix Coyotes in the 2012 postseason and has helped the Yotes fend off the Chicago Blackhawks and the Nashville Predators with little trouble. Thus far, his numbers are Conn Smythe worthy. His save percentage is an astronomical .946 and the netminder is only allowing 1.87 goals per game. As Phoenix's nominee for the Masterton Trophy , Smith's career as a starter looked to be over before signing with the Coyotes last July to be Ilya Bryzgalov's replacement. Now, the goalie is thought to have been snubbed by Vezina voters after what amounted to one of the league's greatest resurgences. With any luck, Smith will be able to add a bigger piece of hardware to his shelf this June.
Ilya Kovalchuk // New Jersey 
In a world of the so-called "enigmatic Russian" and where pundits are so quick to attack Russian players for seemingly hypocritical reasons, Kovalchuk has been a model hockey player this postseason, helping prove to many (coughDonCherrycough) that Russians can do more than think about themselves. Listen, people are quick to judge Russians in the NHL (sometimes for legitimate reasons), but Kovalchuk has matured in the last decade to the point where even Jeremy Roenick is showing him praise.
I've been all over him in terms of his team mentality. I've called him selfish. I've called him a lot of different things, but I've been impressed with his dedication to Pete DeBoer's system and how he's been playing to the system. You know what, he's scoring goals and he's one of the hottest guys in the League right now because of it.
Kovalchuk took his game to a new level against the Flyers in the second round, returning from an injury in Game 3 to score a goal and two assists. He's emerged as one of the leaders on the New Jersey squad, and a Stanley Cup would go a long way in trying to shut up the xenophobes.
Ryan Callahan // New York
Just because I want to see his grandmother be happy.
"Darn, if I could've, I would've gone down there and told them"
Just too cute, man.
I, for one, would like to see her on the ice (if the Rangers win) and in a Sakic-Bourque like moment, have Callahan immediately hand her the Cup to hoist and wheel around the ice.
Dustin Penner // Los Angeles 
Dustin Penner's career has sort of been a joke. But really, none of it is his fault. It's not his fault that Edmonton GM Kevin Lowe signed him to a ridiculous five-year 21.25 million dollar deal as a restricted free agent, sparking a feud between Lowe and then-Anaheim GM Brian Burke for years. It may be Penner's fault that his play took a huge drip following the deal, but it's not fair to blame him for being part of a 2009 trade to Ottawa which was subsequently blocked by Dany Heatley. And it's certainly not his fault that he was eventually sent to Los Angeles for a first(!) round draft pick at the 2011 trade deadline.
Also: Pancakes. 
But by all accounts, Dustin Penner is a funny guy. His twitter account will leave you laughing, and for guy who has been widely scrutinized his entire NHL career, it's nice to see that he's able to laugh at himself a bit.
And after another terrible season (7 goals, 10 assists in 65 games), Penner is putting together a nice postseason with 7 points in 10 games, including an OT winner against the Canucks in the first round.
Who knows if Penner will ever get back to the 30-goal scorer he once was. But if he wins a second Stanley Cup, it hardly matters.