Last week, I sat down on the couch and switched on the TV to catch up on a daily sports talk show, and just a few minutes in, the station cut away to a breaking news report. I fully expected some kind of press conference about a signing, or a big trade, or any other important news item. But the "breaking news" turned out to be Connor McDavid's first public skate on Edmonton ice. He was taking part in the organization's annual development camp, and fans turned out in thousands to see their future star.
The camera focused in on the players spilling onto the ice as the arena waited with bated breath for number 97 to emerge from the locker room. It took a while, but eventually McDavid, fresh off signing his entry-level contract, made his way on the ice to an eruption from the crowd. His first shot on goal, that missed the net, was met with a huge cheer. I chuckled to myself, but I also couldn't help but feel excited for these fans. The Oilers have been bad for so long, and not just missing the playoffs bad, but bottom of the league, embarrassing bad. They have become a running joke for futility, where it be in management or on the ice, and winning the right to draft McDavid was just what the doctor ordered.
The perception around this team has changed drastically in the past few weeks. They have a well-respected General Manager and Head Coach, and they're starting to shed the reputation that Edmonton isn't a destination for free agents. Drafting McDavid is so much more than just getting the player on the ice. His presence ushers in a new era for the Oilers, and I can't help but be happy for them. Was the coverage of his practice with the other prospects overblown? Maybe, but that isn't a bad thing, especially on a network that tends to put its focus on Eastern-based teams. Could you image the hoopla if the Maple Leafs had gotten McDavid?
As I watched McDavid skate around to the roar of the crowd, I glanced down at my coffee table and noticed a magazine cover from November of 2013. It asked the question if super-prospect Connor McDavid would be better than Sidney Crosby. That mantra has been following McDavid for a while, in a league begging for a superstar to make its next household name, with even Wayne Gretzky heaping praise on the youngster. Granted, all we've seen of this kid on NHL ice is against young prospects, many of whom won't actually play in the league, but his speed, his skating ability, his awareness with the puck is out of this world. There's a reason why McDavid is so highly touted. He's actually that good.
But we all know one thing to be true about the NHL: there is no such thing as a sure thing. The game has changed. It's much less likely now to see individual players dominate on a consistent basis. Alex Ovechkin is certainly one of the exceptions, and Crosby was a for a while, but overall, we just don't see one guy completely owning the league for years and years the way we used to. There are so many factors in play. How good is the team around him? What kind of linemates does he have? Has the organization built proper depth to support him? Can he stay healthy? Crosby has one Cup ring, and Ovechkin has none. A lot can change before those two retire, but winning a championship isn't a guarantee just because you employ a superstar.
I would venture to guess that most level-headed people out there aren't anointing the Oilers as a true contender just yet. They have a lot of ground to make up to even qualify for the postseason. But McDavid being in Edmonton brings a hope that hadn't previously been there. We can say all the right things, temper expectations and think logically, but I'd be hard pressed to find a fan who doesn't hope (expect?) there will be a Stanley Cup victory in the near future. It's only natural when you have a player of this caliber and this potential on your roster. But the pressure on this kid is the highest I've ever seen.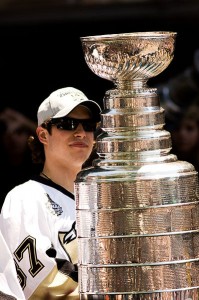 There wasn't the presence of Twitter when Sidney Crosby was drafted. He came into the league as a savior not only for the NHL, but for the city of Pittsburgh and it's franchise. He didn't disappoint in his rookie season, putting up 102 points on a really bad Penguins team. He followed that up with a 120 point sophomore campaign in 2007 and his first Hart Trophy. The Penguins also made it back to the playoffs for the first time since 2001. His third season, the team went to the Stanley Cup final and the next season they won it all. Talk about living up to early expectations.
The hype around Crosby was on another level, so much so that he went from being everyone's favorite player to everyone's hated player. And social media wasn't where it's at today early on in his career. So whatever Crosby faced when he came into the league, it's on an even more public scale now with McDavid. Connor is a humble kid. He's handling everything extremely well. He isn't making declarations or assumptions. He's been trained very well in media relations. But you have to wonder how it feels to carry that weight of expectations on your shoulders, having your every move and every shot on goal scrutinized for days.
It's exciting for the kid and it's exciting for the City. But we can never forget how difficult it is to find consistent success in this league. The Chicago Blackhawks are the exception and not the norm. Sidney Crosby hasn't sniffed a Cup final since winning it, and a combination of injures and poor team play has put his league domination on hold. It doesn't mean he won't be a Hall of Famer one day. He was the best player in a world for a while. But sports can be a cruel game. You get bad luck and tough breaks, no matter how talented you are. Connor McDavid hasn't played one second of NHL hockey. He looks every bit as good as advertised early on, but how that will translate into the actual games, well that remains to be seen.
I can't help but be excited to watch this kid play, because I believe he is a generational talent. But the pressure on him, regardless of how diplomatic people may be about it, is massive. I believe he's up for the challenge because he's been a point of focus for so many years. I hope we can give him a fair chance to grow and learn the NHL game. But if you thought the coverage on his first development camp was crazy, just wait. You haven't seen anything yet.