In order to earn the title of "best player in the world", it's going to take more than just one great season. That mantle is achieved through years of consistent domination. It requires accolades and achievement, both individually and with their team. But to be the best player in the league in any given season? That's a different story.
Crosby Still Has the Baton
Sidney Crosby has proven time and time again, no matter who rises up against him, that he's the best player in the world. He's overcome multiple injuries, and not just his own, but that of his high-profile teammates. In fact this season alone, he lost all of his line-mates at various times, he's had to play without his all-star defenceman Kris Letang for 37 games, and his running mate Evgeni Malkin for 16.
As much as some people love to crown Crosby as the best, others are just as eager to take that crown away. Fans of the Pittsburgh Penguins and Philadelphia Flyers may remember the 2012 playoffs, and a very memorable series between the two rivals. They also may remember this infamous tweet.
Again: I think a national TV audience saw Crosby pass baton to Giroux as NHL's best player. #NotAHomer #Flyers #Pens

— Sam Carchidi (@BroadStBull) April 23, 2012
Since that day, Sidney Crosby has won his second Stanley Cup, an Olympic Gold medal, a Hart Trophy, a World Cup MVP, a Conn Smythe and a Lester B. Pearson award. (Giroux has won, well, moving right along). This isn't to dump on Giroux, who is a very talented player. It's merely a reminder that one great season, one great series, does not a best player make.
The name of the game is consistency. Giroux's point totals have dipped every year, and he's on pace for one of his worst statistical seasons. He's only 29 years old, and he could certainly bounce back, but Giroux is a prime example of a player overachieving, and then not quite being able to live up to that standard.
We tend to circle back to Crosby as the best because even if he goes through a down stretch, he manages to pick it up and remind us who he is. This season, however, he hasn't been the best player in the NHL. That title goes to Edmonton Oilers captain Connor McDavid.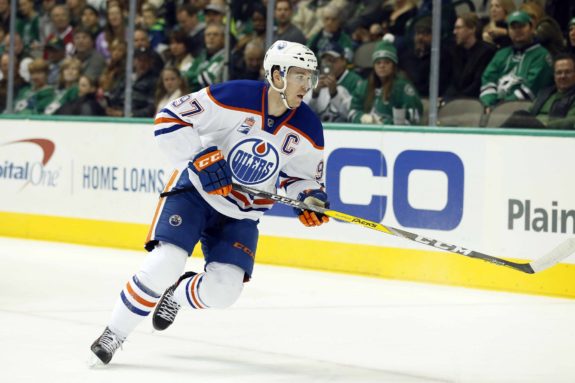 McDavid is a Step Ahead
Similar to what plagued Crosby early in his career, fans of 29 other teams are getting tired of hearing about McDavid. Especially this season, where there are plenty of other players having fantastic years. Auston Matthews is setting himself apart as an elite player in Toronto. Brad Marchand has asserted himself into the conversation for the Hart Trophy. Patrick Kane is making things interesting after a decorated year last season.
Connor McDavid is the first player to have the potential to be as good or better than Sid. I hope as Penguins fans we don't discount that.

— Evgeni Malkin's Ego (@EvgeniMaIkinEgo) April 2, 2017
But a quick glance at the scoring race, and you'll see that McDavid is leaving the rest of the field in the dust. He could hit 100 points, and if he does that, there's no question he deserves the Hart Trophy. But it's not simply the point totals. (McDavid has led the scoring race all season long). He has elevated his game at the most important time of the year. Making the playoffs isn't enough. He wants a division title too.
It's the drive for greatness that sets a player like McDavid apart. He looks dangerous every time he's on the ice. Opponents try to neutralize his speed, but at times it feels impossible to stop him. McDavid, like Crosby, makes everyone around him better. Patrick Maroon has a career-high 27 goals playing alongside him. Coincidence? Maroon's previous highest goal total? 11.
Though McDavid will likely end this season with quite a bit of hardware, he'll have to sustain it if he wants to be the best player in the world. Patrick Kane won everything last year. He may not take home anything this time around (except perhaps the Stanley Cup, but that's a story for another day). Kane was the best player in 2015-16. McDavid is the best player in 2016-17.
Only the Beginning
Unlike Giroux's short-lived reign at the top, McDavid is going to be the best player in the world for real. He's already well on his way. In fact, we may be witnessing one of the greatest players of this generation. He's only 20 years old, and hasn't even approached his peak. But with the game now predicated on speed, McDavid is the perfect candidate to dominate the league.
With just four games left in the season, it's very possible that McDavid will reach 100 points. If he does, it will be a noteworthy accomplishment. Last season, only Patrick Kane reached the century mark in points. The year before that, nobody did. Jamie Benn won the Art Ross with 87 points. The year before that, Sidney Crosby was the only player to top 100.
In other words, it's no longer commonplace for a player to break the 100-point plateau, which would make the feat all the more special. Either way, McDavid is on pace to win the league scoring title, putting him in very elite company. We don't know what the future holds. As for right now, McDavid is the best player in the NHL. Only time will tell if he's going to permanently take the baton from Crosby.