The seeds of the Toronto Maple Leafs' rebuild are swiftly sprouting into saplings, and at a much more rapid pace than any could have foreseen.
Firstly, there was Auston Matthews, Mitch Marner, and William Nylander. Drafted first, fourth, and eighth overall, respectively, this lethal trio exploded onto the NHL scene in 2016-17 and immediately shattered numerous rookie records. Further, these budding stars were essential to both the Leafs' shocking playoff run and ultimately the team's success at an incomprehensible level.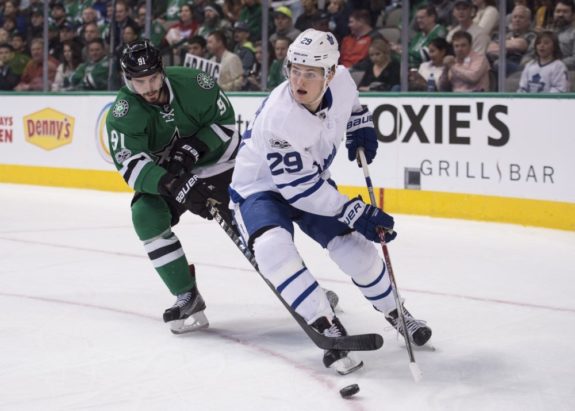 Pillars of Toronto's rebuild and undoubtedly key pieces of the Leafs' puzzle moving forward, the sudden success of this trio is, fortunately for Toronto, only the tip of the iceberg, as the franchise is fortunate to boast a number of promising prospects waiting in the wings. Of course, it goes without saying that virtually none of which are of the same ability or potential as those named above, however, a number undoubtedly retain the potential to develop into sound NHL contributors.
In particular, a considerable portion of those slated to provide major contributions to the Leafs' lineup in the near future currently find themselves marinating at the AHL level. Developing into both lethal and consistent threats at the professional level, these prospects of varying positions will, once ascended, provide incredible depth to the Leafs' roster and quite possibly push them into greater contention for a Stanley Cup championship.
.@SheldonKeefe on Leipsic & Kapanen shining, #Marlies defensive depth, veteran impact & more https://t.co/eipvzq4Be2 pic.twitter.com/fGSOCSBxOt

— Leafs Lunch (@LeafsLunch1050) November 25, 2016
So, exactly which Leafs prospects have been demolishing the AHL on a consistent basis in 2016-17 and are deserving of NHL playing time in the near future?
Well, the Leafs' next wave of capable young players won't extract the same level of excitement from Toronto fans as Matthews, Marner, and Nylander have, that is simply a fact. However, what they will do is provide the team with critical offensive depth, sound defending, and, at times, essential aid between the pipes.
One key aspect of the Leafs' next wave of young prospects is their positional versatility. With a great mix of forwards, defensemen, and even goaltenders developing at the AHL level, Toronto can rest assured that they possess highly skilled players who are capable of playing in virtually any circumstances.
Four High-Flying Forwards
Given their youth, none would have foreseen the Leafs as an elite offensive team in 2016-17. However, having shattered numerous rookie records along the way, Toronto ranks well inside the top-10 in the NHL in terms of goals for per game. Led by Matthews, Marner, and Nylander, the Leafs have quickly developed into a lethal team whose quick-strike offense has overpowered a number of the league's top teams – albeit on an inconsistent basis.
So, it can only come as a shock to learn that the Leafs have additional offensive threats developing at the AHL level, and a number of which who are not only eager but capable of leaving a lasting impression at the NHL level.
Brendan Leipsic
When the Leafs traded Cody Franson and Mike Santorelli to the Nashville Predators on Feb. 15, 2015, Toronto received Olli Jokinen, Brendan Leipsic and a first round pick in return. At the time, all knew of Jokinen's exploits and the value of such a high draft pick, but little was known about Leipsic – the Predators' 89th overall selection in the 2013 NHL Draft.
Trevor Moore finds Brendan Leipsic who scores on the breakaway, his 14th goal of the season pic.twitter.com/32Dtb2bxlq

— Future Of The Six (@FutureOfThe6) April 1, 2017
Of smaller stature, Leipsic's arrival kick-started the Leafs' emphasis on acquiring highly skilled players despite their size or physicality. However, following the arrival of Matthews, Marner, Nylander and others, Leipsic's popularity as a prospect has seemingly fallen by the wayside, with only a select few focused on his progression as a player. Yes, he skated in six games with the Leafs in 2015-16, but, after beginning the 2016-17 campaign with the Marlies, Leipsic has fallen somewhat off of the radar.
However, Leipsic's play has never wavered, and his most recent AHL season has been by far his most successful – so successful in fact that he is well deserving of a promotion to the NHL.
Operating at a point-per-game pace throughout his season, Leipsic has developed into a sound two-way player who is not only lethal offensively but dependable defensively. Playing on the Marlies' top line for the vast majority of the season, Leipsic's playmaking abilities and work ethic have made him a skater of incredible value to the Marlies and Leafs' organization as a whole. Although injuries have forced him to miss time in 2016-17, Leipsic has consistently proven his abilities as a professional, and now, is deserving of time at the NHL level.
Projected to develop into a hard-working top-9 forward at hockey's highest level, it would appear the only facet holding Leipsic back at this point is the lack of an opportunity.
Kasperi Kapanen
Arguably the most valuable asset acquired by the Leafs in the deal which sent Phil Kessel to the Pittsburgh Penguins, Kasperi Kapanen's development, unlike that of Leipsic, is one which has been watched closely. The 22nd overall choice in the 2014 NHL Draft, Kapanen's incredible speed, puck skills, and overall offensive abilities made him a highly valuable player within the Penguins' organization, and one not easy to part ways with.
A glimpse of what Kapanen can do #Leafs pic.twitter.com/jyB3k1i85f

— Laner (@ALaner10) March 29, 2017

So, when he arrived in Toronto, Kapanen had massive expectations placed upon him. However, in his first season with the Marlies in 2015-16, Kapanen netted just 25 points in 44 games played in addition to nine scoreless games with the Leafs. As such, Kapanen's 2016-17 campaign became one of vital importance to his future with Toronto's organization. Fortunately for both the Leafs and Kapanen, he has been tremendous this season and enjoyed an incredible amount of success.
Producing at a point-per-game pace for the duration of the Marlies' season, Kapanen, like Leipsic, has established himself as an offensive threat and one which can contribute on a nightly basis. Given his incredible success, Kapanen did, in fact, earn a call-up to the Leafs on Mar. 27th, providing him the opportunity to showcase his skills at the NHL level.
Projected to develop into a solid top-6 forward, Kapanen will likely see greater time at the AHL level despite the fact he is capable of playing at hockey's highest level. Regardless of this fact, Kapanen's development in 2016-17 must not be overlooked, as his individual progression has been both substantial and impressive.
Kerby Rychel
When Kerby Rychel graduated from the OHL to the professional ranks, many were expecting a quick and smooth transition. A pure goal scorer with size and grit, Rychel projected to quickly develop into a top-6 power forward with the Columbus Blue Jackets, who drafted him 19th overall in 2013.
Kerby Rychel uses his size to put away the goal, 9 points in his last 5 games pic.twitter.com/N5nX60SF6X

— Future Of The Six (@FutureOfThe6) March 19, 2017
However, things quickly went sour. Despite a successful campaign with the Springfield Falcons in 2014-15 which was followed by five strong games with the Blue Jackets, Rychel failed to stick with the team come the 2015-16 campaign, and, after being assigned to the AHL, he requested a trade a short time later. With plenty of league interest in his services, it came as no surprise when the Leafs acquired Rychel in exchange for Scott Harrington in June of 2015.
Eager to prove himself as a capable professional player, Rychel put his head down and went to work to begin the 2016-17 season with the Marlies. Despite a slow start, Rychel's game, and production have increased dramatically, and so much so that he led the team in points late into the Marlies' campaign.
In addition to his offensive capabilities, Rychel has also illustrated a willingness to stand up for his teammates as well as play a physical brand of hockey. Rychel's wide team lead in penalty minutes, with nearly 40 more than his closest teammate, is a clear indication of such.
Despite a somewhat stunted development due to off-ice issues, Rychel's play in 2016-17 has re-emphasized his immense value as an NHL prospect. Although the road to hockey's highest level may have become less direct than he would have liked, Rychel still remains a quality Leafs prospect and one who, given his recent play, could certainly see considerable NHL ice time in the near future.
Andreas Johnsson
The 2013 NHL Draft was a quiet event for the Leafs, who only held five choices and used their first pick to select Frederik Gauthier. Outside of drafting the lumbering center, Toronto also snatched goaltender Antoine Bibeau in the sixth-round as well as a little-known Swedish prospect by the name of Andreas Johnsson 202nd overall.
Marlies update: Andreas Johnsson is finding his stride in North America at just the right time. For @TheAthleticTO https://t.co/YDUAm4ouLj

— Joshua Kloke (@joshuakloke) February 15, 2017
As a result, many were quick to label Toronto's 2013 draft class as one of little promise, with no prospect a sure bet to make considerable contributions at the NHL level. In a way, they were right. While Gauthier and Bibeau have enjoyed limited time and success with the team to date, neither Fabrice Herzog or Carter Verhaeghe, the Leafs' two other selections in 2013, remain with the organization.
However, what about Johnsson?
Well, the former standout with Frolunda HC of the Swedish Hockey League has enjoyed incredible success in his first season in North America with the Marlies, and so much so in fact that he has played his way into consideration for NHL playing time in the immediate future.
An incredibly fast and agile skater with excellent puck skills and playmaking abilities, Johnsson is a crafty forward who can dish the puck as well as shoot it. Although he is a pass-first player, Johnsson possesses an underrated shot and one which has the capability to surprise netminders on a consistent basis. Further, Johnsson is a relentless and hard working forward who brings a high compete and energy level to the ice on a consistent basis – an aspect which head coach Mike Babcock covets.
Andreas Johnsson scores his second of the game and 20th of the year to put the Marlies up 4-1 with under two to go in the third pic.twitter.com/g9n1FdYNYF

— Jeff Veillette (@JeffVeillette) March 25, 2017

In his first AHL campaign, Johnsson has accumulated highly impressive offensive totals and has become a reliable producer for head coach Sheldon Keefe. Projected to develop into a quality top-9 forward with lethal offensive instincts, Johnsson's success in 2016-17 has been impressive. If Johnsson continues to develop his style of game and become a more consistent player in the process, the Leafs will undoubtedly have a steal and one which could be critical to Toronto's long-term success.
Not bad for a former seventh-round selection.
Blossoming Blue-Liner
The blue line is an area of concern for the Leafs, as the team ranks in the bottom-10 in goals against per game in 2016-17 and simply lacks the depth necessary to win a Stanley Cup championship. Fortunately, with Roman Polak and Matt Hunwick pending UFAs, Toronto will possess a wealth of room on their roster within which they can place one of their most promising young prospects.
Andrew Neilsen
Drafted by the Leafs following his first season in the WHL, Andrew Nielsen has quickly developed into an incredibly skilled two-way defenseman, and one of top-pairing potential at the NHL level.
Nabbed by Toronto 65th overall in the 2015 NHL Draft, Nielsen has great size at 6'3″, 210 pounds, as well as innate offensive instincts. In possession of a heavy shot and the potential to make crisp, accurate passes to his teammates, Nielsen is not only a shutdown defender, as he can also log considerable time on the power-play – an indication of his versatility.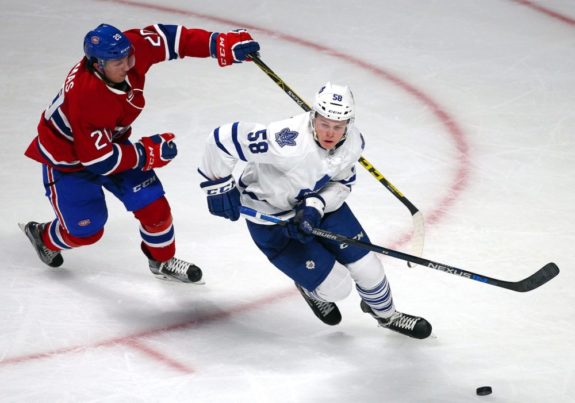 Given his skill set and rapid development in the WHL, Nielsen made the jump to the AHL in 2016-17 and has enjoyed a simply spectacular season. One of the league's top-five scoring rookie defensemen, Nielsen has also displayed a physical maturity despite his young age and has recorded a significant number of penalty minutes as well stepped up for his often older teammates when the situation demands.
Given his incredibly successful rookie season in the AHL and the fact that, despite their success, the Leafs remain a rebuilding team, it goes without saying that Nielsen deserves to begin the 2017-18 campaign with Toronto at the NHL level. As a young defender of immense potential, providing Nielsen with NHL ice time would only aid his development, and in turn, the play of the Leafs' team as a whole.
The Marlies tied the game up late, Kasperi Kapanen went beast mode and Andrew Nielsen put it in the back of the net pic.twitter.com/PiidzIPuEC

— Future Of The Six (@FutureOfThe6) March 3, 2017
What's more is that, unlike many young NHL defensemen, Nielsen is already of great size and strength, and as such will have little to no difficulty acclimating himself to the size and speed of hockey's highest level. Arguably the Leafs' top defense prospect who, as we have seen, shredded the AHL in his first professional season, promoting Nielsen is the only logical step for both Toronto and Nielsen, in their respective developments.
Proficient Between the Pipes
Frederik Andersen isn't going anywhere, as his play in his first season with the Leafs – not to mention the four years remaining on his contract – has cemented his presence as the team's starting goaltender. However, the backup situation, on the other hand, is much vaguer. After Jonas Enroth failed to pan out, Toronto brought in Curtis McElhinney, however, he too will be a UFA come the conclusion of the current campaign.
As such, it goes without saying that the Leafs will soon be in search of a long-term solution behind Andersen. Fortunately, the ideal candidate for the job already possesses experience, and, in 2016-17, has enjoyed an incredible amount of AHL success.
Garret Sparks
Garret Sparks burst onto the NHL scene in 2015-16 with a memorable shutout in his first career game. Following his first win, Sparks went on to play 17 games for the Leafs as the season reached its conclusion and compiled a 6-9-1 record in those games. Although his play wavered at times and specific weaknesses in his game were exposed by the league's lethal shooters, Sparks' first stint in the NHL was nonetheless a successful one.
Garret Sparks gets emotional after posting a shutout in his NHL debut. Not everyone plays for money. Congrats Sparks pic.twitter.com/oDJ9wHsYPI

— Goalie Ways (@GoalieWays) December 1, 2015
Despite this prosperity, Sparks was unable to secure the backup role to begin Toronto's 2016-17 season, as the Leafs brought in Enroth on a one-year deal, and, eventually, McElhinney to fill the void.
However, Sparks has enjoyed a highly successful campaign in 2016-17 regardless and has become the go-to netminder for the Marlies. Having set new career-highs in both wins and shutouts, Sparks has displayed his skills and puck-stopping abilities on a consistent basis, and, in doing so, has become the reliable backbone of yet another successful Marlies season.
Dominating the AHL and in possession of decent NHL experience, it goes without saying that Sparks is both ready and deserving of another look, if not greater playing time at the next level. Yes, Andersen will be the Leafs' starter for the considerable future, but when his contract comes to an end, Toronto will be in need of a capable netminder who can tend the crease for a highly skilled and contending team.
Garret Sparks with another shutout for the Marlies today. Up to a .925 save percentage.

— James Mirtle (@mirtle) February 18, 2017
Whether his next exposure to NHL talent comes this season or in 2017-18, it remains abundantly clear that Sparks deserves the opportunity to further develop his individual game.