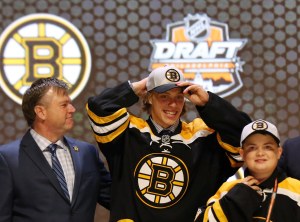 David Pastrnak doesn't play Bruins hockey and never will – at least, not in the way that you might think.
No, Pastrnak doesn't make the big hits and he probably won't be dropping the gloves anytime soon either, but that's not really important nor is it what the Bruins need. Instead, the Bruins have been getting energy by feeding off of Pastrnak's offensive outburst, speed, and general excitement to be in the NHL. Forget what you think Bruins hockey might be.
"It's always exciting to have one of those guys on your team that has that unbelievable speed and unbelievable hands," said Bruins coach Claude Julien after Tuesday's 4-3 win against the Tampa Bay Lightning."He's a young player and certainly he can bring a lot to the table. And maybe, who knows, as we move forward we may have nights where we don't see much of him, he may look tired, we don't know that. But on a game like tonight that's pretty exciting to watch a guy like that play, and not only play, but make a difference in our game."
Still, it's no coincidence that Pastrnak, Boston's 2014 first round pick, has been the team's most important player in the last two games, both wins where he scored two goals in each. Though in his most recent game on Tuesday, Pastrnak did more than just show up on the scoreboard.
The win, their fourth straight, felt different for a Bruins team that has underachieved for most of the year. The Bruins looked like a team that was playing desperate, strong hockey. They battled, they stuck up for one another, and they wanted it. They wanted it so bad that when Lightning forward J.T. Brown decided he wanted to try and fight noted goon David Krejci, Milan Lucic skated over to the scuffle from center ice faster than he has moved all season.
The elusive next gear had been hit for the Bruins on Tuesday. It wasn't really the added physicality or the extra punches threw after the whistle, but rather more emotion that the Bruins hadn't played with much this season. The Bruins hulked up not by a fight, but by what Pastrnak was bringing to their offense. Amazing how a team can be inspired by a goal scorer with the ability to turn a game around.
"He's come in at two really good games and you know we need that young speed and young legs," said Brad Marchand, who opened the scoring for the Bruins on Tuesday. "It brings a lot of emotion to us and gives us more energy, so when he's playing the way he did tonight, you know he's all over the place making plays and seeing a couple beautiful goals. He had a lot of really good other opportunities to get that third one so, if he plays like that every game then he will be a lot of fun to watch."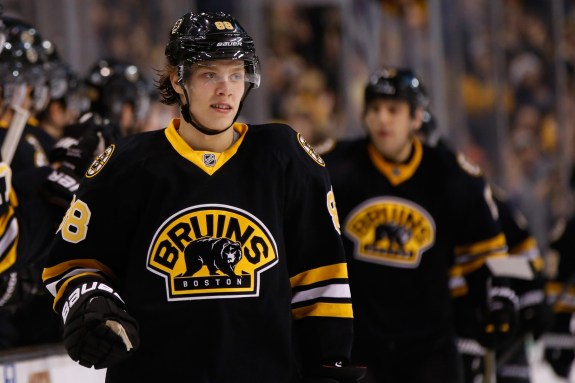 Still, expectations should be tempered. While the 18-year old Pastrnak has been playing well in his most recent stint with Boston, it has only been eight games. Pastrnak isn't going to score every game, nor will he be a factor. It's something that other Bruins, some of who have been in a position similar to Pastrnak, are well aware of.
"I think everyone can play a couple games; I think the hardest part is bringing it consistently when the schedule gets tougher and you start to get a little bit tired," said Dougie Hamilton, who is in his third year as a pro. "I think the adrenaline runs out and that's when it gets tough. So, I don't really see that with him right now. Obviously I think he's doing great and he's confident, has fun in the room and everything, and not really shy. So it's fun for me to have him here."
The common thread in most of what the Bruins' have said about Pastrnak is that he's lighthearted. He has fun. He's a nice guy. He wants to be in the NHL so badly that his enthusiasm could be contagious for a team that has looked downright mopey for most of the season. Maybe that's the jolt of energy the team needed to pick up steam and collect a few wins. Sure, Pastrnak is far from a savior for a Bruins team that is still on the playoff bubble. But man, he's going to make it fun.
"I think he's made unbelievable strides in a half year of being in Providence and coming up with us a little bit and going back," said Julien. "I think it was good for him to see certain things that he wanted to improve on, and he's such a smart player, he knows; he figures those things out pretty quickly. I think he's come back an even better player. His speed, his skill level, was never an issue, but he's becoming more reliable in other areas as well and he's not afraid to go in the corners. He doesn't have to lay hits he just has to be smart enough to come up with the puck and not afraid to go to the front of the net.
"I've seen a real big improvement in his game."
With two games left before a decision is made to keep Pastrnak in the NHL and burn the first year of his entry level contract, it's safe to say that performances like these will make it an easy choice. Julien said after the game that Pastrnak was making the case for himself. Yes, it has only been two games but Pastrnak's giving the team a shot in the arm and providing energy to get them playing Bruins hockey.
Of course if Pastrnak sticks, Bruins hockey will be more about winning games and scoring goals than knocking people down.
Follow Mike on Twitter for more Bruins updates, news, and commentary.