With more than half of the fantasy hockey season already played in most fantasy hockey settings, managers have undoubtedly been gearing up for the stretch-run over the last couple of weeks. Adjusting rosters in order to stave off the effects of injuries and inconsistencies, managers have definitely been tasked with configuring their lineups in order to have a chance at breaking into the playoff bubble.
While fantasy managers have had the arduous task of weeding through all of the studs and duds in their respective free agent pools, there have been several players that have seemingly not been touched by the majority of managers in Yahoo! leagues. Despite being under 25% owned, THW will take a look at some forwards that have made enough waves over the last few weeks in a number of fantasy circles. Whether they are sleepers, streakers, or short-term keepers, fantasy managers – especially those on the cusp of their league's playoff standings – could definitely get some use out of these sparsely-owned forwards.
Sleepers
Brett Ritchie (Dallas Stars – F)
Brett Ritchie sure made an impression on the Stars' front office and fan-base in his first two games as the former second-round pick potted two goals and added a helper in his first two games in a Dallas uniform.
Selected with the 44th pick of the 2011 NHL Entry Draft, Ritchie has been receiving more and more responsibility – in the form of ice-time – with every passing game that he plays for the Stars. Despite the fact that the young forward went scoreless in three straight games after opening up his NHL career with goals in back-to-back games, the Stars' coaching staff obviously believes in Ritchie's capabilities.
To highlight the trust put into Ritchie at such an early stage of his NHL career, one has to look no further than the fact that the winger has been slotted right next to Tyler Seguin and Jamie Benn on Dallas' top line. Fantasy managers should definitely keep a close eye on Ritchie as he has every chance to build on his early success as a pro.
Patrick Maroon (Anaheim Ducks – F)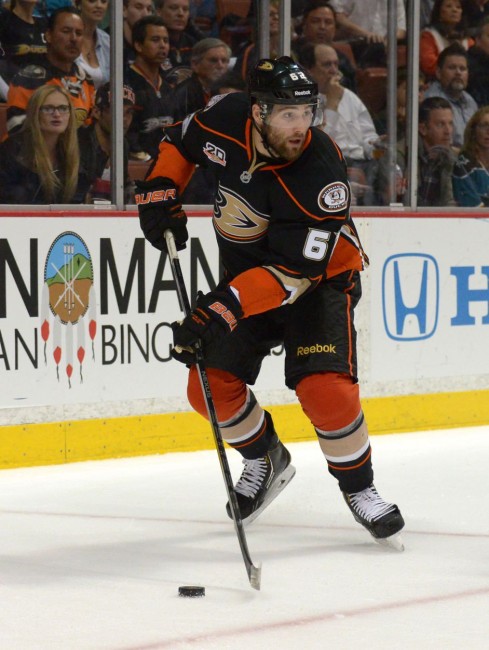 Bugs Bunny had a field day with this word back in the day, but fantasy managers certainly wouldn't be "maroons" for considering Patrick Maroon for addition to their rosters.
Although Maroon hasn't scored a goal since December 3rd, 2014, the forward has kept tallying assists since that time – and his 15 assists have the potential to increase exponentially with his new line assignment. With a promotion to Anaheim's top line, Maroon will get a chance to play alongside Ryan Getzlaf and Corey Perry – something that could bolster any forward's scoring potential.
Sure, Maroon's three assists in his last ten games could be considered pedestrian statistics at best, but any player that gets a chance to perform beside Getzlaf and Perry could be an interesting addition to any fantasy roster. For now, fantasy managers should see how Maroon responds to his new line assignment, but should be ready to add the forward – especially if he starts to show early chemistry with his new linemates.
Mike Hoffman (Ottawa Senators – F)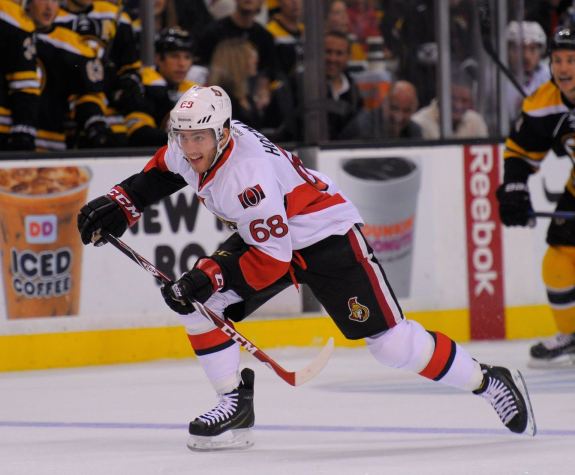 Mike Hoffman might not be the prototypical sleeper since he has been a consistent performer for the Senators since the month of December, but he has still not received as much attention as he should be due in fantasy circles.
Owned in 11% of Yahoo! leagues, Hoffman has 21 points (14G, 7A) in 38 games played for Ottawa this season – with 11 of those points (7G, 4A) coming since December 1st, 2014. Hoffman has enjoyed success alongside Bobby Ryan and Mika Zibanejad on the Sens' second line and has seen playing time in the low-to-high teens on a nightly basis.
While Hoffman hasn't registered a point on Ottawa's man-advantage so far this season, he has done enough to warrant interest in many fantasy hockey formats. Fantasy managers should take note of Hoffman's prowess and keep him on a very close watch-list as he has the ability to be a valuable player down the stretch.
Derek Roy (Edmonton Oilers – F)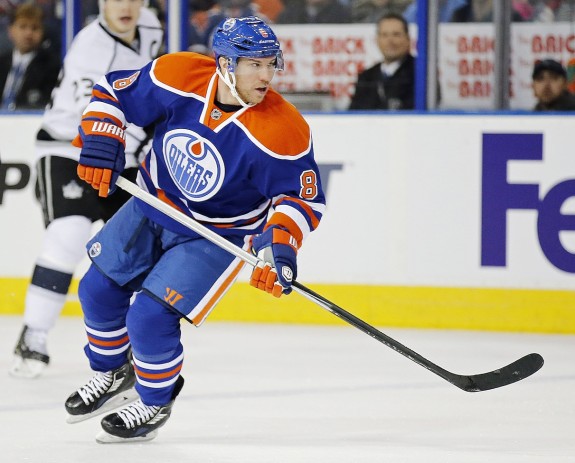 Many fantasy managers, fans, and analysts probably wrote off Derek Roy at the beginning of – and during – this season, and for good reason.
After enjoying several successful campaigns with the Buffalo Sabres which saw him amass 63, 69, 70, and 81 points, Roy seemingly fell off the face of the earth after being traded away by the team that drafted him in 2001. Unable to replicate the production that made him a hit in Buffalo, the Nashville Predators decided to part ways with Roy after the forward played 26 games for the team during the '14-'15 NHL season.
However, despite being an afterthought in a trade that sent him to the Edmonton Oilers, Roy has come out of nowhere to be an offensive force for a team that could use a stabilizing veteran presence. Playing on the Oilers' second line alongside Nail Yakupov and Benoit Pouliot, Roy has scored six points (2G, 4A) in seven games played for Edmonton since being traded. With the Oilers more or less out of contention for a playoff spot in the Western Conference playoff race, Roy will have every chance to play loose and relaxed hockey – something that fantasy managers stand to gain the most from as the forward has seemingly enjoyed moving on to greener – or in Edmonton's case, whiter – pastures.
Streakers
Troy Brouwer/Marcus Johansson (Washington Capitals – F)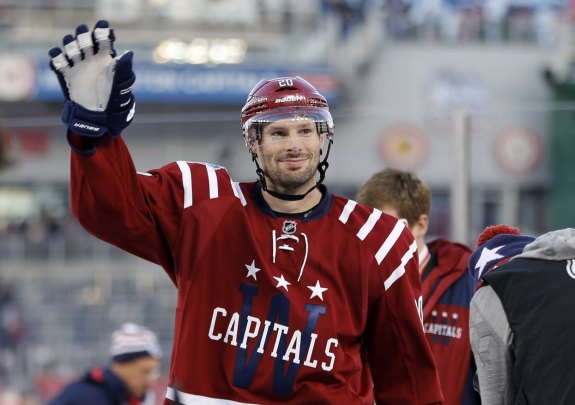 Ever since joining the Washington Capitals, Troy Brouwer could be relied on to score anywhere between 30 and 45 points for his team in a given NHL season, and the forward has continued to do so this season. Playing on Washington's second line, Brouwer has averaged minutes in the mid-to-high teens and stands to eclipse his season-high goal total this season as he already has 12 goals and 10 assists in 41 games played in 2014-2015.
Fantasy managers are probably well-acquainted with Brouwer by now, but for those that aren't, the forward's contribution in categories such as hits (97), face-offs won (133), and power-play points (6G) make him a player that could be coveted in deeper leagues. Being only 16% owned in Yahoo! leagues, fantasy managers have ample opportunity to add Brouwer to their rosters, but should do it sooner rather than later in case the forward becomes more of a commodity as the fantasy hockey playoffs approach.
On the other hand, Marcus Johansson would have been classified as a "Short-term Keeper" in years past as his production was simply too inconsistent to warrant a long-term pick-up. However, Johansson has been fairly consistent this season (12G, 13A), and is playing alongside Troy Brouwer on the Capitals' second line at the moment.
Receiving minutes in the mid-teens, Johansson – much like Brouwer – is only 16% owned in Yahoo! leagues, but he is certainly the riskier addition as he has shown himself to be a streaky scorer in the past. Fantasy managers should definitely not throw Johansson's '14-'15 point totals to the wayside – especially his 10 points (1G, 9A) on Washington's man-advantage – but should keep in mind the fact that Johansson has had his inconsistencies before and could be prone to repeating them at any point in time.
Mikael Backlund (Calgary Flames – F)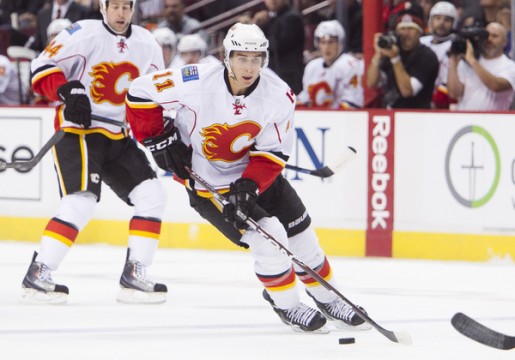 Mikael Backlund hadn't suited up for the Flames since late October, but it was as though the forward hadn't missed a beat when he returned to Calgary's lineup earlier this month.
Last season, Backlund earned the trust and respect of head coach Bob Hartley by being a responsible two-way forward that could show up on multiple ends of a box score. Scoring 39 points (18G, 21A) during the '13-'14 NHL season, Backlund would have been a staple on the scoresheet for Calgary this season had he not succumbed to injury that kept him inactive during November and December.
Although injury forced Backlund to miss two months of the NHL schedule, the forward returned to the Flames' lineup with a vengeance as he put up five points (3G, 2A) in three games played for Calgary. Owned in only 5% of Yahoo! leagues, fantasy managers should definitely add the second line center as he already has the confidence of his head coach behind him and has shown no ill effects after being sidelined for a couple of months.
Melker Karlsson (San Jose Sharks – F)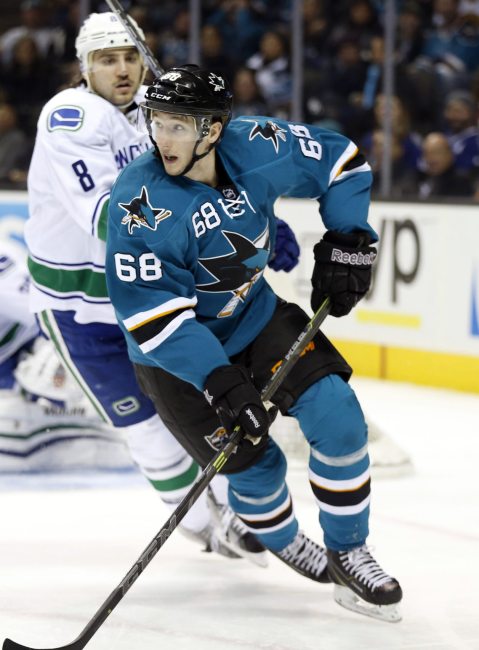 Goals in five straight games. Ten points (6G, 4A) in his first 14 NHL games. Does life get any better for Melker Karlsson?
Apparently life does get better for Karlsson as he now finds himself on the Sharks' first line alongside Logan Couture and Joe Pavelski. Averaging minutes in the low-to-mid teens, Karlsson has made quite a name for himself in his first several NHL games by going on such a goal-scoring streak.
Even though it is highly unlikely that Karlsson's rate of production will stay the same for the rest of the NHL season, fantasy managers cannot ignore who the forward is paired with at this point in time. Managers should definitely give strong consideration to the 3% owned (Yahoo! leagues) forward as he has already seen a 2% increase in ownership over the last day – and that number will only continue to increase if Karlsson keeps up his current pace of play.
Mike Fisher (Nashville Predators – F)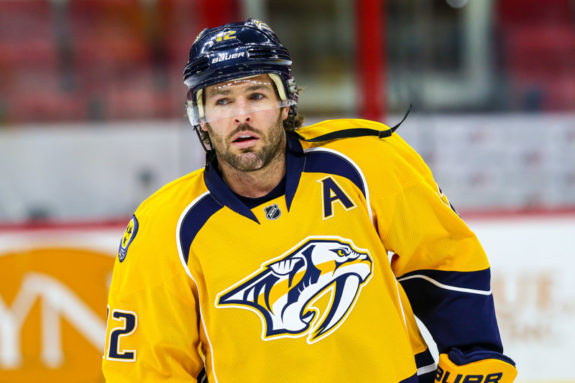 After missing most of the first two months of the '14-'15 NHL season, Mike Fisher has returned to his usual scoring production as he has managed to tally 14 points (7G, 7A) in 20 games since November 27th.
Centering the Predators' second line, Fisher has been averaging anywhere between 18 and 20 minutes of ice-time per night, and should be on the radar for most fantasy managers. Over his last ten games, Fisher has managed to record eight points (5G, 3A) – two of which came on Nashville's man-advantage – while putting up 23 shots on goal.
Despite his success, Fisher finds himself owned in only 12% of Yahoo! leagues, but that could be a saving grace for some managers. Fantasy managers should absolutely add Fisher to their rosters if he is available in through the free agent pool or waiver wire as the forward could hit some very respectable point totals if he sustains his level of play since returning from his achilles injury.
Short-term Keepers
Eric Fehr (Washington Capitals – F)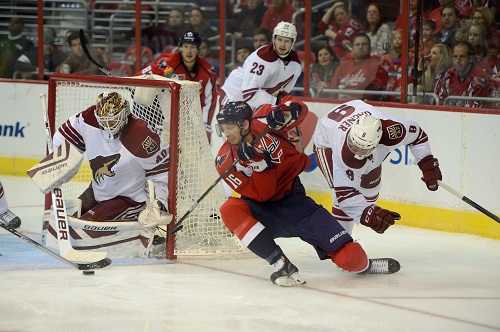 Eric Fehr has certainly positioned himself quite well this season in terms of potentially surpassing his season-high goal totals.
With 13 goals and 8 assists so far this season, Fehr has been centering Washington's third line and playing alongside Brooks Laich and Joel Ward. Having scored a respectable 21 points by the midway point of this season, Fehr has shown up on some fantasy radars as his ownership rate currently sits at 11% in Yahoo! leagues.
However, fantasy managers should approach Fehr with caution as nine of his points (6G, 3A) have come over the last eight games. Fehr could definitely help out some managers – especially those in deeper settings – but the forward is a short-term addition at best at this point.
Jason Zucker (Minnesota Wild – F)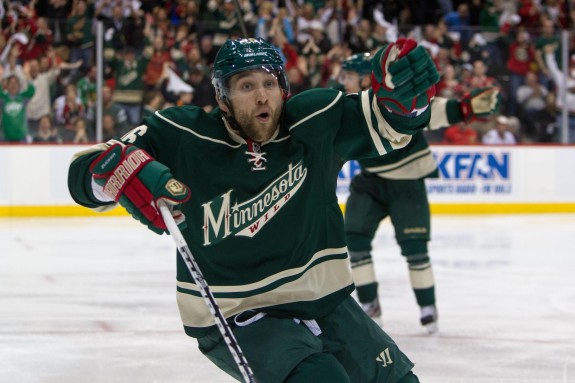 Zucker recently saw time alongside Mikko Koivu and Jason Pominville on Minnesota's top line, but the forward is still too inconsistent for one to add them to his/her roster with complete confidence.
With four points (3G, 1A) in his last four games played, Zucker has definitely given fantasy managers something to think about, but it is still not enough to warrant a long-term addition. Receiving minutes ranging from the mid-teens to low-20s, Zucker has managed to find the back of the net three times since January 6th as he has made no secret of the fact that he likes to shoot the puck.
Fantasy managers should tread cautiously over here as Zucker has an immense amount of talent that hasn't been fully developed just yet. For those in extremely deep leagues, Zucker could be a useful depth pick-up, but fantasy managers shouldn't be surprised if they only get some short-term production from the young forward.
Bryan Bickell (Chicago Blackhawks – F)
Being paired on a line with Brad Richard and Patrick Kane isn't a bad deal for any hockey player, and Bryan Bickell sure isn't complaining.
Over his last seven games, Bickell has managed to score seven points (5G, 2A), and that is exactly what has earned him a spot on Chicago's second line. Averaging around 13 or 14 minutes per night, Bickell has not only been finding the back of the net on a pretty consistent basis, he has been utilizing his physical presence as well as he has recorded 28 hits during that same span of time.
While Bickell has been putting up points as of late, fantasy managers must remember that the winger has never eclipsed 37 points in a single season. Playing alongside Richards and Kane could afford Bickell that opportunity, but fantasy managers should play it safe for now and view the forward as a short-term pick-up that should be re-evaluated on a game-by-game basis.
Jimmy Hayes (Florida Panthers – F)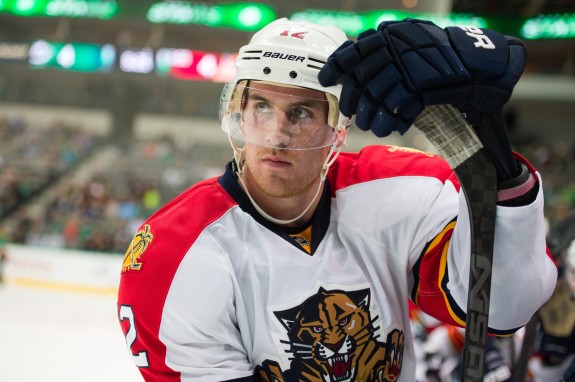 A fresh start with the Florida Panthers might have been all that Jimmy Hayes needed to start producing, and it certainly seems as though the young winger has adjusted quite nicely to his new surroundings.
As a member of the Panthers, Hayes has scored 13 goals and added seven helpers in 32 games played this season. While such numbers might be considered average by some fantasy managers, one must remember that Hayes has already set career-high point and goal totals this season, and still has a good amount of the '14-'15 NHL campaign left to play.
Over his last ten games, Hayes has scored seven points (6G, 1A) and has found himself receiving top-six minutes on Florida's second line alongside Nick Bjugstad and Jussi Jokinen. Hayes is only 4% owned in Yahoo! leagues and will only continue to improve upon his totals this season, but much like Bryan Bickell, fantasy managers shouldn't expect Hayes to keep up his current rate of production and shouldn't be surprised if the forward hits a scoreless patch at some point.
Victor Rask (Carolina Hurricanes – F)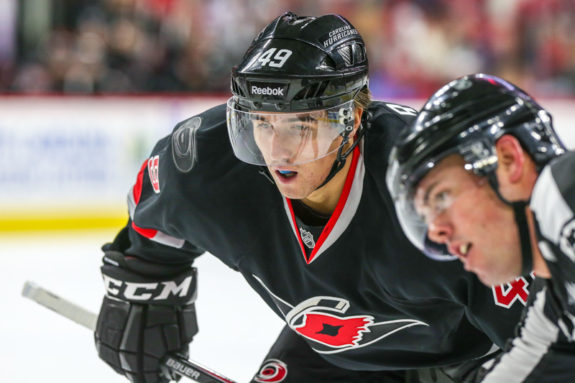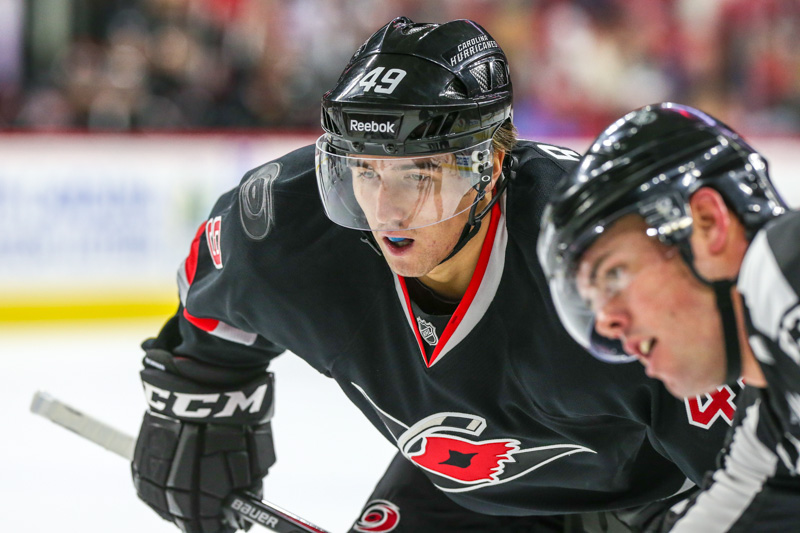 Victor Rask is only 1% owned in Yahoo! leagues, but he might be the most intriguing "Short-term Keeper" on this list as he has the potential to eventually become a streaker.
Rask has four points (2G, 2A) in his last three games played for the Hurricanes and has been receiving anywhere from 15 to 20 minutes of ice-time per night. Of course, Rask's 13 points (6G, 7A) in 42 games played this season haven't dropped the jaws of fantasy managers, but his assignment on the Hurricanes' second line has definitely raised some eyebrows.
Playing alongside Jeff Skinner and Alexander Semin, Rask has an opportunity to create some chemistry with a pair of talented play-makers – which could ultimately benefit the young forward and watchful fantasy managers. For now, Rask shouldn't be relied on for long-term contributions by managers, but he certainly should be monitored closely as long as he is in Carolina's top-six rotation.