Dallas enters the second half with a record of 18 wins 16 losses and 7 overtime losses for 44 pts.  The Stars are 5 pts behind the Los Angeles Kings for the last Wild Card spot in the West.
Special Teams:
15.3% PP ranks 23rd
79.6% PK ranks 21st
Dallas has allowed the 3rd most goals in the West with 135. Meanwhile they have scored the 3rd most goals in the West with 126.  Sensing a trend?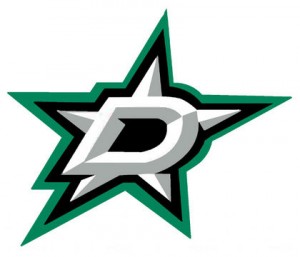 The following players receive a "Victory Green Star" for perfect attendance:
Tyler Seguin, Jamie Benn, Jason Spezza, Antoine Roussel, Trevor Daley, Alex Goligoski and Vernon Fiddler have played in all 41 games.
Stars Management & Coaching Grades
C General Manager Jim Nill– In his first year with the Stars, Nill engineered the blockbuster trade for Seguin. He followed up this off-season by acquiring offensive forwards Jason Spezza and Ales Hemsky. Neither player has lived up to the billing in my estimation. On the plus side he did re-sign Cody Eakin and Antoine Roussel. Nill's decision to go with an unproven backup goalie appears to have backfired.  As the saying goes, "An error doesn't become a mistake unless you refuse to fix it".  Nill attempted to do just that by trading an unproductive and overpriced Sergei Gonchar for journeyman forward Travis Moen. Lastly, Nill moved Brenden Dillon to San Jose for Jason Demers. Push.
C+ Coach Lindy Ruff– Similar to his boss, Lindy is coming off an impressive debut season that saw the Stars reach the playoffs for the first time since 2007-2008. This year Ruff's team has consistently struggled to play a 60 minute game. The shaky defense and inconsistent goaltending are more a matter of personnel flaws than poor coaching. Ruff has done well remaining even keel and has influenced his team to stay positive during the adversity.
Seguin and the Stars Forwards Grades
A+ Tyler Seguin– Tied for the NHL Lead in goals with 26 and second in the NHL in points with 48. Sure we would like to see a higher plus/minus than +3 but that is tied for 2nd highest among the Stars forwards. He's won more face offs than lost 152-149. He should be in line for some serious hardware at the NHL Awards banquet this summer.  Seguin should contend for both the Maurice "Rocket" Richard and Lady Bing trophies.  Four out of five NHL Fantasy Writers picked Seguin as the NHL's Midseason Fantasy MVP.
B Jamie Benn– The captain has 12 goals and 24 assists for 36 points. At his best he's one of the most dominant power forwards in the game. He leads by example. Second on the team in hits and a 145-132 face off edge. Would like to see a little more goal production and a higher plus/minus rating than -1.
C+ Jason Spezza– Still a great puck handler, had 22 assists but only 7 goals and a -7 plus/minus rating.   He was the Stars best face off man with 54.7% win rate. He's 3rd on the team in shots on goal with 86 but only 1 PP goal on the season. As advertised, Jason is a perimeter player who doesn't get involved much physically.  Jason has 12 hits on the season.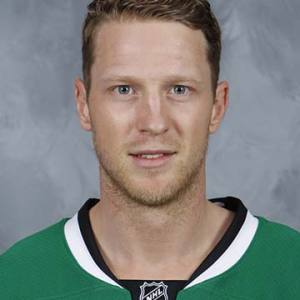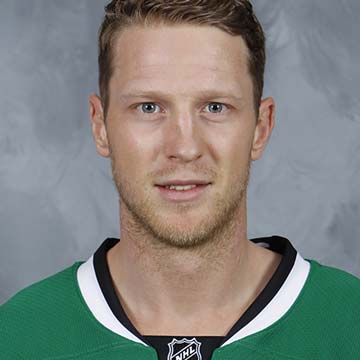 .
D Ales Hemsky– Has come on as of late but after a very slow start. Only 15 points in 38 games and a -9 plus/minus rating. Also, for the first time in his career Hemsky actually sat out a couple of games as a healthy scratch.
B Cody Eakin– Slow start after off-season contract negotiations. Has picked up his game since December. In 38 games 7 goals and 10 assists. Face off win rate needs to be better than 47.9%. Leads Stars forwards with a +5 plus/minus rating.
B+ Antoine Roussel– 10 goals, 10 assists and 86 pim. Consistent, effective energy player. Would like to get a few more hits out of him. He is currently tied with Alex Goligoski with 58 hits.
B Ryan Garbutt– Missed time due to a suspension by the NHL Player Safety Department. Respectable 7 goals and 8 assists in 33 games. Has a knack for big goals, Is tied for 2nd in GWG with 2. Needs to stay out of the Principle's Office.
B Vernon Fiddler– Defensive specialist has been strong on face offs at 53.3%. Has played 27 more short-handed minutes than the next Stars forward. His offensive game is limited (4 goals and 9 assists), but he also provides leadership and character.
B+ Erik Cole– Honest effort every night. In 39 games the veteran winger has 9 goals and 9 assists. You won't find many 36 year olds leading their team in hits. Cole leads the Stars with 98 hits while only being penalized for 12 PIM!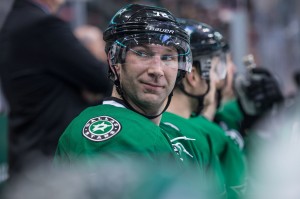 C Shawn Horcoff– At 36 years old he's now a bottom 6 depth forward. Only 5 goals but a respectable +3 plus/minus rating. Struggling on draws with 89 wins and 109 losses. Father time is catching up.
C Colton Sceviour– Didn't score a goal in October or November, but is starting to pick up the pace with 3 goals in December and 2 so far in January. He had 8 goals in 26 games with the Stars last season.  The future is now and Colton must capitalize on his top 6 minutes.
The Stars Defense and Kari's Grades
B- Trevor Daley– Leads Stars defense with 9 goals. In fact, the other Stars defensemen combined only have 9 goals. The downside is Daley has a team worst -11 plus/minus rating.  On a team with some strong defensive stalwarts Daley's -11 wouldn't stick out so much. Unfortunately for the Stars, he is one of the defensive stalwarts. Leads the team in blocks with 81.
B+ Alex Goligoski– Leads Stars defensemen with 18 assists. Also, has the second best plus/minus rating on the team at +6. Is often on the ice against the opponent's top players. Is 2nd on defense with 58 hits. Is second on the team in blocks with 80. Has played much of the first half hurt without missing a game.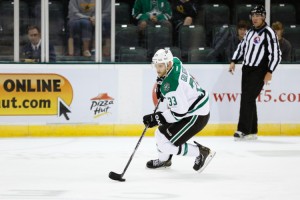 B+ John Klingberg– Made a big splash when called up in early November. Had goals in 3 consecutive games. Still learning as a rookie, though he has a very high ceiling, Leading team with a +8 plus/minus rating. He oozes skills that remind longtime Stars fans of the Sergei Zubov days.
B- Jason Demers– Traded for the younger fan favorite Brenden Dillon in November. Has been steady, but unspectacular. He's only had 1 minus game since December 27th.
D Jordie Benn– This year has been a struggle. Very little offensive production or upside and Tyler Seguin has as many hits as Jordie with 40. He is 3rd on the team in blocks with 64. His -6 is second worst on the blue line after Daley.
C Jamie Oleksiak– Started slow and was sent down to Texas. He seemed to find his game in the AHL and was recalled. He's played better since returning but is still working to prove himself as a top 6 defenseman.
Kari is the best the Stars have….and that's is the problem. We will discuss.

— Bruce LeVine (@BruceLeVinePuck) January 9, 2015
C Kari Lehtonen– Has 17 wins (Tied for 10th) and 3 shutouts (Tied for 3rd). His .906 Sv% is an alarming 48th best in the NHL. Is it Kari or the Stars overall team defense? The answer is somewhere in the middle.
The Rest of the Crew
The following players received an Incomplete grade for appearing in fewer than 20 games this season:  Patrick Eaves, Travis Moen, Brett Ritchie, Jyrki Jokipakka, Curtis McKenzie, Travis Morin, Dave Schlemko, Patrik Nemeth, Valeri Nichushkin, Anders Lindback and Jussi Rynnas.