With the fantasy hockey season in full swing, managers have undoubtedly gone through their fair share of ups and downs by the mid-way mark of the NHL regular season. While some managers might be fortunate enough to be looking down on their competition from the higher rungs of their league's standings, other managers might not be as lucky.
Dealing with injuries or inconsistencies, managers that are on the playoff bubble have probably had to tweak their lineups in order to stay competitive throughout the '14-'15 fantasy hockey season. Despite the fact that replacing a certain player on one's roster might seem like a daunting task to some, there are a number of solutions that managers can employ to keep up with the rest of their league – and those options can be found in the bottom fourth of most Yahoo! leagues.
Jumping In On The Play
Marc-Edouard Vlasic (San Jose Sharks – D)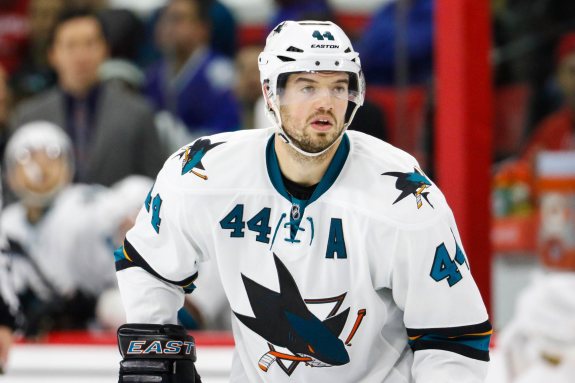 Marc-Edouard Vlasic certainly isn't a widely-owned defenseman in Yahoo! leagues, and his 17% ownership rate can attest to that fact. However, Vlasic has been streaking as of late as he has recorded five points (3G, 2A) in his last ten games played for the Sharks.
Averaging over 22 minutes of ice-time per night, Vlasic has been playing alongside Brent Burns on San Jose's first defensive pairing, so fantasy managers can expect the rearguard to maintain his healthy dose of playing time. Of course, Burns will likely get the majority of the scoring opportunities on the Sharks' first defensive pairing, but at 17% owned it wouldn't be that much of a risk to give Vlasic an add to see if keeps up his scoring pace over the next few games. At the halfway point of the season, Vlasic has registered 14 points (6G, 5A), and seeing as how the defenseman usually plays a full NHL season it wouldn't be surprising to see Vlasic near the 30-point range at season's end.
David Savard (Columbus Blue Jackets – D)
Playing an average of 22:43 per night, David Savard has definitely given fantasy managers reason enough to take note of his prowess. So far this season, Savard has scored seven goals and has added nine assists for a total of 16 points in 40 games played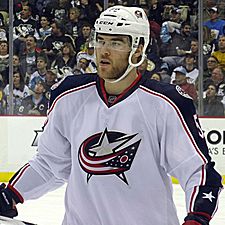 for the Blue Jackets.
Having already topped his previous point totals from last season, Savard has been playing alongside Jack Johnson on Columbus' first defensive pairing. Playing a steady stream of minutes on a nightly basis, Savard has rewarded the faith that Todd Richards has put into him this season. Although Savard's -11 +/- rating might be a deterrent for some fantasy managers, his overall value lies in the fact that he can contribute in a number of categories.
With a good amount of hits recorded this season (105), Savard has shown that he is no stranger to the physical and gritty side of the game, but he has also displayed that he has some soft hands – as his eight points (3G, 5A) on Columbus' man-advantage speak louder than any endorsement of his fantasy value. Fantasy managers should absolutely add Savard while he is available as his ownership rate currently sits at 7% – something that will undoubtedly change if the defenseman keeps up his current level of play.
Francois Beauchemin (Anaheim Ducks – D)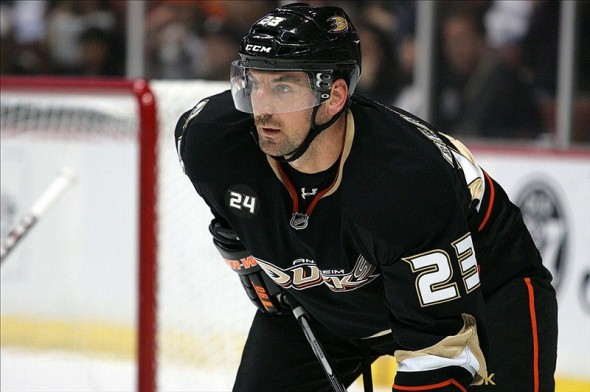 Ever since returning to the Ducks' lineup, Francois Beauchemin has had some contributions on the offensive side of the puck. After missing a month of action (November 26th – December 26th), Beauchemin has shown virtually no signs of rust as he has potted all three of his '14-'15 goals in his last seven games.
Despite the fact that Beauchemin has had two consecutive -2 showings in his last two games, fantasy managers need not worry themselves too much about that aspect of the defender's game. Beauchemin won't get the minutes that Ben Lovejoy and Cam Fowler have been enjoying on Anaheim's first defensive unit, but he will certainly see more than 20 minutes of playing time per night alongside Hampus Lindholm on the Duck's second defensive pairing.
Fantasy managers that are familiar with Beauchemin might not put too much stock into the 4% owned (Yahoo! leagues) defender, but he has been earning his keep since coming back to action. Not only has Beauchemin been active when jumping into his team's offensive play (3G & 16 SOG since December 27th), he has also been a physical presence as he has recorded 16 hits in his last seven games played. Fantasy managers should definitely consider adding Beauchemin, but should not be disappointed if his goal-scoring rate drops off somewhat as he is a complete, rather than a purely offensive, addition to a fantasy lineup.
Adam Larsson (New Jersey Devils – D)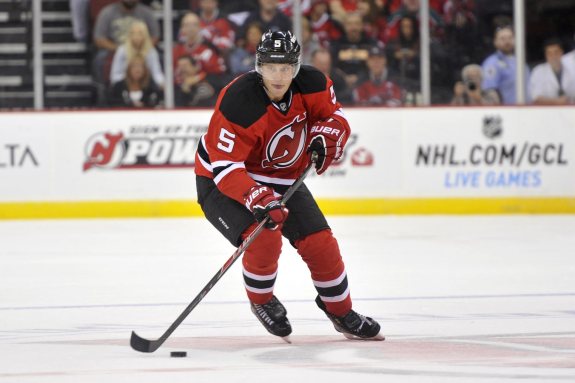 Adam Larsson might be only 1% owned in Yahoo! leagues, but that doesn't mean that fantasy managers should overlook the former first-round draft pick. Receiving some new life under Scott Stevens and Lou Lamoriello, Larsson has been rewarding his co-coach and interim coach/General Manager by registering three assists in his last five games.
Now, Larsson's totals over his last five games might not seem like enough to warrant addition to a given fantasy roster, but one must certainly consider the additional playing time and responsibility that has been given to the youngster after the firing of Peter DeBoer. Since the turn of the year, Larsson hasn't received less than 22:16 of playing time per night, and there is definitely a reason why the young defender has been seeing such ice-time under Lamoriello.
Shooting the puck more often, building on his hit totals, and blocking his fair share of shots, Larsson has played his way into New Jersey's top defensive pairing alongside Andy Greene. With Lamoriello running things behind the Devils' bench, fantasy managers can expect the interim coach/GM to see exactly what he has in his former first-round selection and should closely monitor the defenseman as he could very well improve his offensive totals with the minutes he has been playing as of late.
Watch-list Worthy?
Kevin Connauton (Columbus Blue Jackets – D)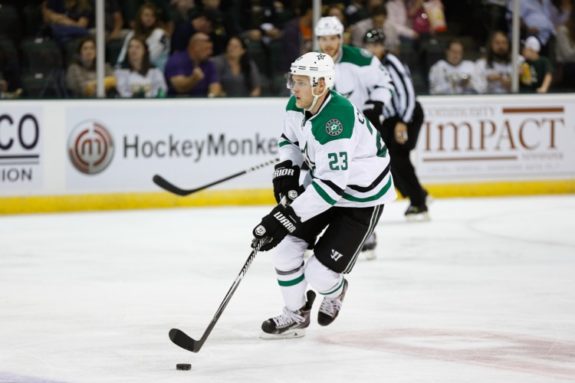 Unlike David Savard, Kevin Connauton has experienced some regression with his offensive totals – and fantasy managers have noticed. Seeing a 2% ownership decrease over the last day, Connauton's ownership rate has dropped to 6% in Yahoo! leagues, and so has his playing time on the Blue Jackets' defensive pairings.
Having scored six goals and six assists so far this, Connauton endeared himself to fantasy managers in late December by recording three goals in four games, but he hasn't been able to recreate his offensive magic during the month of January. Fantasy managers should definitely hold off on adding Connauton right now as his playing time has taken a hit. However, if managers have the time, they should keep the defenseman on their watch-list in case he starts to showcase some of the offensive talent that made him such an intriguing fantasy player last month.
Kevin Klein (New York Rangers – D)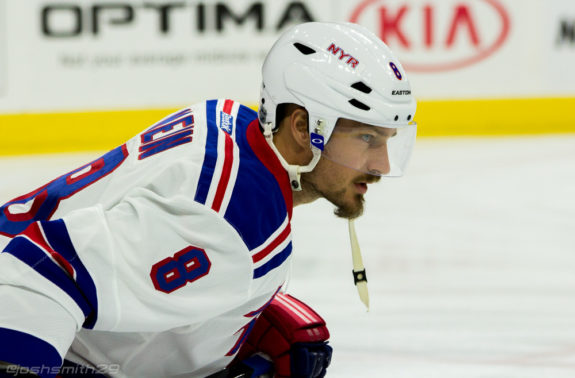 Kevin Klein might not be an offensive-minded juggernaut, but he has had some steady contributions that fantasy managers shouldn't simply ignore. Currently sitting at 15 points (8G, 7A) for the '14-'15 NHL season, Klein has registered the most points that he has had since the '11-'12 hockey season – when he was a member of the Nashville Predators.
While Klein has been playing on New York's last defensive pairing, he has been seeing anywhere between 16 and 22 minutes per night for the Rangers and has managed to produce from the depths of a third defensive unit as he has tallied one goal and three assists in his last five games played. Klein certainly won't be an offensive-minded addition for fantasy managers, but he can certainly provide steady contributions in categories such as goals, assists, +/-, hits, and blocks – something that could certainly make him valuable in deeper settings, regardless of his unit pairing or assignment.