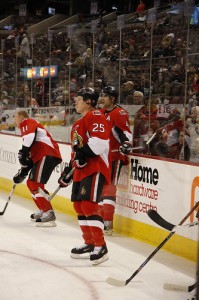 Last season one of the main headlines from the NHL was the surprising success of the Ottawa Senators, a team picked to finish in the bottom of the standings, instead they made the playoffs and pushed the New York Rangers all the way to Game 7. Most of the Senators success last season was attributed to rookie head coach Paul MacLean and the breakout performances of Erik Karlsson, Milan Michalek and a return to form from Jason Spezza.
One thing that became apparent as the season progressed was that Ottawa was not a team that let themselves get pushed around. After losing Game 1 against the Rangers and Erik Karlsson getting rough treatment from Brian Boyle, Paul MacLean inserted Matt Carkner and Zenon Konopka into the lineup. Carkner engaged a clearly not interested Brian Boyle and though he was kicked out of the game for it the message was clear, if you mess with Ottawa's star players you better be ready to pay the price.  This past offseason both players left Ottawa and their roster spots are expected to go to more skilled younger players like Mika Zibanejad and Jakob Silfverberg.
Heading into this season (when the lockout ends) the Senators will have a lot of returning players from their successful 2011-12 season, and Chris Neil and Zach Smith will continue to bring toughness to the table but will it be enough? Just looking at the off season moves by divisional rivals Buffalo and Montreal show that this division is not going to be a walk in the park. Montreal added established tough guy Brandon Prust and the agitating Colby Armstrong and not to mention will have a healthy Ryan White. After Buffalo was embarrassed by the Lucic/Miller situation they added heavyweight John Scott and Steve Ott and have the pesky Patrick Kaleta. Reigning division champs the Boston Bruins are the epitome of toughness and will be well rested coming into the season.  At a time when most of the other teams in the division are adding toughness it makes little sense for the Senators to reduce theirs.
Ottawa ranked 5th in fighting majors last year with 53 and it was evident in their first round matchup against the New York Rangers, who ranked first with 65. Zenon Konopka led the way with 18 fighting majors and his willingness to drop the gloves will be missed as Zach Smith and Chris Neil combined had just 18 fighting majors last season.
With skilled players such as Daniel Alfredsson, Jason Spezza and Erik Karlsson they play at their best when they have the time and space on the ice to get creative. Sure enforcers have had a diminished role in the NHL ever since the last lockout, but they give a sense of security to teammates and make opponents accountable for their actions. Though if Ottawa ever does need another scrapper they could always call on Robin Lehner.
Creator of the Bettman Stand Up hockey blog. I cover the Chicago Blackhawks for The Hockey Writers, In Hossa we trust! I also write for publications such as Arbitrage Magazine and Elite Sports Blog. You can follow me on Twitter @RickEmrith