For the Albany Devils the script has remained the same on home ice.  Through three games at the Times Union Center, the formula has been to get an early first period lead, while falling off to the wayside in the latter two frames.  It was no different when the rival Connecticut Whale came to town and put a whooping on the Devils, for their first victory on the season.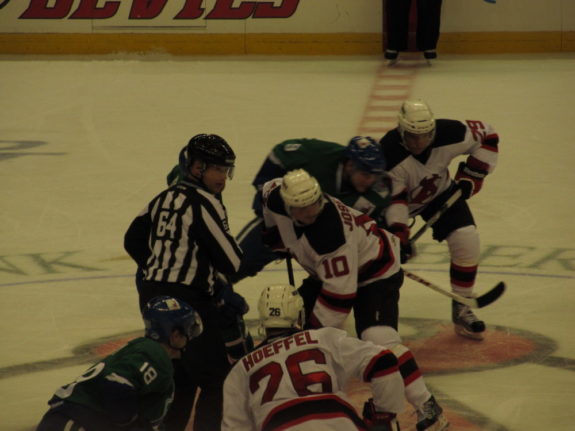 In the first period of action, Albany was mostly in control.  As he did against the Syracuse Crunch, Mike Hoeffel registered the first Albany goal, redirecting a feed from Matt Anderson and Dan Kelly, and pounding it home past Jason Missiaen.
Just minutes later, toward the end of the period, Devils netminder Keith Kinkaid, fended off numerous shots by the Whale, to keep them off the board.  However, even Kinkaid standing on his head, couldn't make the Albany lead stand up for another two periods.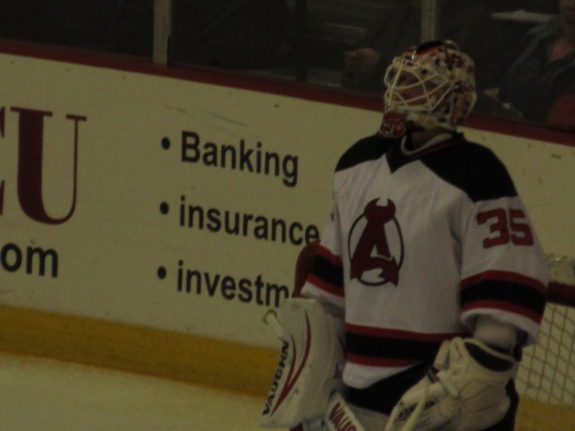 Midway through the second, Brandon Segal whisked right around the statuesque Matthew Corrente and slid the puck past Kinkaid for the equalizer and his third marker of the year.  Shortly thereafter, on a feed from Chad Kolarik, J.T. Miller made a nice move and left Devils defenceman Adam Larsson spinning, as the Whale went up 2-1.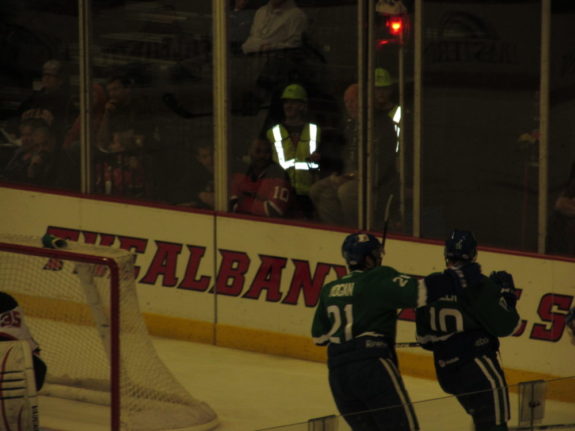 Later in the the second, there was more shoddy Devils defence.  Back in the Albany zone, defenceman Raman Hrabarenka gave the puck away and Tommy Grant swooped in, doubling the Connecticut advantage at 3-1.
The rout was on in the third.  Midway through the third and on the power-play, Andrew Yogan beat Kinkaid head on, over the shoulder on the glove side.
Then it was Kyle Jean, taking a pass in the low slot from Marek Hrivik, to beat Kinkaid stick side and Connecticut went up 5-1.
Albany did manage to scrape one back on their own power-play late.  Jacob Josefson bested Missiaen from the lower left circle, finishing out the scoring at 5-2.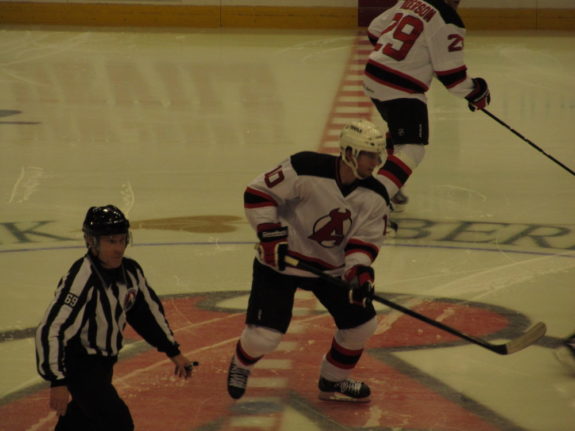 It was a mostly methodical win for the Whale, running circles around the Devils defence.  While it didn't quite make up for the New Jersey Devils defeating the New York Rangers in last spring's Eastern Conference Final, that didn't stop the cathartic "let's go Rangers," chants from the remaining fans in attendance.  Yes they were probably from Albany and rooting for a team from Hartford but I digress.
Although Albany did markedly better on the penalty kill, they still need to find some semblance of consistency on offense and a way to defend home ice, or something to give home fans a reason to cheer for.