The Edmonton Oilers opened training camp this week, and there's plenty of promise in the room. The big elephant in the room, however, is forward Nail Yakupov's status. The questions are where and if he fits into the Oilers lineup when the season starts. It's been the elephant in the room all summer after rumours ran rampant about Edmonton exercising options of trading the former first overall pick from 2012.
Both sides publically stated a desire to continue their relationship. Yakupov, 22, said he was happy and wants to stay in Edmonton when asked by reporters on the first day of camp. However, Ryan Rishaug (TSN) dropped what David Staples of the Edmonton Journal aptly called a truth bomb.
The Rishaug Interview
Yakupov will get some opportunity here but I just think when the opportunity comes they will move on from Nail.

– Ryan Rishaug (TSN)
Rishaug went on to further during his TSN 1260 interview with radio host Jason Gregor to state the following:
I don't think it comes down to Puljujarvi or Yakupov (on the second line), I think it will be Puljujarvi….He just continues to perform and perform and perform and I don't expect him to take a step back. But if you look at what he's accomplished to this point in camp, where he was drafted, what it looks like he's going to be able to accomplish, I just don't know there's going to be much of a competition there.

– Ryan Rishaug (TSN)
Staples did an excellent summary of Rishaug's interview and added his thoughts. That said, the Yakupov-saga has to come to a resolution sooner or later. One; for the sake of a heavily scrutinized player and two; for a team has to move on from something that didn't work out.
RW Depth Chart Battles in Camp
Last year the Oilers had a substantial drop-off in point production between their top two right wingers in Jordan Eberle and Nail Yakupov. Both missed a combined 35 of the teams overall 368 man games lost to injury in 2015-16. Yakupov supporters will say that any player forced to play third-line five-on-five minutes with non-offensive players wouldn't have had any modicum of success.
Related: Staples Analysis of Yakupov, with Rishaug Comments
Related: Lucic "Oilers Need New Attitude."
One problem, as outlined by Staples, is Yakupov's reputation for poor work ethic in practice. Another is his inability to capitalize on the opportunities he's had to move up the depth chart. It's even worse when you consider the injury situation in Edmonton last season. Edmonton area radio host Bob Stauffer commented on the Oilers current wing pairings in camp as; Milan Lucic with Jordan Eberle, Benoit Pouliot with Jesse Puljujarvi, Patrick Maroon with Nail Yakupov (I believe Kris Versteeg was rotating) and Matt Hendricks with Zack Kassian.
There is some substance behind these pairings as head coach Todd McLellan has shown a penchant, see last year's camp, to tip his hat. McLellan divided last year's Oilers camp into two teams eventually; one team of players with a real NHL opportunity and another of minor league hopefuls.
So what if Puljujarvi AND Kris Versteeg make the Oilers opening night roster? This is possibly the Oilers depth chart, if you factor Versteeg and Puljujarvi making the team's opening night roster:
| | | |
| --- | --- | --- |
| LEFT WING | CENTER | RIGHT WING |
| Milan Lucic | Connor McDavid | Jordan Eberle |
| Benoit Pouliot | Ryan Nugent-Hopkins | Jesse Puljujarvi |
| Patrick Maroon | Leon Draisaitl | Kris Versteeg |
| Matt Hendricks | Mark Letestu | Zack Kassian |
| Iiro Pakarinen | Anton Lander | Nail Yakupov |
Edmonton Has the Depth to Force Yak out of Lineup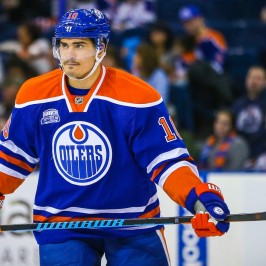 A big flaw with the Oilers forward group is a lack of grit. Over the past two summer's of Peter Chiarelli's time as Oilers GM, we've seen a shift in ideology from pure offensive, run-and-gun, to the emphasis of a balanced lineup. It's a major reason the team moved Taylor Hall for a top-pairing defenseman in Adam Larsson. Edmonton needed to add a puck-moving defenseman to get the puck up to some of these offensive players.
It was the cost of doing business according to Chiarelli, and the same could be said for Yakupov's situation.
Puljujarvi, 18, is a future stud, and a more complete player than Yakupov who is four years his senior. He plays a 200-foot game and has top tier skating and offensive abilities. He'll be a major piece for the Oilers going forward and at 6 foot 3, 200 pounds. he's obviously a bigger player than Yakupov who stands 5 foot 11, and 195 pounds. Bigger, faster, stronger.
What if Puljujarvi isn't NHL ready and needs some time in the AHL? If he needs AHL time, it'll help Yakupov showcase his abilities. Some of Yakupov's supporters will say he's been severely underutilized in Edmonton. That said, Yakupov's been getting protected zone starts for two seasons now with no growth to show for it.
The arrival of Versteeg, 30, gives the Oilers a consistent 30-point producer that complements the top-nine very well. In the past, he's shown some versatility and can play up and down the lineup in a pinch. A two-time Stanley Cup winner, Versteeg's a feisty player, more defensively responsible and has a different skill set than Yakupov. Versteeg has an excellent opportunity in camp to secure a one-year contract with a cap hit of less than $1 million.
Kassian, 25, turned into a great fit for the Oilers bottom six last year and matured both personally and professionally. As a player, he gives the Oilers a hard-hitting fourth line presence with limited offensive ability. Naturally, Yakupov is a much more offensively gifted player than Kassian. True, but what does Edmonton get in throwing a one-dimensional offensive player onto a fourth line that's supposed to be an energy or defensive unit?
The Oilers have something they haven't had in years; depth. It's odd to think that this team, under Chiarelli, finally has some balance. Unfortunately, with change comes sacrifice and sadly Yakupov just doesn't fit into the Oilers plans. Sure it doesn't do a whole lot for his trade value, but we may seriously be looking at the possibility that he starts the year in the Oilers press box.
Edmonton Oilers regular contributor providing insight on all things Oilers including club history, prospect profiles, trade breakdowns, and everything else in between. Check back regularly for new and exciting content. Follow on Twitter @SanderTHW.