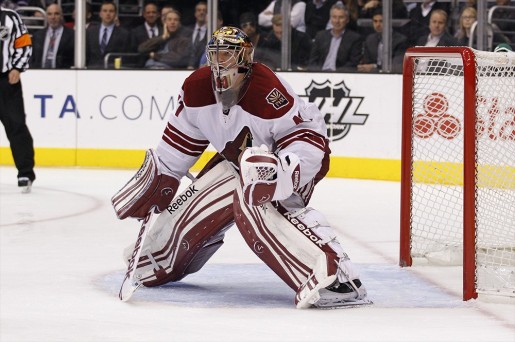 Everything looked set in the last minute of Game 2. The Phoenix Coyotes were up 3-2 in the game and set to claim two victories at home to take a 2-0 series lead into Chicago. The best start a team can earn in the chess match of momentum management that is a seven game series was six seconds away. It was going to provide me a column on how Phoenix's game plan, roster and approach all seemed to be flawless.
And for the second game in a row, Phoenix paid for sitting on their one goal lead in the last minute. Patrick Sharp managed a tip-in with six seconds left, netting the Chicago Blackhawks' crucial game tying goal with the net empty. Less than 11 minutes later Bryan Bickell scored in OT and evened the series, taking away my column and his opponents' home ice advantage. The disciplined and poised Coyotes were suddenly back at square one but with higher stakes, all tied up and heading into probably the toughest arena in the league right now. Sure some other buildings in the NHL get wild (a few Canadian teams' barns come to mind), but no one seems to feed off the energy like the Blackhawks do at "The Madhouse on Madison".
Of course, anyone who saw the excellent Game 3 last night might say the Coyotes' game is working for them just fine. But last night's W was only because of this great heads-up play by Mikkel Boedker, who got this bad-angle shot past Corey Crawford:

First career play off goal; that's a sweet ending if there was one. Before that, the 'Yotes hadn't had a good chance in several minutes and were on their heels. The Phoenix style – forechecking, team defence, capitalizing on mistakes and balanced scoring – yields good and often winning results. It doesn't make for domination. And it just about put them in a perilous position against the Hawks.
In theory, the Coyotes have the talent and the ability to win this series and there's no reason they can't. Some people make a strong case that this is an even match up. Perhaps it is, but the difference in styles makes for a roller coaster ride that Phoenix hasn't always seemed in control of. The reason the series has been such a cliffhanger thus far (only the fifth time in NHL history teams have collided in overtime for the first three games of a playoff series) is that the 'Yotes conservative style is actually quite dangerous against the fearless, run-and-gun Blackhawks. They could just as easily be down 3-0 right now. And the Blackhawks don't seem to be able to play any other way than this high-stakes poker style we've seen them adopt over the last two years.
There are a couple of concerns emerging for the Coyotes that they need to address if they want to win this series. They have given up the 1st goal three times in a row, and they gave up a last minute game tying goal at home two times in a row. Game three allowed them to display some under the gun heroics of their own, but in the dressing room and at practice I'd hammer home the need to be aggressive at the start and at the end of Game 4. Locking up a chance to not have to travel back to the Madhouse is too good an opportunity to pass up.
Thanks to some great saves by Mike Smith, who is living up to his 2012 billing so far, the Coyotes haven't faced consequences for opening themselves up to Chicago's rapid-fire attack. Phoenix's cautious and methodical game creates a constant edge-of-your-seat ebb and flow against the Blackhawks, who skate into your zone three or four across and can all shoot the puck. Next time, if Phoenix can contain the explosive skaters early like Stalberg, Bickell, Toews, Kane, and Bolland (I know: not as easy assignment, when guys of this calibre know they are facing a 3-1 hole at home) and get a bigger lead, they can deflate the rabid Chicago crowd and hopefully have a more punchless opponent to deal with. That would be the less "risky" way to win a play off series for the first time in 25 years. Will they do it or will they continue in their careful but dangerous current way? If it ain't broke…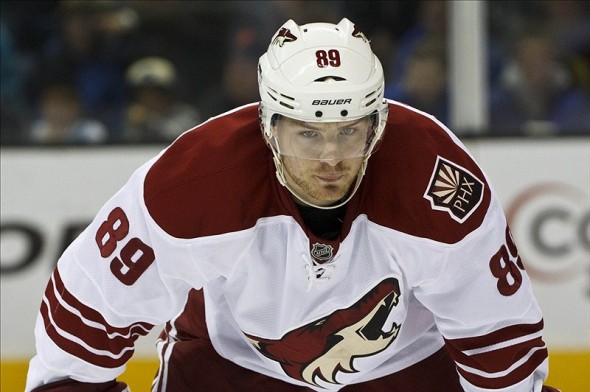 With Boedker and Martin Hanzal our overtime heros thus far, and 20 year old going on peak elite veteran defenceman Oliver Ekman-Larsson playing big minutes (leading all Phoenix skaters in Game 3 with 26:39 ice time), Don Maloney is starting to look like a genius at the draft table. Young players showing this kind of grace under pressure are not in abundance. Can the magic continue for Phoenix, or are they going to get burned again on Thursday giving up early leads and late hiccups again? Either could happen, resulting in a stranglehold going home or best of three slugfest. It's a tough call because you want to go with what's worked for you, but it might be time to be more aggressive. Otherwise the magic could evaporate and no one would be surprised.
***************************************************************************************************************************
You may have thought the title of this posting referred to a different "edge" – the blurry one every NHLer plays on. The online media world today is abuzz of what a shame it is that dirty plays are dominating the headlines and preventing analysis of actual games. But the Phoenix Coyotes are the furthest thing from a squad of goons, and it actually just ends up being a credit to Raffi Torres if we let him and his hit take over the analysis of this incredible series. Yes, he is the latest perp in the league's latest descent into violence, and will likely face reprisal Friday as he is a repeat offender, including against this same team last year (and Andrew Shaw has already been banned three games for his hit on Smith in this series). Torres has put up his elbows and left his feet more and more in the past year or two, as he did on that hit, and its the second time in a row he took down a Chicago all-star. It's a shame because players like him in their "pest" roles with offensive upsides can be huge assets – but maybe a stiff suspension during this historic Phoenix play off will make him change his ways. It shouldn't reflect badly on the team – although it does, because it is a team game, – but they would probably just be happy to be rid of the distraction at this point. Dave Tippett more than anyone.