When Arizona Coyotes' prospects hit the ice for the start of their camp Tuesday afternoon, two consequences became apparent.
First, this camp is strictly under the domain of head coach Dave Tippett. Traditionally, prospect camps are conducted by assistant coaches and personnel from minor league affiliates.
Not this one, not this time.
For Tippett, there is an unconditional sense of urgency to right the terrible season from the recent past. While nothing about the 2014-15 Coyotes' season was acceptable to this proud and intrepid coach, Tippett, nearly single-handed, wants to right a ship that is terribly off course.
The second difference is population of the players.
In the past, prospect camps were filled with over 40 players, and sometimes around 50. For this camp, the Coyotes invited just 29 players.
"There is a much greater emphasis on skill development than just skating around," said left wing Brendan Perlini, the Coyotes number one pick in 2014,who is attending his second prospect camp. "This is my second camp, and I'm feeling more comfortable, Also, the organization has created some things for us to do off the ice, and it's a good chance to meet everyone. Once you feel comfortable with your teammates that translates down to play on the ice."
During the first day of drills, stations were created with groups of three or four skaters.  Such drills were conducted directly in front a coach just a few feet away. For the on-ice session, there were eight coaches assisting Tippett, and this close attention will continue for the remaining two days of this prospect camp.
If the players sense a greater emphasis on skill development two months before the commencement of veterans' camp in September, there is good reason.
At this point, Tippett appears impatient with what happened last season, and is ready to immediately repair this wayward ship.
"After what happened here last year, there is a sense of focus to improve," Tippett said after the workout Tuesday afternoon. "We have to grow as quickly as we can."
To that end, general manager Don Maloney will not extend contracts to under-achieving veterans, and named David Moss, Martin Erat and B. J. Crombeen. Directly, Maloney emphatically stated these players will not be back.
That opens at least three roster slots and Tippett indicated there may be more openings.
"With skilled younger players here, we're trying to fast-track some of these guys to the NHL," he said. "To help them, you need veteran players, and I like what we did so far. There is a change of leadership in the dressing room and the veterans are an important part of this transition."
The reference here is bringing back Antoine Vermette, trading for Boyd Gordon, who is entering his second tour of duty with the Coyotes, and signing veterans Brad Richardson, Zbynek Michalek and Steve Downie.
Because Tippett wants the core of Max Domi, Anthony Duclair, Dylan Strome, Christian Dvorak and Perlini to develop into NHL-ready players as quickly as possible, he cut the numbers of prospects here this week, and instituted close drills involving limited skaters within the edge of the crease.
"If you're going to succeed at the NHL Level, we have to play well in small places," Tippett said. "If not, you're behind."
Prospect camp continues Wednesday and Thursday afternoons in the Ice Den at Scottsdale.
A Signing
Before commencement of the prospect camp Tuesday, the Coyotes signed left wing Mikkel Boedker to a one-year contract.
Last season, Boedker scored 14 goals, assisted on 14 others for 28 points in 45 games. He ruptured his spleen in a game at Winnipeg in January, and missed the rest of the season.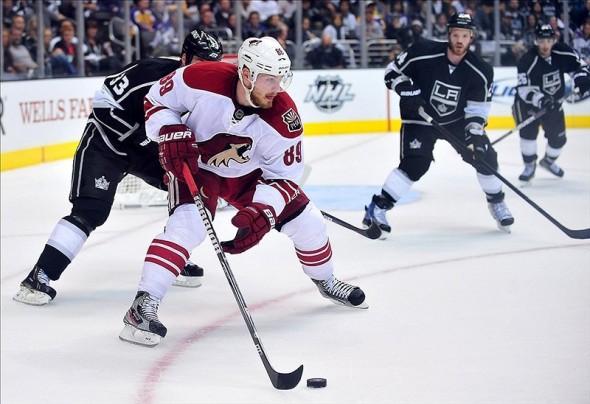 According to Sportsnet, the Coyotes signed Boedker for $3.75 million.
The Coyotes wanted a long-term deal, but Boedker refused.
Maloney indicated Boedker's desire for a short deal was a direct result of the uncertainty between the city of Glendale and the Coyotes. The current dispute surrounds a lease agreement signed between the parties two years ago and currently in place.
"The Glendale situation had a direct impact on the deal," Maloney said. "Yes, that affected us in trying to get a long-term deal. I'm fine with what we have, and we'll start talking about the future in January."
Sign On The Dotted Line
Prior to commencement of prospect camp, the Coyotes signed their top 2015, and third overall pick, Dylan Strome to an entry-level contract.
Skating with his teammates in prospect camp, Strome said before taking the ice he was excited about getting the deal done and looks forward to commencement of his NHL career.
"I'm anxious to get a chance to show what I have," Strome said prior to camp on Tuesday. "Excited to be here and ready to get started. I know a couple of guys from playing in the OHL, and it's fun getting to know others guys, too. Now, it's up to you to show (the organization) you deserve to be here."
Follow Mark Brown on twitter, @journalist193