When you're making six or seven-figure salaries to play a sport, you should have some fun doing it. Right now, I don't know if there's a single person in the Canucks dressing room who is having fun playing hockey.
For Willie Desjardins, it can't be much fun to coach a team who has been shutout in four of their last six games, while scoring ten goals over their last eight games.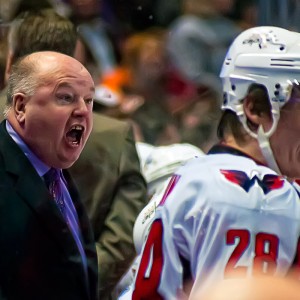 After losing eight in a row this early in the season, it's almost impossible not to discuss firing your head coach. General manager Jim Benning continues to preach patience, but everyone around the league is whispering about the possible dismissal of Willie Desjardins.
The head coach always seems to be the fall guy when things don't go right for an organization, even if the sample size is small. Todd Richards was fired by the Columbus Blue Jackets after losing eight straight games to start the season last year.
Sometimes, the sample size doesn't have to be that big. Bruce Boudreau was fired by the Anaheim Ducks for his inability to win a Game 7, after losing four straight in the winner-take-all matchup.
Are Desjardins' Canucks better than Boudreau's Ducks? Absolutely not. However, blaming the Canucks early season struggles on Desjardins is a lazy way of recycling the old "fire the coach" narrative.
Desjardins' Defence is Suffocating Offence
After struggling in both the offensive and defensive departments last year, the Canucks were put in a tough bind when deciding how they wanted to play this year. They decided to go with a tighter defensive structure based around clogging up the neutral zone.
It looked like a genius move after four straight wins, but after eight losses it's clear that they need to go a different route. Their defensive game plan is already suffocating an inept offensive unit.
Speaking of that "defensive structure?" It hasn't necessarily worked out in the Canucks own zone either. They are allowing the fourth-most scoring chances against per 60 minutes, once again relying on their goaltending to bail them out of trouble.
It originally made sense for the Canucks to play with a tighter defensive structure. They have solid goaltending, and their defence was supposed to be better with the addition of Erik Gudbranson.
However, the Canucks expected this team to score more goals. This isn't a top ten offence, but they should be better than paltry 1.56 goals they've produced per game so far. To put things into perspective, there isn't a team averaging less than two goals per game this season.
Even though the coach always shoulders the brunt of the blame, there comes a point where coaching can only go so far. At some point, the players are the ones that have to figure out the offence for themselves.
It's The Roster, Not the Coach
Scoring a hair over 1.5 goals per game surely looks bad on the coaching staff, but it doesn't all fall on the coach. Everyone around the league knows the Canucks aren't fast, and they don't resemble anything close to an offensive powerhouse. After producing some chemistry at the World Cup of Hockey more was expected out of Loui Eriksson and the Sedin twins.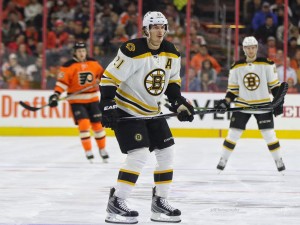 Sven Baertschi is another snake-bitten top-six forward on the Canucks, who is off to a slow start for the second season in a row. He should start to find the net again, and Desjardins should keep him with Bo Horvat. That chemistry is there, they just have to keep generating chances.
Brandon Sutter and Markus Granlund are also off to slow starts after looking good in the first few games of the season. In terms of depth forwards, Alex Burrows, Brendan Gaunce, and Jake Virtanen are all still searching for their first goal of the season. There is no help coming from the Utica Comets either, so the Canucks must figure it out with the roster they have.
If they don't, they will surely lock up last place in the NHL.
The Seat is Warming
It would be a mistake to fire Desjardins amidst this losing streak. The majority of the blame falls on the players for underperforming, and Benning for icing a mediocre roster wearing the mask of a playoff team. That being said, Desjardins and the Canucks can only lose so many games in a row before his job in jeopardy.
One reason why some Canucks fans are calling for Desjardins' head aside from the losing streak, is because the Canucks have their apparent coach-in-waiting with the Utica Comets. Travis Green interviewed for a couple of head coaching vacancies in the offseason, but ended up staying with the Canucks organization.
However, is throwing a rookie NHL coach into this mess an ideal situation? The Canucks would be better off playing out the season with Desjardins, before making a decision at season's end. Green and the Comets aren't lighting the world on fire at the moment. Utica sits dead last in the Western Conference with two wins and five points through their first ten games. Does that really inspire Canucks management to make an immediate coaching change?
Management would be better off to stay patient with Desjardins. He wasn't the one who compiled a roster with players many expect to finish last overall in the NHL.