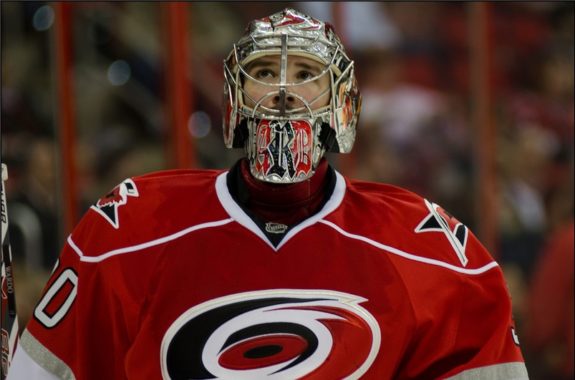 No.  This is not a parallel to the Curious Case of Benjamin Button.  If it were, there would be no discussion.  Carolina Hurricanes goalie Cam Ward, who suffered a lower-body injury before the ball dropped on 2014 (his second injury of the season), would be getting younger, not older.  His body more adept to handle a gruelling NHL season.
Cam Ward would not have been replaced by the younger (albeit two years his minor) Anton Khudobin, and there would be no trade rumors circulating the Internet.
But Cam Ward is getting older.  Father time and his mistress Madame Injury are beginning to tighten their grip on the Carolina Hurricanes goalie.  Ward's numbers have been dropping, and he has spent the better part of two seasons in athletic trainer Pete Friesen's office.
Which brings us to an impasse.  As the clock begins to tick on Cam Ward and the Carolina Hurricanes as the March 5th trade deadline approaches, do the 'Canes keep or move the Conn Smythe winning goaltender?
Cam Ward Needs to be Traded
While many Carolina Hurricanes' fans would be disappointed to see their All-Star goalie shipped before the March 5th deadline, the play of Anton Khudobin, the NHL's first star for the month of January, could definitely ease some hurt feelings.  And, as much as Cam Ward has helped the 'Canes in the past, sentiment does not win hockey games.
Khudobin has been playing stellar hockey for the Carolina Hurricanes since taking over full time duties.  His 2.14 goals against average leads the three headed tandem of goalies for the 'Canes.  As does his .927 save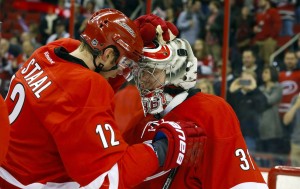 percentage.  Khudobin is also 2 years younger than the aging Cam Ward and is a UFA this coming offseason.  With Cam Ward's $6.3 million cap hit off the books, a much cheaper deal could be reached with the talented Khudobin, which would free up some room for other needs.
The return for Cam Ward would also be a huge motivation to move the goaltender.  If Jim Rutherford can find a team willing to take on the $6.3 million cap hit (which is feasible considering the cap increase for 2014-2015), the return for a Stanley Cup winning, All-Star goalie would be invaluable for the franchise.  Picks, prospects, or even a contributing player would not be asking too much.
By moving Cam Ward and standing firmly behind Khudobin, the 'Canes can improve their squad now and in the future.  Especially if Khudobin can backstop the Hurricanes to a playoff run this season.
Cam Ward Needs to Stay in Carolina
With the recent success of Anton Khudobin, it is easy to get carried away about the goalie decision.  Sometimes, standing back and looking at the full body of work can help prevent a knee-jerk reaction that could potentially cripple the franchise.
Cam Ward has been there.  He has done it.  He earned his salary by winning a Stanley Cup and a Conn Smythe.  Ward has a career goals against average of 2.76, and a save percentage of .910.  You ride with Ward; you know you will get consistency and calmness under pressure.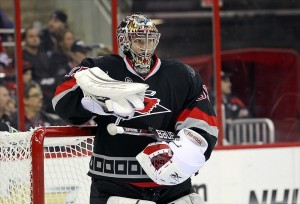 Khudobin has 41 career games played, with zero playoff experience.  Justin Peters, the third variable in this equation, has played in 68 games.  Neither has proven that they can handle the load of a gruelling NHL season as a starting goalie.
Anton Khudobin and Justin Peters are also UFA's next year.  Letting teams bid on the two, especially Khudobin, could become a risky situation for the Hurricanes.  Sticking with Cam Ward, who is signed through 2016, would provide stability and security at the goalie position.
* * *
While arguments for both sides are strong, a decision does have to be made.  Do the Hurricanes stick with the hot Anton Khudobin?  Do they avoid the hassle of negotiating a contract and ship Khudobin, while giving Cam Ward back his keys to the franchise?  Or do they stick with both goalies going forward?
With all of these factors in place, I believe the smart move would be to stay the course with Cam Ward.  He is Carolina.  They need his calming influence between the pipes.  That said, the clock is ticking.  A move must be made before March 5th, or the Hurricanes are going to be answering the goalie question for the rest of the season.  The distraction could cost them a run at the playoffs.
Tick. Tock.  Tick.  Tock.  Your move, Jim Rutherford.