With an opportunity to extend their home winning streak to a season high and league high 13 games, the Hershey Bears (29-17-3-3) failed to show up Saturday night at Giant Center. They were the victims of a 5-0 drubbing at the hands of the Syracuse Crunch, who picked up their first win over their last six games.
"We were flat," Hershey Bears Coach Mike Haviland said of the Bears' sluggish start in the opening frame. "I don't know what it is with us, it reminds me of the beginning of the year when we had 5-6 days of practice and we didn't play on those Fridays and we played the one game on the Saturday and we've come out in the first period and thought it was going to be easy."
"You lose the game in the first ten minutes, you're on your heels right away and you're playing from behind. We put things in our net, but they got some bounces, you can't come out like that. You should come out with more passion and more fire that what we did."
The Crunch improved to 19-23-4-5 on the season, scoring goals in each period to propel them to a shutout win on the road. Goaltender Allen York accumulated 39 saves for his second shutout of the season, evening his record at 4-4-3.
"You like to think you can win every game the rest of the year, but it doesn't happen," explained Hershey Bears forward Jeff Taffe. "Tonight was one of those nights where we got off to a poor start and it really cost us."
Bears goalie Philipp Grubauer struggled from the onset, batting a puck into his own net following a save that handcuffed him 3:53 into the game for Syracuse's first goal. Defenseman Luke Witkowski received credit for the Crunch's opening tally, followed up by former Hershey Bears forward Jon DiSalvatore, who netted his seventh goal of the season 9:26 into the opening stanza to give Syracuse a 2-0 lead.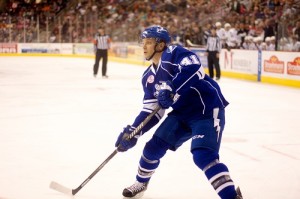 The Crunch connected on the power play once in six opportunities, with forward Richard Panik recording his first goal of the season in nine games, giving the Crunch a 3-0 advantage heading into the third frame.
The Chocolate and White started the third period strong, but couldn't best York. Hershey took aggressive chances offensively, leaving their defense liable on the other end of the ice late in the game. Forwards Vlad Namestnikov and Max Parent added goals for Syracuse, both coming during five-on-five play.
Hershey heads to Verizon Center in Washington D.C on Sunday, with a rematch awaiting them against a hungry Crunch team. They have a 15-5-0-1 record in games following a loss. Mike Haviland gave a succinct assessment of the effort by his team after the game.
"They certainly come out like they wanted it and we weren't ready to play. It's my job to prepare them, certainly we weren't ready the first ten minutes."
Bears getting a lot of help tonight in the division, as NOR & BGM lose. WBS and PRO tied late in regulation.

— Scott Stuccio (@ScottStuccio) February 23, 2014
Game Notes
Attendance: 10, 373
Bears Injuries: Cameron Schilling (day to day), Garrett Mitchell and Tomas Kundratek
Hershey Healthy Scratches: Steve Oleksy, Derek Whitmore, Nathan Walker, Stanislav Galiev, John Mitchell and Patrick Wellar
The Bears fell to 54-36-15 all-time against the Crunch
Three Stars
Allen York (39 saves on 39 shots)
Jon DiSalvatore (one goal, one assist, four shots on goal)
Vlad Namestnikov (one goal, one assist, two shots on goal)
You can follow Matthew on twitter @m_speck and email him at mspeck21@yahoo.com with any questions or comments.