The Detroit Red Wings had a solid showing at the 2014 Sochi Olympics. It's now time to take a look back on their individual performances and handout some report cards:
Mike Babcock (A+)
After all of the questions surrounding Babcock's decision making and his constant line shuffling the result speaks for itself.  Sure, he had the most talent of any country at his disposal, but handling all that talent isn't always the easiest thing in the world (just ask the Russian head coach).
His decision to start Carey Price over Roberto Luongo turned out to be pure genius. Sitting P.K. Subban in favor of Dan Hamhuis wasn't the most popular move back home in Canada, however, it turned out to be the correct one.
Babcock's cockiness and sarcasm can sometimes rub people the wrong way, yet all he does is win. In the end, Team Canada is wearing gold around their necks and it proves once again what we already knew in Detroit: Babcock knows best.
The Wings' top blueliner played more than any player on Team Sweden in Sochi at 121:19, and those were hard minutes. Although he was a minus -2 for the tournament, more often than not Kronwall was matched up against the other teams' best players.
Much has been said about Kronwall not being a true number one d-man in Detroit (even from yours truly), but he looked the part for the last two weeks. One thing is for sure: the Wings are going to need this level of play from him on a consistent basis for the next 8 weeks.
In spite of a rocky gold medal game where an Ericsson turnover led to a Sidney Crosby breakaway goal for Canada, he had a respectable tournament.
Paired with his blueline spouse in Detroit (Niklas Kronwall) Ericsson logged big minutes for the silver medalists. Unfortunately for Big E his minus -4 rating was also a team worse for the Scandinavians.
Ericsson has raised his game over the last two seasons and the Wings recognized that by awarding him with a new 6-year deal before Christmas. However, if these Olympics revealed anything about Ericsson's game it's that there's still room for improvement.
Daniel Alfredsson (B+)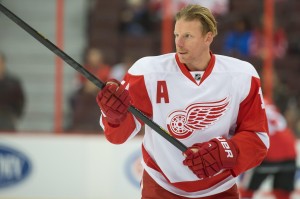 In his final Olympic appearance the 41-year-old finished tied for second in points for the Swedes with two goals and two assists for the tournament.
His game winner in a 1-0 win over Switzerland in the preliminary round proved that Alfie is still a difference maker. My only concern is that he might not have any gas left in the tank for the last 24 games of the Red Wings' season.
Gustav Nyquist (B-)
Considering he was a late addition to Sweden's roster and was the extra forward for the majority of the tournament Nyquist performed well with limited ice time. Not to mention that he came closer than any other Swedish player to solving Carey Price in the gold medal game.
Nyquist made a slick move in front of Canada's net beating Price but not the goal post. Wings' brass have to be encouraged by Gustav's performance on hockey's biggest stage.
The captain played only one game in the tournament before flying home to have his back surgically repaired. Yet, bum back and all he still managed to score the game winner for the Swedes.
But it came at a steep cost for the Red Wings as Henrik is going to miss the rest of the NHL's regular season. Nonetheless, his gutty effort in Sochi reenforced why Zetterberg is one of the best leaders in hockey.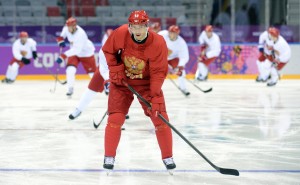 On an ocassion where almost all of his teammates underperformed, Pavel Datsyuk's brilliance was on full display in Russia. Datsyuk sniped both goals for the Russian Federation in the best game of the tournament vs. the United States.
With six points (2 goals/4 assists) he led the team in scoring despite dealing with a knee issue that threatened to keep him sidelined. Datsyuk was the best Russian player throughout the games and might be Detroit's only hope at making the playoffs this year.
Tomas Tatar (B)
The only team that disappointed more than the Russians was Tatar's Slovakian club. Nevertheless, Tatar had a more than reasonable performance under the circumstances.
He scored Slovakia's only goal in the 7-1 beat-down vs. Team USA. Notwithstanding his team's poor performance the games were an excellent opportunity for one of Detroit's future stars to gain some valuable experience.
Tomas Jurco (C)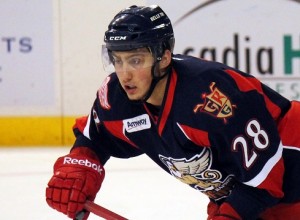 He scored a goal which is more than a lot of players for Slovakia can say. Similar to Tatar, for Jurco it's less about performance, and more about participation.
The fact that a 21-year-old Jurco even cracked Slovakia's roster is a feat in itself. He took a big stride in his development as a hockey player simply by suiting up in Sochi.
It's your turn. Which Red Wings' player impressed you the most in Sochi? Leave your comments below.
Check out our partners at TiqIQ for the best deals on Detroit Red Wings tickets for all 2013-14 games.