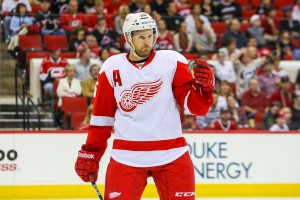 The NHL's March 5th trade deadline is just over a month away and it's about that time when we need to start considering potential areas of need for the Detroit Red Wings.
Given the laughable amount of injuries the team has dealt with this season it's fair to say their number one need is for some healthy bodies to return to the lineup.  The latest casualty coming earlier this week with starting goaltender Jimmy Howard going down during his strongest stretch of the season.
But, considering their run of bad luck in that department I wouldn't count on the Wings being healthy come deadline day.  If that's the case then Ken Holland's hand might already be played for him.
When looking at this current Red Wings group I believe there are two obvious areas of need:
1. Top Four Defenseman
Don't misunderstand me when I tell you that Niklas Kronwall is a high quality NHL defenseman, but he's not a number one guy.  In a perfect world I believe the Red Wings would like to slot number 55  in the two-hole. Two years ago they tried to do exactly that by attempting to sign Ryan Suter and we all remember how that panned out.
The reality is that since Nicklas Lidstrom shipped his Saab back to the motherland Detroit has searched in vain for a true number one d-man. Bottom line is the Wings need to find their next generation blueline stud and my colleague Ian Dunham agrees with me.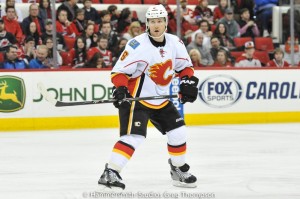 Are the odds good that Detroit will find that guy at this year's deadline? No. But, they may be able to secure a top four guy that can ease some of the pressure off Kronwall's shoulders. @Eric Francis of the Calgary Sun has speculated that the Flames are shopping defenseman Dennis Wideman.  Clearly Wideman is not Lidstrom, however, he is a veteran right shooting defender who could fit quite nicely in one of Detroit's top two pairings.
2. Power Forward 
The Wings' biggest body up front is 6'3/229lbs  38-year-old Todd Bertuzzi who is certainly not setting the world on fire with his physical play. Detroit has a significant amount of skill and speed up front, but they could use another Justin Abdelkader type forward who can put the body on opposing d-men, work below the goal-line, and turnover pucks.
These kind of players are not exactly a dime a dozen in the NHL because they are such a valuable commodity to their teams.  We got a close up look at the kind of impact that a group of big, strong,  power forwards can have when the St. Louis Blues visited Joe Louis Arena earlier this week.  David Backes, Chris Stewart, and T.J. Oshie dominated the Wings along the boards, in the corners, and in front of the net.   The Red Wings need to bulk up if they are going to compete with the St. Louis', Chicago's, L.A.'s, and Boston's of the world.
Perhaps the Wings could kill two birds with one stone in a deal with the Calgary Flames. In his article Eric Francis also mentioned that 6'2/210lbs right winger David Jones could be on the trading block as well. 
Will  Ken Holland & company be able to pull off a major deal at the trade deadline?  We'll have to wait until March 5th to find out.
Growing up in London Ontario I only had 2 choices: Wings or Leafs. Fortunately, with a little strong arming from my Dad I made the right choice and have been a Wing Nut ever since. My loyalty has never wavered through the good times and bad… even after enduring plenty of ridicule at school because of Borschevsky's goal in '93. My favorite time of year is early spring when playoff hockey begins, playoff beards are sprouted, and the dream of Detroit hoisting Lord Stanley's Cup presents itself one more time.