Dear Thomas Vanek,
I know you have a lot on your plate right now, with how you're dealing with a move to Long Island with your family and beginning to think ahead to the Olympics. I'll be rooting for you and fellow Islander Michael Grabner for sure. With that said, your impending case of unrestricted free agency is probably not the first thing on your mind, but I can surely say that it is for Islanders fans. Therefore, I've constructed my list of reasons why you and your family would not be making a mistake by extending your stay here with the Islanders. First off, let's look at the obvious.
You're on One of the Best Lines in the NHL.
John Tavares is a 23 year old superstar who could reach 100 points this season, if all goes well. He's currently on pace for about 98. Kyle Okposo is a fellow University of Minnesota alum and has finally woken up this season after having some injury trouble and disappointing seasons. I don't know how much everyone in the locker room looks at stats, but this is pretty impressive if you ask me:
Is this not the best screen cap ever? #Isles pic.twitter.com/hn2KLcenMt

— connor (@ConIsles) January 22, 2014
That's a lot of points. I hear that Sidney Crosby guy is actually the captain of team Canada too, so to have more in the past month is quite a feat. A player like John Tavares only comes around once in a blue moon, so to leave that would be a mistake (no offense to other talented players around the league). This is by far the best line you've been on in your career and perhaps may be one of the best you'll ever be on. My question to you then, Mr. Vanek, is why leave it?
You Can get an Extra Year Here.
Yes, this is true. Due to the new CBA restricting the length of player contracts, the Islanders would be able to offer Thomas Vanek (and any other free agent that is on their team) an eighth year. This could prove to be huge if a sticking point ends up being length. You have a family and wouldn't want to move around a lot, and I can totally respect that. The extra guaranteed year would help you stay grounded for a bit longer here on the Island. I'm sure Mrs. Vanek wouldn't mind being so close to Manhattan, as well as being around so many great school systems for Blake. Speaking of being so close to the city….
The Islanders are Moving to Brooklyn.
Some people, such as myself, are still not over the inevitable sadness that comes with the knowledge that the Islanders will be moving out of Nassau Coliseum. For a player, it probably isn't too great – the locker rooms are pretty small, and the whole building itself is dated. Trust me, I can understand the desire to have a nice new building. Well, if thats the case, then we have just the thing for you – the Barclays Center in Brooklyn!
The building settles the Islanders in a new, state of the art home for the next 25 years, so there's no worries about having to move to Kansas City or Quebec anymore. While some of the views in the arena may be less than ideal for hockey, this will breathe some fresh air into the team which hasn't had much real change since 1996 – and that so happens to be change most fans wish they could forget. The opportunity to play in Brooklyn is one that should be relished. Sure, the team takes the name "New York" but it doesn't really benefit from all the perks that other New York teams do. Just look at how the Brooklyn Nets have been revitalized since their move to Brooklyn.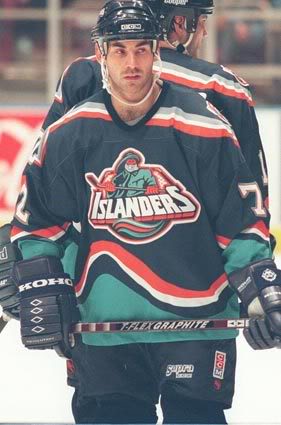 While comparing the Nets and Islanders could be similar to comparing apples and oranges, there's still something to be said for moving to a gorgeous arena with convenient mass transportation. By staying with the Islanders and looking towards the first few years in Brooklyn, you'd be part of a growing brand that will only get stronger, and eventually lead towards more money for everyone involved. While I don't consider myself a financial expert by any means, I do think that moving to the city helps the team in the long run and indirectly helps players as well. The Stadium Series game is evidence of the higher amounts of press coverage the Islanders will likely get with the move to Brooklyn.
You Could Help a Young Team Reach Their Potential.
We all saw it last year – the Islanders made the playoffs for the first time in years. And they didn't just make the playoffs – the team took the Penguins to a tough six game series and put some doubt in the minds of hockey fans and experts alike. This year may not have been what fans and players expected, but things are starting to look up for the season – the team has gone 7-3-0 in their last ten games at the time of writing, and are only a few points out of a playoff spot. It's entirely possible that if the team continues to play well, then they could be four or five points out of a playoff spot by the Olympic break.
The team is missing what would be considered their two best defensemen in Travis Hamonic and Lubomir Visnovsky and there are so many prospects just ready to contribute next year as well. This isn't the same as Buffalo, who is starting their rebuild now. This rebuild has been going on for quite some time, as any Islander fan will tell you. Once this team is healthy and finds some rhythm in net, they will be a scary team – and more so with you on board.
The Fans Will Love You.
We all love to be loved. Islanders fans have a tendency to fall in love with players for years. I've seen more than a few Vanek jerseys and shirts already at Islander games and around the Island. If you stay with the team and help them do great things, you'll be forever adored by Islander fans. We all would love for you to make your home Long Island for a long time, and hope you feel the same about us!
From,
Anthony Tartamella and Islanders fans all over.