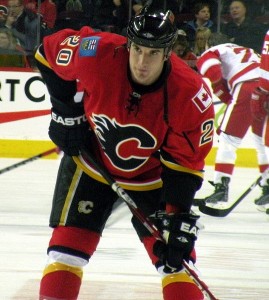 Coming off an excellent season in which he posted a career high 24 goals and 43 points and despite signing a new four-year, 10.2 million dollar contract, Flames forward Curtis Glencross continues be a player that is very much underrated and for the most part unappreciated. The 28-year-old winger has arguably been the club's most consistent forward at both ends of the ice in each of the last three seasons and while his defensive play has never been questioned, his offensive production is the area which has surprised the most. Dating back to when he was a fringe player with the Oilers and Blue Jackets in 2007-2008, Glencross has seen his goal total increase every season, even though he has been utilized mainly as a third-liner with limited power-play duty. Underrated, Unappreciated.
While it certainly has never dictated the way he plays the game or goes about his profession, being unappreciated is nothing new to Glencross. A native of Kindersley, Saskatchewan, Glencross was never drafted to play major junior hockey and wasn't given a chance to prove his worth as a player until he was recruited to play for the Brooks Bandits in the Alberta Junior Hockey League. His strong play with the tier-2 junior club wasn't enough to catch the eyes of NHL scouts in what was his draft year in 2000, but it did earn him a scholarship to the University of Alaska-Anchorage. Glencross played two years with the Seawolves where he was one of the top forwards in the WCHA and chose to forego his remaining two years of eligibility, opting to sign a pro contract with Anaheim.
He spent two full years in the AHL before getting a chance to play in his first NHL game with the Ducks in 2007, but his time with the big club was brief and he was released by the organization. In that same season, Glencross caught on with Columbus' AHL affiliate in Syracuse where he enjoyed his best minor-league stretch scoring 19 goals in only 29 games. Those games would be the last he would play at AHL level and Glencross established himself as an NHL regular in the 2007-2008 season split between Columbus and the Edmonton Oilers. Despite playing well with the Oilers, the club showed little interest in retaining his services and he instead signed with the rival Flames. Underrated, Unappreciated.
His first year with Calgary came in 2008 where he played in 74 regular season games scoring 13 goals and dished out what remains a career-best 27 assists. It was in that year that Curtis Glencross really began to assert hismelf as a reliable two-way forward finishing behind Craig Conroy and Rene Bourque with a +14 rating. He proved to be particularly effective on the penalty kill utilizing his speed and strength to create scoring chances while being a man down. The following year his game total was reduced to 64 due to a knee injury but he was still able to set a new career-high with 15 goals and again was the Flames most effective two-way player finishing with a +11 rating; a total that was best among team forwards.
Last year Glencross stormed out of the gate and never looked back. His strong defensive play remained in tact but his offense took off and he found the back of the net 24 times en route to a career-best 43 point season. While the club struggled to score throughout the campaign, Glencross's  production never waved and his consistent effort made him a hot commodity at the trade deadline. Realizing his unquestionable value to the team, general manager Jay Feaster decided to hold on to Glencross in a hope that he could sign him in the off-season and although he felt he could have possibly signed elsewhere for more money, Glencross decided to remain with the Flames and signed a four-year deal.
Now entering his fourth-year in Calgary, Glencross heads into the new campaign expected again to give the Flames the secondary scoring they will most certainly need if they hope to make the playoffs. With injuries to skilled youngster Mikael Backlund and the aging Brendan Morrison, the Flames will be counting on Glencross to produce more than perhaps ever before, and if his track record is any indication, he is likely to exceed those expectations ten-fold. While more highly-regarded players have come and gone (and come back again) Glencross continues to be a consistent presense on a team that has been largely inconsistent for the last few years.  Underrated and Unappreciated: the story of Curtis Glencross.
Resident of Windsor, Ontario. Extensive knowledge of both the NHL and junior hockey in Canada, particularly the OHL. Writer for THW covering the Winnipeg Jets and the OHL as well as covering Phoenix Coyotes prospects for Hockey's Future.