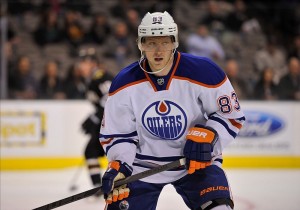 Not much has gone right for the Oilers this season. Coach Dallas Eakins came into the job with somewhat of a swagger. He worked well with young players in the past, and the team looked poised to finally make some noise in the Western Conference. But injuries and mistakes have derailed the season 38 games in, and everything came to a head on Saturday.
After the team's 6-0 loss to the St. Louis Blues at home, an understandably frustrated Oilers fan threw their jersey onto the ice as the crowd serenaded their team with boos. Head coach Dallas Eakins did not accept the gesture very well. One thing to draw from the comments, is that an actual quitter would have given up a long time ago. Jersey gate starts at the 3:28 mark.
Did Dallas Eakins overreact? A little bit. Actually, a lot, because that particular fan suffered the wrath of a man who has absolutely no answers for what's going on with his team, and doesn't see any help on the horizon. Eakins isn't one to mince words. He blasted his team already, and now is blasting a fan, a person who pays a lot of money to watch the garbage that the Oilers are displaying. He bought the jersey, he can do what he wants with it. Does that make him a bad fan? If anything, it shows just what kind of fan he is, throwing away an expensive jersey (of Ales Hemsky) because the state of his beloved team has affected him to the point that he doesn't know how to handle it.
The fan in fact has a name, Curtis Goyetche. From the Edmonton Sun:
"The team means a lot to me," said the Spruce Grove resident who earns his living in Northern Alberta. Goyetche says he goes to as many games as he can find time for and afford to attend when he's home.

"The Oilers are the only thing I care about when it comes to sports. It's the only sports team I've ever followed in my life. I've been an Oiler fan ever since I can remember. I've been to every home opener for quite a few years now. I have my own tickets for three more games this year.  I'm loyal to the home team, good or bad. I just felt I had to do something. This team has enormous potential. I can't understand where everything they do wrong comes from. I was just fed up. Frustrated. I was just being a passionate fan making my own statement, I guess. It just happened."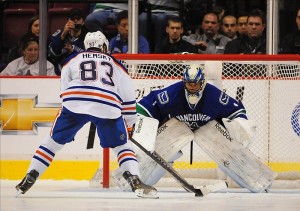 Unfortunately for Goyetche, Eakins decided he was going to take out his many frustrations on this obvious loyal fan. As a player, getting booed off the ice and seeing fans throw things can't feel very good. But it's hard to have sympathy for millionaire athletes. They have a job to do, and that's to perform. Fans paying for tickets and jerseys, etc help to pay their lofty salaries. And there should be no excuses for poor play.
There are some people who feel that fans don't have a right to react in such a way. They don't play the game and thus don't understand how hard it is. Sometimes a fan does cross the line. In this case, and judging by the fans comment, it was a display of passion. It didn't hurt anyone. It didn't damage property. If I were Eakins, I might actually be glad to see a fan react in such a way. Some teams have to practically give away tickets just to get fans in the building. The Oilers have such a loyal base that they have suffered through years of misery and are so connected to their team that they throw away a good $120 dollars out of disappointment.
But, Eakins clearly doesn't know what else to do. Jersey Gate is a nice distraction as we go into the holiday season. After the commotion dies down, Eakins has some serious issues to deal with. And it's much bigger than discarded clothing.