Faced with the difficult task of repeating as U20 World Juniors champions, Team USA is going to rely on some new faces to carry the team.  The only returning players from last year's squad will be forwards Riley Barber and Ryan Hartman, and goaltender Jon Gillies.  There are a number of eligible returnees that cannot make the tournament for various reasons.  Pat Sieloff is injured, and Alex Galenchyuk and Seth Jones are making their names known in the NHL.
Boston University Terriers on Team USA
Due to the lack of familiarity on the squad, creating chemistry and getting the team to gel is going to be one of the most difficult tasks for coach Don Lucia.  Thankfully, many of the players have played together at various levels of their careers for the USNTDP.  There will also be a certain degree of familiarity among three of the most important players on the US roster.
Center Danny O'Regan and defenseman Matt Grzelcyk have been playing together for the Boston University Terriers for the last year and a half, and played together for the USNTDP before as well.  Joining them will be star recruit Jack Eichel, who will join the Terriers in the fall of 2014.  Boston University is tied with rival Boston College for sending the most representatives to the US team with three.  All three Terriers will play prominent roles for the US team.
Matt Grzelcyk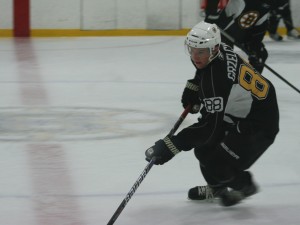 A 2012 3rd round pick of the Boston Bruins, Grzelcyk was nearly a member of the 2013 squad that won the gold medal.  Grzelcyk traveled with the team to Russia and played in the pre-tournament games before he was the final cut from the team.
This year, Grzlecyk is using last year's events as motivation to perform.  In his time at BU, he has established himself as one of the better puck-moving defensemen in the country.  He was named to the Hockey East All-Rookie team in his freshman year.
Grzelcyk uses his strong skating ability, vision,  and patience to create offense for his team.  He is very effective at breaking the puck out of his own zone, and is a useful power play quarterback.  Grzelcyk is not a big player at 5'9″, but is very cerebral in his defensive zone, using his hockey smarts and stick to play effective defense.
In the US's two pre-tournament games, Grzelcyk has been placed on a pairing with Boston College defensemen Ian McCoshen.  If they stay intact, the pairing would bring a nice combination of offensive and defensive ability. McCoshen is a jack-of-all trades defenseman that can do a little bit of everything, and brings the size that Grzelcyk does not have.
Grzelcyk has also taken a regular shift on Team USA's power play where his offensive abilities will be very useful.  At both even strength and on the power play, Grzelcyk will be relied upon heavily to create offense from the backend.  Offensive contributions from defensemen will be especially important this year because the US is lacking in offensive talent compared to last year.
Danny O'Regan
O'Regan was one of the biggest surprises for the Terriers last year.  He played well throughout the first half of the year, but caught fire in the second half.  He established himself as the premier offensive threat on the Terriers en route to the Hockey East Rookie All-Star team alongside his teammate Grzelcyk.  A fifth round pick of the San Jose Sharks, O'Regan has tremendous vision and passing abilities.  He possesses good speed and is a decent goalscorer, but is best at setting up his teammates.
In camp and in pre-tournament games, O'Regan has been the first line center for the US.  Playing between left wing Nic Kerdiles and right wing and captain Riley Barber, the line has been very productive in the pre-tournament games. By far the most offensively talented line the US has, they are going to be heavily relied upon to score a lot of goals for the US team.
So far, O'Regan has met expectations, scoring a goal in both pre-tournament games; a 4-2 loss to Sweden and 3-2 win over Finland.  He has seen extensive time on the power play, where his vision and passing will be a big asset for the US.
Jack Eichel
Going into selection camp, many thought Eichel would have an uphill battle to make this US team.  After all, he is not draft eligible until 2015.  But Eichel is not just any prospect.
In last year's Under-17 World Challenge, Eichel and Canadian phenom Connor McDavid stole the show.  Those two were head and shoulders the two best players in the entire tournament.  McDavid is already penciled in as the #1 draft pick in 2015, and some are calling him the best prospect since Sidney Crosby.  The fact that Eichel is being mentioned in the same breath as McDavid is remarkable.
Craig Button said Eichel is in the conversation for being a top 3 pick in the 2015 draft. Eichel will likely be the highest touted player to play college hockey since 2007 second overall pick James van Riemsdyk.
As a player, Eichel is an electrifying offensive talent.  A goalscoring center, Eichel's ability to utilize his exceptional shot and stickhandling abilities at full speed is what separates him from other players.  After just one practice with him, Grzelcyk and O'Regan were impressed by his abilities. Already at 6'1″, 191 lbs. at the age of 17, Eichel's size will allow him to handle the rigors of playing against bigger 19-year-olds in the tournament.
Like O'Regan, Eichel has taken a prominent spot in the US lineup at center.  He is currently the second line center for the US, where he's played with Ryan Hartman at right wing, and Henrik Samuelsson/Zach Stepan at left wing.  In the pre-tournament games, Eichel has been a consistent offensive threat for the US, generating many offensive chances.  He was named the US' Player of the Game in the loss to Sweden.  Like O'Regan and Grzelcyk, he has also seen extensive time on the power play.
If the United States is going to have success in this tournament, they are going to need big performances from all three Terriers.
The tournament gets underway December 26; a complete schedule can be found here.