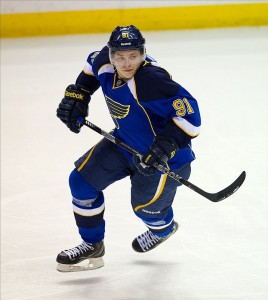 With the St. Louis Blues nearing the halfway point in the 2013-14 season a lot has been made of the outstanding seasons being had by Alexander Steen, David Backes, and second year man Jaden Schwartz.  Little has been made of the sophomore season of Vladimir Tarasenko.  There are certainly a lot of reasons that his season of 11 goals has gone pretty much unnoticed.  First and foremost is the incredible start the Blues,  as a team,  have gotten off to.  With 48 points through 33 games the Note has perched itself amongst the top teams in the Western Conference.  The wins are typically a total team effort so with the rare exceptions of Steen going off,  one player rarely grabs the headlines.  The team attacks as just that a team.  Most rushes are of the five man variety, with each player getting a touch on the way up ice.  Individuality is at a premium.  The St. Louis Blues crest on the front of the sweater is much more important than the name on the back of it and these players buy into that.
Hitchcock's coaching Philosophy                                                                                                                                          Ken Hitchcock and his coaches teach a philosophy of team puck possession.  That team credo has been around since his days with the Dallas Stars.  It rarely lends itself to individual efforts that make the highlight reel.  But it can lead to Stanley Cup championships.  In addition it can aid a player to reach offensive heights while maintaining that defensive responsibility that leads to the team puck possession, just ask Mike Modano.
  Modano has been viewed by many as the greatest American born player.   If you take a glance at his career his most productive years were under the tutelage of Ken Hitchcock.  So while it is always a team first concept, individuals can excel in his system.  Like most Blues fans I am hoping the system is not crushing Tarasenko's creativity.  Individual efforts, such as his inauguration last year against the Detroit Red Wings, can ignite a crowd as much as two pugilists dropping the gloves.  Tarasenko had The Scottrade Center  faithful out of their seats with that performance.  This campaign it appears that the team first philosophy has reeled him in a bit.  One hopes that his on ice creativity will not be totally abolished by this stranglehold.  There is no substitute for an unabashed, 1 versus the opposition singular effort.  Check out an Alexander Ovechkin highlight reel and tell me its not a game changer.  It most certainly is.
Concussion repercussions
The final factor could be the timidity that comes along with getting rolled.  After suffering through post concussion syndrome last year courtesy of Mark Olver,  Tarasenko seemed to be a little gun shy.  He didn't possess the temerity and confidence he had before the hit and that feeling may hinder him and his one on one efforts.  The production does seem to be coming around, but he does need to make himself more noticeable game in and game out.  His shot total at 65 puts him sixth on the Blues and is around the same pace he had last year when he had 75.  The Blues need him to continue firing and dragging himself into the fray.  Being teamed with Jaden Scwartz most certainly will help in this aspect.  An explosive and energized Tarasenko is what Blues fans want to see.  The season is still young and his career is in the fetal state.  Let's watch him grow.