With the fantasy hockey season rapidly approaching the New Year, managers are probably getting ready for the final few months of the regular season. While injuries could decimate a fantasy team and the hopes of its manager, there are many options that one can consider in their respective free agent pool.
Over the last couple of weeks, THW focused on identifying some lesser-owned skaters for fantasy managers to consider, but what does one do when their starting netminder becomes a victim of an injury? Selecting the right goalie to replace your starter could be a daunting task since many premier goaltenders have long been snagged from the waiver wire or free agent pool. However, fantasy managers shouldn't despair as there are a number of appealing options in terms of backup goalies – players that managers should absolutely consider should anything happen to their starting goalie down the line.
[Single Day Fantasy Draft: $500 Up For Grabs – Come Check It Out, Free to Enter]
Standout Backups
Frederik Andersen (Anaheim Ducks – G)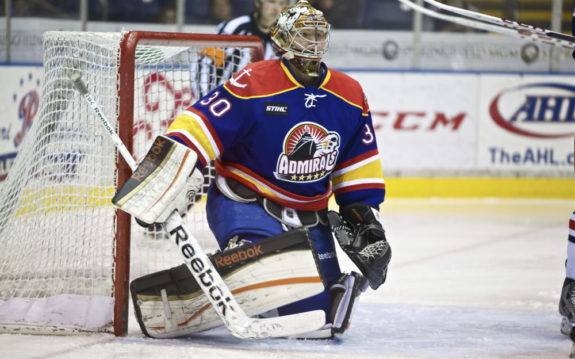 It is absolutely surprising that Frederik Andersen is still only 18% owned in Yahoo! leagues while Viktor Fasth's ownership rate sits at 36%. Yes, Jonas Hiller has been playing spectacular hockey as the Ducks' No. 1 starter and Viktor Fasth is still on the IR, but Andersen has played well enough to warrant being owned by a higher percentage of managers.
Since Andersen's ownership rate is still at 18%, fantasy managers should absolutely scour their free agent pools for the goalie. With a record of 9-1-0, 1.87 GAA, and .932 Save Percentage, fantasy managers – especially those in deeper leagues – would be hard pressed not to give the backup goalie some consideration over the next couple of weeks. Despite the fact that Jonas Hiller has a firm grasp on the starter's role in Anaheim, Frederik Andersen has shown his preparedness on multiple occasions and could be a solid option for those in deeper leagues.
Eddie Lack (Vancouver Canucks – G)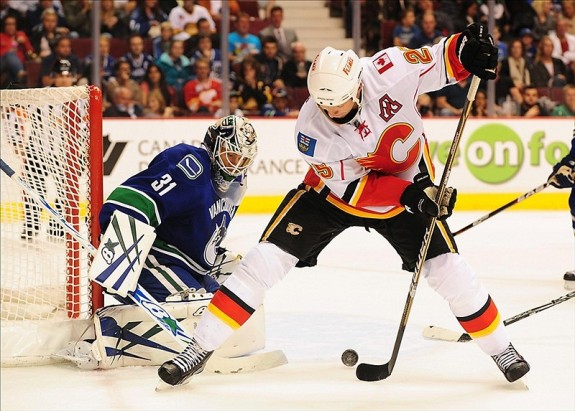 Roberto Luongo's injury does not seem to be too serious as head coach John Tortorella indicated that the goalie is day-to-day with a lower body injury. However, that doesn't mean that fantasy managers should keep on ignoring Eddie Lack and the fact that he is only owned in 12% of Yahoo! leagues.
Sporting a 6-2-0 record with a 1.93 GAA and .928 Save Percentage, Lack has been a very formidable number two option behind Roberto Luongo. Seeing as how Luongo will most likely be named to Team Canada, Lack might see some added starts in January and February. Assuming that Luongo doesn't have any setbacks with his lower body injury, fantasy managers should definitely consider giving Lack an add in their leagues as he has done everything to earn his due credit this year.
Justin Peters (Carolina Hurricanes – G)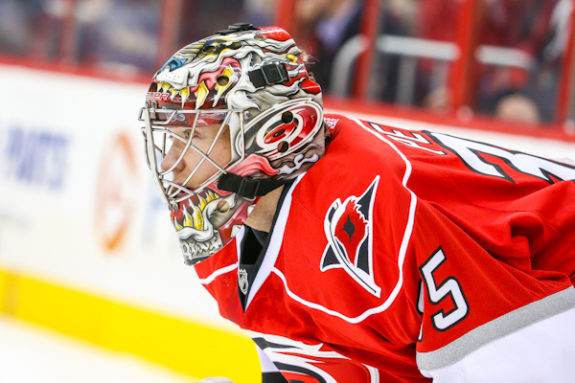 The jury might still be out on Justin Peters and whether or not the goalie can maintain his current level of play for an extended period of time, but he has certainly grabbed the eye of fantasy managers as of late. Even though Cam Ward is the starting goalie for the Hurricanes, Peters is making it hard for GM Jim Rutherford to decide what to do with his netminders.
Anton Khudobin is nearing his return, but Peters' play might create some problems as it is hard to ignore the body of work (7-9-3 W-L-OTL record, 2.30 GAA, .926 Save Percentage) that the goalie has compiled so far this season. While many might not be completely sold on Peters, fantasy managers must remember that the goalie was thrust into a very tricky situation after Ward and Khudobin went down with injuries earlier this season. Given the fact that Peters has the most minutes played out of every goalie on this list and is only 15% owned, fantasy managers looking for goalie help should search for Peters in their respective leagues as the goalie has made a solid case for starts behind Cam Ward.
Phillip Grubauer (Washington Capitals – G)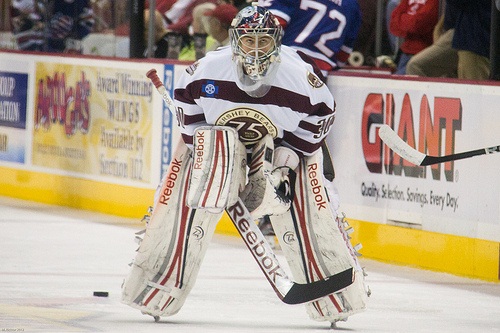 Not many might have tabbed Phillip Grubauer to have success in the NHL this year, but the goalie has done just that in six games played this year for the Washington Capitals. Since Braden Holtby and Michal Neuvirth might not have the most eye-pleasing peripheral statistics, Grubauer could be a good addition for many fantasy managers.
Managers shouldn't be fooled by Grubauer's lack of NHL experience as the goalie paid his dues at the AHL level in order to be recalled this season. Playing to the tune of a 4-1-1 record with a 2.20 GAA and .934 Save Percentage, fantasy managers should absolutely take note of the goalie's prowess thus far. Seeing as how Grubauer is only 7% owned, it wouldn't be a surprise to see fantasy managers add the goalie if he keeps up his current level of play. Those in deeper leagues should definitely stash Grubauer while managers in shallower leagues might want to give the goalie a game or two more before adding him to their rosters. Regardless of which route is taken with the goalie, Grubauer has most certainly played his way onto the Capitals' roster and will continue to get starts as long as he remains the hot hand.
Marek Mazanec (Nashville Predators – G)
Marek Mazanec has been having a rough December, but if the goalie's statistics from late November are any indicator of his ability, then Czech netminder should rebound soon enough. Pekka Rinne's injury has forced the Nashville Predators to rely on the likes of Carter Hutton and Mazanec, but fantasy managers shouldn't push the latter goalie out of their minds because of his poor performances this month.
Mazanec has appeared in 16 games and has posted a respectable 5-8-1 record with a 2.73 GAA and .910 Save Percentage. Although the aforementioned statistics might not blow fantasy managers away, one must remember that Mazanec's numbers would be looking all the more better without his December slump. For the meantime, fantasy managers should keep a close eye on how Mazanec rebounds, and if the results are encouraging enough, then the netminder should certainly be added to most fantasy rosters.