Surely two teams will be chomping at the bit tonight in St. Louis. Dallas enters the contest rested after a 4-0 loss at home to Toronto on Tuesday night. Going into that game the Stars had won 4 in a row and were feeling good about their game. Currently the Stars sit at 14-14-5 which is 8 points out of a Wild Card spot and just 5 points ahead of Arizona who is next to last in the conference. Meanwhile, tonight's opposition, the St. Louis Blues are 3rd in the Central division with an overall record of 21-10-3. The Blues have been up and down lately with a 5-4-1 record in their last 10 games. The low point coming in a 5-0 loss at Colorado on Tuesday night. However, the Blues are an impressive 12-3-1 on home ice and play a very disciplined game under former Stars coach Ken Hitchcock. A win tonight would move the Stars within 6 points of the last playoff spot in the west. A loss would create a bigger hole to dig out of with only 7 games remaining until the half way point of the season.
Kari Lehtonen has headed to the locker room in St. Louis and looks like your probable starter tonight vs. Blues.

— Mike Heika (@MikeHeika) December 27, 2014
 Kari in net, Sceviour to get Top Line Minutes
Like most NHL teams, when the Stars win, their best players are their best players. They will need that recipe tonight starting with Kari Lehtonen in-goal. When he's on his game Lehtonen looks like one of the best goalies in the league. Conversely when Kari is off, he looks very average to below average.  Also, due to the Stars' lack of a strong physical presence on the blue line there is very little margin for error.  Therefore, Kari must have strong rebound control tonight.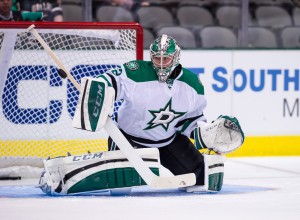 The Stars will realign their forward combinations again tonight. It looks like 25 yr old Colton Sceviour will get a look at right-wing on the Benn-Seguin line. Last season Sceviour scored 32 goals for the Texas Stars and 8 for Dallas. He got off to a slow start this year with only 2 goals and 5 assists in 28 games, but he has 3 points in his last 5 games so the time might be right for this top-line audition. Veterans Cole-Spezza-Hemsky will start on the second line with "The Bullldogs" (i.e. Roussel-Eakin-Garbutt) trying to rekindle their chemistry on the third line. Completing the bottom 6 will be another trio of NHL veterans Horcoff-Fiddler-Moen. The Stars defense should look like this tonight: Jokipakka-Daley Goligoski-Klingberg Benn-Demers.
Allen, Tarasenko and Otter
The Blues will be starting their impressive rookie goaltender Jake Allen between the pipes.  Allen is currently rotating with the recently signed, living legend Martin Brodeur, while fellow goalie Brian Elliott recovers from a knee injury.
The Blues have plenty of firepower up front led by young Vladimir Tarasenko. The 23 yr old native of Yaroslavl, Russia is seventh in the league in scoring with 20 goals and 17 assists in 34 games this season. He also boasts an impressive team high +18 to go along with his team leading 4 game winning goals. In addition to Tarasenko, the Blues have a collection of highly skilled forwards in Paul Stastny, Jaden Schwartz, Jori Lehtera, Alexander Steen and T.J. Oshie. They can also play a physical style game with rugged forwards David Backes, Maxim Lapierre and former Stars fan favorite Steve Ott.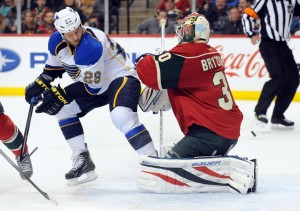 Blues Defense, the Special Teams Match-Up, Kirk Muller
The Blues top 3 defensemen (Bouwmeester, Shattenkirk and Pietrangelo) are among the best in the league, but their bottom 3 defensemen (Butler, Lindbohm and Jackman) lack experience and can be exposed. The Stars will want to avoid unnecessary penalties against the Blues. St. Louis has the 3rd best power-play in the league at 24.8% while Dallas is only at 14.9% on the power-play. Both teams struggle on the penalty kill with Dallas ranked 21st at 79.3% and St. Louis 24th at 78.3%.
Longtime Stars fans might recognize another familiar face next to Hitchcock on the Blues bench tonight.  Yes, it is former "Grumpy Old Men- line member" Kirk Muller.  Kirk  is now working as an assistant coach with the Blues.
A Look Ahead
After tonight's game the Stars return to Dallas for a 3 game homestand against the Rangers, Coyotes and Wild.  The homestand kicks off on Monday night and ends on Sunday.
I have a Bachelor of Arts Degree is Sociology from Bridgewater State College. I have covered amateur hockey prospects with Texas roots for the scoutingreport.org, and I am a Dallas Stars writer for The Hockey Writers. I can be reached via Twitter @EdTexmass09.