The Dallas Stars were busy this summer signing arguably the two best unrestricted free agent forwards on the market to multi-year contracts. First, they signed mountainous Martin Hanzal to a three-year deal worth $14.25 million. The 30-year-old Czech native is 6 foot 6 and 230 pounds. Hanzal excels at faceoffs and brings needed help to the Stars penalty killing department.
Next, the Stars signed Alexander Radulov to a five-year contract worth $31.25 million. The 31-year-old Russian winger is six-foot-one and 200 pounds. He is a highly skilled offensive player who broke into the league with the Nashville Predators ten years ago. After a contract dispute with the Predators, he ultimately returned to Russia, playing eight seasons in the KHL.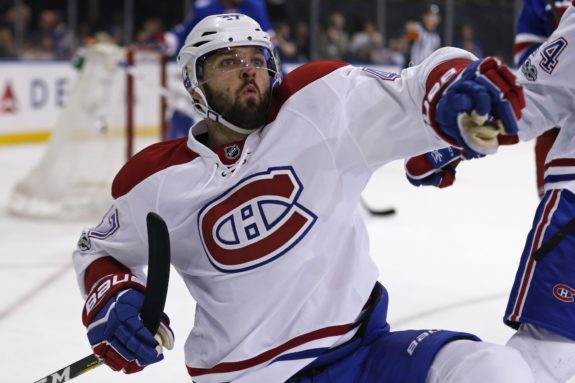 He came back to the NHL last season with Montreal. Radulov had 54 points (18 goals and 36 assists) in 76 games with the Habs. Some reports have Radulov projected to play on the first line with Jamie Benn and Tyler Seguin.
On paper, the two signings should improve the Stars already immensely talented forward ranks. They virtually swamped out an aging Patrick Sharp who is returning from injury and Cody Eakin who is coming off his worst year as a pro for Hanzal and Radulov. Personally, I'm not a huge fan of the length of Radulov's deal, but you often have to overpay to land top talent via unrestricted free agency. On the other hand, it also wouldn't be the first time the Stars have been burned in free agency. Let's take a closer look at free agent signings that backfired on Dallas.
Stars Five Biggest Free Agent Flops
#5 – Jiri Hudler
Stars general manager Jim Nill signed Jiri Hudler for depth last offseason as the team's forward corps were dropping like flies. Unfortunately, things got off to a bad start as Hudler battled a mysterious illness which kept him out of the lineup until about Christmas. When he did return the results were poor, as he scored just three goals and eight assists in 32 games. The low point came when he scored his own goal on February 10th in a 3-2 loss to Ottawa. The small sample size and somewhat reasonable dollars (one-year, $2 million cap hit) keep Hudler from being higher on the list. Hudler remains without a contract for the 2017-18 season.
#4 – Bill Guerin
The Stars signed Bill Guerin to a five-year $45 million contract as a 31-year-old wing (sound familiar?). Former Dallas Stars general manager Doug Armstrong wanted more dynamic wingers to pair with his center ice men. Guerin had represented Team USA several times with Stars frontman Mike Modano, making the power-forward the perfect choice to ride shotgun with Modano.
Guerin produced 59 goals (25 and 34) and 222 penalty minutes (113 and 109) his first two seasons in Dallas but struggled his third season with just 13 goals in 70 games.  Also, in 14 career playoff games for the Stars, he produced just three goals and two assists.
After the disappointing 2005-06 season the Stars decided to buy out the rest of Guerin's contract. After leaving Dallas, Guerin went on to play another five seasons in the NHL. He wrapped up his 18-year career with Pittsburgh in 2009-10.
Replacing Brett Hull
#3 – Donald Audette
When the Stars let Brett Hull walk as a free agent in 2001, they made things worse by signing Donald Audette to a four-year, $12 million contract. The offensively gifted winger was coming off a 79 point season (34 goals and 45 assists), but things never worked out in Dallas. The Stars traded Audette after just 20 games. His lack of production 12 points (four goals and eight assists) and butting heads with head coach Ken Hitchcock led to his ticket out-of-town. Trading Audette early helped to the Stars avoid a potential buyout situation.
After leaving Dallas, Audette suffered a horrific injury with Montreal when an opponent's skate severed tendons in his forearm in a game against the New York Rangers on December 1st, 2001. Audette would go on to play parts of the next three seasons with Montreal and Florida before retiring in 2003-04.
#2 – Pierre Turgeon
In 2001 the Stars also signed veteran center Pierre Turgeon who was coming off his ninth NHL season scoring 30 or more goals.  Turgeon inked a five-year, $25.5 million deal with Dallas. The thought was Turgeon would give Dallas the deepest stable of center ice men in the NHL.  Instead, they had trouble finding the right chemistry as Modano was the only Star with more than 49 points in 2001-02. The season would lead to head coach Ken Hitchcock being relieved of his duties. In three seasons with Dallas Turgeon never scored more than 15 goals and never reached 50 points.
Under the terms of the old collective bargaining agreement, team owners had the right to buy players out at two-thirds of their contracts without it counting against the salary cap. In Turgeon's case, the buy out was for $2.97 million
Turgeon would go on to play parts of two more seasons with the Colorado Avalanche before retiring in 2007.
Brett Hull Curse Continues
#1 – Sean Avery
The Brett Hull Curse hit full stride in 2008 when Hull, who was working as the Stars co-general manager with Les Jackson signed Sean Avery to a four-year, $15.5 million contract before the 2008-09 season.
At the time, Avery had six seasons of NHL experience and had developed into an effective agitator with limited offensive skills.
To say Avery didn't work out is an understatement.  Avery was more of an agitator off the ice than on it. His antics drew the ire of Stars organization, fellow players, fans and then Stars owner Tom Hicks. He produced three goals and seven assists in 23 games with the Stars before they placed him on waivers on February 7, 2009.
One of Avery's former employers, the Rangers, would end up giving him a second chance. He would go on to play parts of three seasons with the Rangers before retiring on March 12, 2012.
I have a Bachelor of Arts Degree is Sociology from Bridgewater State College. I have covered amateur hockey prospects with Texas roots for the scoutingreport.org, and I am a Dallas Stars writer for The Hockey Writers. I can be reached via Twitter @EdTexmass09.