The Dallas Stars began the 2013-2014 season with what seemed to be substantial depth on defense. The NHL roster consisted of veterans Alex Goligoski, Trevor Daley, Stephane Robidas and off-season acquisition Sergei Gonchar.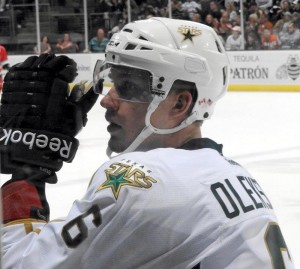 They were combined with budding youngster Brenden Dillon and Jordie Benn, who improved greatly over last season. Aaron Rome was still recovering from off-season hip surgery, but was expected to fill in as a solid sixth or seventh defenseman.
The minors seemed to be overflowing with potential including Dallas' 2011 first-round pick Jamie Oleksiak, and a pair of 23-year-olds brought in through trades last season. Kevin Connauton arrived through the trade that sent Derek Roy to the Vancouver Canucks and Cameron Gaunce was acquired in the trade that sent forward Tomas Vincour to the Colorado Avalanche.
The present and future looked to be in steady hands on defense with experienced defenders guiding the youngsters in the NHL while allowing the other prospects plenty of time to develop in the minors.
It was a good plan while it lasted.
Trial by Fire Begins
The Stars would love to season and develop their young defenders with patience and plenty of time, and only plug them into the lineup when they are ready, but they currently have no other choice but to throw them into the fire.
Over the past three weeks, the Stars saw Robidas and Daley go down with long-term injuries. Rome only played two full games before suffering a lower-body injury in the first period against the Avalanche Monday night. There is no official timetable yet for his return, but Dallas Stars writer Mark Stepneski offered a guess.
Ruff didn't want to put a timetable on how long Aaron Rome would be out, but it sounds like 7-10 days.

— Mark Stepneski (@StarsInsideEdge) December 17, 2013
Youngsters Respond
Goligoski and Gonchar are now the only Stars defenders who have played 100 games in their NHL careers. Brenden Dillon has been struggling since his defensive partner Robidas broke his leg November 29, but he played one of his better games of the season Tuesday night.
Connauton was a healthy scratch most of the early part of the season, but has been called upon to help fill the void along the blue line recently. He registered an assist in his third game of the season and scored his first career NHL goal Monday night.
Connauton consistently displayed his strong skating ability and offensive mentality in eight games so far this season. His big body has helped him pinch up along the boards on offense and be physical behind his net, but his defense is still a little raw. One of his biggest assets is his booming shot. He has a cannon from the blue line that the Stars currently lack. He averaged 15:36 of ice time over the last seven games.
Oleksiak played 16 games last season, but looked very hesitant and found himself out of position and turning the puck over too often. This season, the hulking 6-foot-7 defenseman is playing with much more confidence and has used his big frame to his advantage. He hasn't registered any points yet, but he averaged 17:59 over his past seven games and saw substantial time on the penalty kill
The Stars called up Cameron Gaunce Tuesday and immediately inserted him into the lineup against the Avalanche that night. Gaunce responded with a decent, effective game and played 12:52 alongside Connauton.
Ups and Downs of Playing the Rookies
If Rome's injury keeps him out of the lineup for an extended period of time, the Stars' defense could consist of two veteran offensive defensemen, two developing sophomores and three rookies.  That's far from the ideal unit a team wants to roll with for a week, let alone a long period of time.
Unless they manage to pull off a quick trade, the Stars have no choice but to throw their young defensemen into the lineup and try to teach them on the go. The team was dominated by the Avalanche Monday night, especially the pairing of Oleksiak and Connauton. After the game, Ruff took responsibility for the poor defense. He said, "It really falls on my shoulders… because they're the guys that are going to have to play."
They bounced back Tuesday night and played a much tighter defensive game against the same team. They still had cracks in the armor and committed mistakes, but overall they were much better. Their positioning was stronger. Their aggressiveness to get to the puck was more prevalent. They dished out more hits. They clogged up the middle and kept the Avalanche to the outside more efficiently. The final result was a hard-fought 3-2 victory.
Ruff and the coaching staff face a difficult task of implementing their game plan while patiently living with the ups and downs of development. Not only are the players learning the system and learning what it takes to play in the NHL, but they are doing that while playing increased minutes against some of the best players they have ever faced.
It is not ideal, and it is definitely not easy, but the Stars have a tall task at hand with their young defensemen. If their play so far has any indication, the kids should be alright.