If the Dallas Stars defense wasn't already a concern, things certainly became a bit dicier today after the Stars sent defenseman Mark Fistric to the Edmonton Oilers in exchange for a 3rd round draft pick.
BREAKING: The Dallas Stars have traded defenseman Mark Fistric to @EdmontonOilers for their 3rd round pick in the 2013 NHL Entry Draft.

— Dallas Stars (@DallasStars) January 14, 2013
Of course, Edmonton has their own defensive problems, but the Stars' trade of Mark Fistric indicates that they are prepared to give prospects full time NHL duties. Mark Fistric is a purely defensive defenseman; the Oilers didn't acquire him for his offense and obviously the Stars felt his skill set was expendable. Beforehand, there was expected to be competition for the final pairing between the now-departed Mark Fistric, Aaron Rome, and one of the aforementioned prospects, Brenden Dillon. Now it appears that Jordie Benn will slide into the gap left by Fistric and join the competition.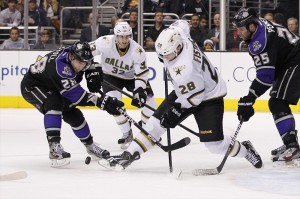 Benn and Dillon both have only brief NHL experience (Dillon played in the last game of the 2011-2012 season and Benn was called up briefly in January for two games and also played in the final game of the season) but are top pairing defenseman for the AHL's Texas Stars and play in all situations. Still, these are two young defenseman who have not proven themselves at the NHL level. Nothing is guaranteed in this game and Dallas Stars General Manager Joe Nieuwendyk took a calculated risk to move a bruising and physical defenseman for a draft pick and relying on prospects to make up for his departure.
Then again, Nieuwendyk has taken a number of risks that have paid off for his team.  But with a top four defensive corp that doesn't feature much size or significant physicality, Benn and Dillon could see important minutes on the penalty kill or in other high pressure situations. The Stars can't afford to have a lame duck third pairing that is still trying to adjust to the NHL game, not in a 48 game season, and not in a season where the Stars desperately need to make the playoffs. There are no back up options, Benn and Dillon are the two prospects who are most ready for NHL action. If injuries plague the team or these two don't get it done, the only players waiting are prospects in the AHL who weren't invited to training camp and weren't expected to make the team. In other words, the most obvious replacements are also players who haven't proven themselves.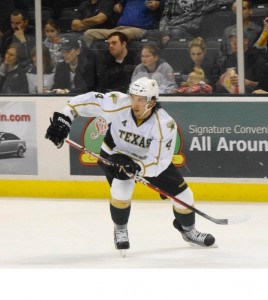 That is where the real risk is. What happens if this backfires? What happens if Jordie Benn or Brenden Dillon (or in our nightmares, both) can't translate their game successfully to the NHL? It might seem impossible after all the positive things that have been said about them, but again, nothing is guaranteed in this game. We'll find out sooner than later what's going to happen. Edmonton acquired an adequate defenseman who will provide a solid and steady presence in their zone and the Stars opened up room for their prospects to make their mark. They'll need to make that mark and they'll need to make it quickly and effectively. There's no room for error this year.