When Dan Girardi stayed down, writhing in pain, after blocking a Montreal slap-shot with his ankle Saturday night, the entire Ranger organization and fan-base was frozen for a moment in palpable trepidation. Blocking shots is just one of the unheralded yet elite facets of Girardi's game. The once undrafted free agent out of the Welland, Ontario is annually among the league leaders in the daring yet crucial category of blocking shots. He is also perennially among the league leaders in hits and the extremely telling but underutilized statistic of ice-time, consistently averaging around an impressive 25 minutes per game.
Whether up or down by one goal late in the final minutes of a game, the Rangers rely on Girardi. On the power play or short-handed or even-strength, he is the rock of their formidable blueline. Ask around the Rangers locker-room, and to a man they will tell you that Girardi is as valuable to them as Crosby is to the Penguins, as Ovechkin to Capitals, as Datsyuk to the Red Wings.
Then why, when hockey pundits are waxing hypothetical on the defense corps for Team Canada in the 2014 Olympic Games, do we rarely hear Girardi's name mentioned? Why has he never made the NHL first or second All-Star team, or seriously considered as a finalist for the Norris Trophy?
Perhaps his game is just not flashy enough. Though not offensively explosive like an Erik Karlsson or Shea Weber, Girardi has averaged a productive 27 points for the past five seasons. Though he doesn't leave his position to make a highlight-reel hit like a Dion Phaneuf or Dustin Byfuglien, Girardi is physical and tough and backs down to no one. And anyone who has coached or played hockey at any level will tell you Girardi is one of the smartest, most positionally sound defensemen in the National Hockey League. Quite simply, Dan Girardi's genius is not that you notice him on the ice so much as that you don't. He just contributes to Rangers' wins in every subtle aspect of the game.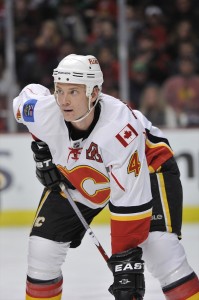 By now, the 28 year old rearguard should be used to going unnoticed. Eligible for the 2002 NHL entry draft, all 30 teams passed on him for nine rounds and 270 picks. Bear in mind that this was a draft where, in the top 10, three defensemen were selected: Jay Bouwmeester (3rd, Florida), Joni Pitkanen (4th, Philadelphia) and Ryan Whitney (5th, Pittsburgh). Though all three are now solid contributors at the NHL level, it is a safe bet that all 30 NHL General Managers would quickly prefer Girardi over those three on their rosters. Later in that same first round? The rest of the defensemen selected read like a Hooligan's gallery of Where-Are-They-Now? Steve Eminger, Denis Grebeshkov, Martin Vagner.
In 2006, playing for Charlotte in the lowly ECHL, the Rangers took a flyer on Girardi, signing him and assigning him to their Hartford affiliate in the AHL. Even they could not have guessed how well the move would work out.
So then, how does such a terrific player go unnoticed for so long? And, while we're at it, what is it that makes a player underrated?
Well, it would be simple to say that underrated players normally play in smaller markets or for weaker teams where they get less television and media coverage, but let's face it, Girardi plays for the New York Rangers. Perhaps it's the subtleties of his game, the un-flashy nature of his play. Maybe we're better off defining what makes a player get the fanfare which would prohibit them from being underrated:
Playing for the Toronto Maple Leafs: 

Ever read the Leafs' message boards and Toronto newspapers? They're the mysterious netherverse where, when  a Corey Perry trade possibility is brought up, they think that Nasem Kadri and Tyler Bozak would be a fair return.

Setting Scoring Marks In Canadian Junior Hockey: Yes, we know. Alexandre Daigle is the next Peter Stastny.
Being a Top-20 Draft Pick: It's not your fault, it just makes your local media hype you up for ages. Okay, it's your fault if you're Pavel Brendl.
Being Swedish Instead Of Russian: It's difficult to understand, but the Canadian hockey-media tends to adore the Swedes but hate the Russians. In last year's NHL draft, the TSN crew lauded Anaheim for senselessly going off the board to take Hampus Lindholm 6th overall, then cautioned the "risks" of Buffalo stealing top-five talent Mikael Grigorenko 12th overall. In last years's Eastern Conference Finals NBC announcer Pierre McGuire wouldn't let off on criticizing Ilya Kovalchuk despite dominating the Flyers virtually every shift, but no one seemed to particularly mind Henrik Zetterberg and Johan Franzen's struggles in a five-game spanking at the hands of the Nashville Predators.
Playing For The Toronto Maple Leafs: What was that? Jerome Iginla just became available? Great! We can trade them Cody Franson and a 6th round pick

!
I suppose then it's impossible to say who's overrated and who's underrated. We all have different aspects of the game we feel are the most important, and we all judge players according to our own criteria. It's a subjective mess, prone to to the the type of debate which I love to promote in all things sports-talk, so without further ado…
My NHL All-Underrated Team
Goaltenders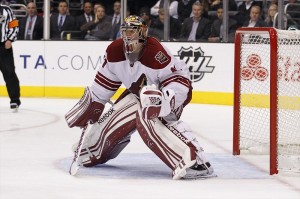 Mike Smith, Phoenix: After posting a sparkling .930 save percentage and amassing 38 wins to lead a no-name Coyotes' team to the top of the Pacific Division last year, Smith somehow failed to become a finalist for the Vezina Trophy. He used this snub to lead his team in the playoffs, shutting down the high-octane Blackhawks' offense in the first win before severely out-playing Vezina finalist Pekka Rinne in the conference semis.
Defensemen
Dan Girardi, Rangers: Somehow overlooked everywhere but New York.
Toni Lydman, Anaheim: Like Girardi, a do-it-all defenseman who is steady without being spectacular. The workmanlike Finnish rearguard is adored by his teammates and relied on by his coaches playing over 20 minutes per night in all situations.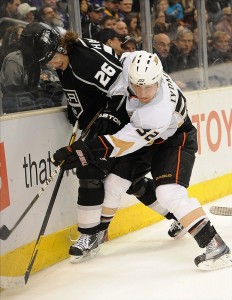 Left Wing
Patrik Elias, New Jersey: Perhaps the most unheralded player of this generation, Elias does it all. Adept at all three forward positions, elite both offensively and defensively, Elias has been a key cog in two Stanley Cup champions. It would be due time to start debating Elias' future possibility of making the Hall-of-Fame, except at 36 years old he's not nearly done: as many failed to notice he was 10th in the NHL in scoring last year and currently stands at 9th this year.
Right Wing
Teddy Purcell, Tampa Bay: Another undrafted gem, Purcell surprised many by scoring the quietest 65 points in the league for the Lightning last year. An offensive force from the left wing as well as the right, Purcell has improved his skill set to the point where he is averaging a point a game thus far this season and shows no indications of slowing down.
 Center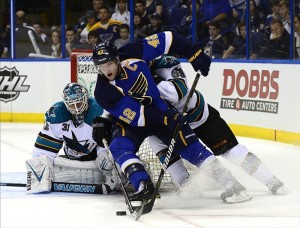 David Backes, St. Louis: While most hockey fans know Backes is good, most don't know how good. He is elite at every aspect of the game except for offense, but he is still more skilled than you might think. Over the past four seasons, he is the only center in the NHL to average more than 50 points and 100 penalty minutes per year. Build like a truck, he also hits like one and will drop the gloves to protect his teammates. Backes is a leader through and through, the Blues' captain, and his impeccable character has led him to be an avid worker for animal rights in his spare time. One of the top defensive forwards in hockey, he was finally recognized as a Selke Trophy finalist last year. Ask Blues' coach Ken Hitchcock why his team won the President's Trophy with the best record in the NHL last year, and Backes' name is certain to come up quickly.
Closing Thoughts
Did I miss anyone? Do you hate a player I mentioned? Does this column actually contain a subliminal message which for some reason makes you have an irrepressible craving for peanut butter and jelly sandwiches? Feel free to debate in the "comments" section below, or attack or laud my character on my Twitter feed: @StIves72.
Writer/lunatic, hockey columnist, mlb.com, aspiring cryptozoologist, estrogen addict, patron saint of vertigo, unintentional ghost hunter. Brooklyn, New York