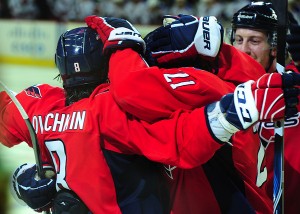 An 11th career hat trick by Alex Ovechkin, was the ultimate driving force behind the Washington Capitals 5-1 victory over the New Jersey Devils on Saturday. The russian superstar's first hat trick since January 22nd, 2011 was everything and then some to the red shirts who were searching for just their 6th win of this shortened season.
"The chances are there," Ovechkin told reporters following the game. "Sometimes I feel that the puck just doesn't want to go in. Today, it was that kind of game that almost every shot goes in, or at least it feels that way. It's kind of nice."
Recently, critics on facebook, hockey message boards, twitter and radio talk shows were asking General Manager George McPhee to trade the Capitals captain. Some were putting the question out there, if the Capitals were better served to fill noticeable voids on the organizational depth chart, by moving #8.
Easy to do, when your team isn't winning. Easy to do, when your captain isn't playing like Alex the Great. Easy to do, when expectations are as high as they are in the Nation's Capital and the results simply aren't there.
At the end of the day though, it was only a matter of time, before Ovechkin would put together the type of hockey game that the Capitals needed to build on.
That moment came on Saturday in front of 18,506 at the Verizon Center in Downtown, DC. It was the Capitals 162nd consecutive sellout at home, and turned out to be a great one.
"We came out and played our game. We played a full 60 minutes," forward Matt Hendricks said following the game. "We talked earlier about being 100% committed to the system not only in the defensive zone, but in the neutral zone and the offensive zone. We played a full game. That's something we need to build on."
Capitals goaltender Braden Holtby turned aside 21 saves to secure his fifth victory of the season. He also stopped Devils forward Steve Bernier on a penalty shot. Holtby is now 1-2 on penalty shot attempts.
Other highlights of the night saw Caps forward Eric Fehr score his fourth goal of the season coming short handed at 3:56 of the third and final frame.
"He's been playing well, that's why he's out there," Head Coach Adam Oates said. "Obviously a two goal cushion is big. The last few weeks he seemed to have had a lot of jump and he has been making good decisions and getting more involved in the game, and I have been trying to find more minutes for him."
 Follow me on Twitter @ Darren Coslov