Nothing ages us more than the end of professional athletic careers. In a world where shelf lives are brief and flames burn out in an instant, premier sports stars are fortunate to compete longer than a single decade. There is always a newer, shinier model on the lot. And father time, as you will undoubtedly be told until you are blue in the face, is undefeated.
So when an athlete is able to have a long and decorated career, it is obviously a tremendous accomplishment. But in that same span, their audience ages right along with them. A seven-year-old Wayne Gretzky fan in 1979 was a 26-year-old adult when #99 finally hung up his skates. Think about all the life experiences one will have during that time period. What was the one constant for that hockey nut? Gretzky. You can't help but appreciate all the great moments along the way, through the good times and bad, that your favorite athletes provide on the grandest stage.
Like anything in life, you understand that sports retirements have to happen eventually. And while you'll always miss seeing them play the game they love, the memories will remain embedded in your brain forever. Those same iconic moments that you remember watching, breathing, practically living out yourself in your room, will now be stories to pass onto to your own children and grandchildren someday.
2016, athletic speaking, is kind of a downer for people of a certain age. Take nothing away from the accomplishments that some have achieved, but a lot of all-time greats have decided that it was time to go. While I could justifiably pay tribute to several different athletes, two recent retirees are the focus of this column, and only one of them plays hockey (fair warning).
Pavel Datsyuk and Tim Duncan, two athletes that transcended their respective sports for many years, are leaving. While Duncan has officially retired, and Datsyuk has waved goodbye to NHL competition (he will play out his career in the KHL), I couldn't help but see the similarities in how they've handled their individual careers, from start to finish. Datsyuk's imprint on the hockey world and Duncan's place in basketball's eternal pantheon will never be forgotten. Neither will the way each treated the game, their coaches, and their teammates.
Learning from Legends
http://gty.im/110338576
While Datsyuk did his damage with a pair of skates on, and Duncan wreaked havoc in sneakers on the hardwood, their introduction into the limelight of professional sports was equally challenging. On one hand, you have Duncan, the basketball prodigy from the Virgin Islands who was still relatively new to the game. Eight years after picking up his first basketball, the 6 ft 11' power forward became the first overall pick in his draft class. Entering the league with hype definitely has its advantages, but it comes with lofty expectations and substantially more pressure. The San Antonio Spurs picked first for a reason, and Duncan was expected to rescue them from NBA poverty.
Fortunately for Duncan, he had wise voices to listen to throughout his initial basketball odyssey. David Robinson was a future Hall-of-Fame center and had experienced a lot of what Duncan would go through as the first overall pick. The team's coach was Gregg Popovich, a basketball Yoda that remained the only sideline general #21 ever knew at the pro level. Duncan came in with talent, but the first thing he did was listen. He respected his elders, leaned on the shoulders of his veterans, and trusted that his coaches and teammates would put him in the best position to succeed. How many NBA players (or athletes in general) actually do that? It's easy to hear people sing your praises, but it's difficult to discover how inexperienced you truly are.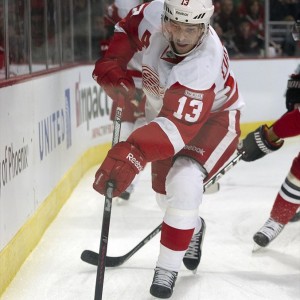 As for Datsyuk, well this was not your typical Russian hockey tale. The Red Wings found the steal of the 1998 NHL draft in the depths of Siberian winter, and by 2001 the Detroit rookie was highly regarded on a championship caliber team. If there's one locker room that's tough to crack, it's the aging hockey brethren, especially when the talent is still abundant. Datsyuk's welcoming committee into the NHL included none other than Steve Yzerman, Brett Hull, Sergei Fedorov, Nicklas Lidstrom, and the final season of Scotty Bowman, the most accomplished hockey coach in this planet's history. Not too shabby huh?
It was clear from day one that gaining respect would not come easy for Datsyuk, who had to earn everything from his decorated comrades. Again, I harken back to the easy road that most skilled athletes might have taken in this situation. "I can just do things my way. Tune out the old guys. Soon the team will be mine." There're at least three teams that had this same scenario last season, and *SPOILER ALERT,* it didn't end well. But for Pavel Datsyuk, who's skill as a hockey player would lead many men to a large degree of arrogance, the team came first. He did exactly what he was told, heeded the advice of Detroit's leaders, and sacrificed individual production for unity. The Red Wings won the Stanley Cup that season, and Datsyuk won the respect of his veteran brothers.
Attention to Detail
The common bond that unites these two standout athletes more than anything is the dedication they have to their craft. Superstar athletes have long been known to avoid undue burdens, limit their energy, and avoid the little and mundane things that are required of lesser players. Look, it's completely logical. The face of a franchise has a multitude of talents and doesn't need to risk injury or reduced output by taking part in small tasks. I get it.
Which is why I marvel at the lengths that Datsyuk and Duncan were willing to go for their organizations.
Duncan's nickname, "The Big Fundamental," can be looked at as a slight of sorts. His playing style was not brash, featured little flash, and did not contain the outward bravado that consumed his era of NBA players. But that moniker couldn't be a higher compliment. He worked on every aspect of his game, perfecting the little nuances of basketball at every turn. Those filthy post moves? They wouldn't be nearly as impeccable without the time in the gym Duncan spent working on footwork, spacing, and reading his defender. The list goes on with Spurs' stalwart, who became a great passer, an adequate free throw shooter, and an absolute mega-force on defense. We forget that he didn't come into the NBA shutting down opposing offenses; he worked tirelessly to become a defensive weapon.
Hockey will always remember Datsyuk's lethal offensive game and appropriate nickname "The Magic Man." But he too became so much more than that as his career blossomed. He hustled. He played defense. And man, did that Russian beast kill penalties:
For every rave review Datsyuk receives as a scorer, he deserves equally high marks on the other end of the ice. The term "two-way forward" gets thrown around as much as Taylor Swift these days, but Datsyuk really did usher in a new era of offensively gifted players that commit to defense.
Low Maintenance Superstars
Egos drive professional athletics. That will never change. Occasionally, though, an outlier comes through sports with both endless talent and little sense of entitlement. If you polled the teammates, coaches, and front office members of the San Antonio Spurs and Detroit Red Wings regarding these two icons, their lack of egos with would be at the top of the checklist. At no point during their respective tenures did Datsyuk or Duncan ever make it about themselves. There were no sub-tweets. No holdouts for more money. And there damn sure weren't any TV appearances to grow their brand and spurn their fanbase.
Let's talk about loyalty for a second. Pro sports is filled with me-first athletes who think in their best interests as individuals. Again, fine and dandy. But what really irks a certain percentage of the population is the lack of transparency, or ulterior motives when certain athletes are navigating their careers. Both of these athletes could have left their franchises multiple times, demanded (rightfully so) a more lucrative contract, or felt perturbed about not getting the proper respect they deserved.
That never happened. They never complained, often taking less money, and buying into what all of their coaches preached. The Magic Man and the Big Fundamental were not products of their organizational culture. Each organization's culture was a product of their selfless star.
All-time Competitors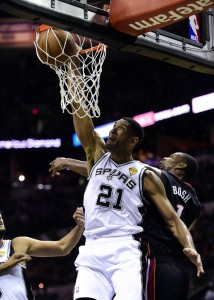 Stripped away of all its glitz and glamor, athletics will always be founded on competition. When an athlete is not loud, not braggadocios, and not arrogant to a certain degree, it's often viewed as a lack of desire. But please, I beg of any you unaware sports loyalists, please do not mistake either gentleman's humility with weakness. Datsyuk and Duncan were stone cold killers, aggressively dominating their game while tormenting weak foes one bank shot or toe drag at a time.
Duncan always got the boring/noncompetitive wrap because he was naturally unassuming on the court. 19 years of consistent play, five banner raising ceremonies, and universal admiration from all of his peers have erased any such false claims. I'll always go back to two instances where you saw Duncan's competitive juices on full display. In 2008, the Spurs were trailing by three points against the Phoenix Suns, in need of an equalizer. Suddenly, a guy who never, ever, shoots from long range let one loose:
It wasn't his forte, it wasn't even planned, but Duncan still buried it with the game on the line (which the Spurs later won) as the clutch competitor he always was. The second instance was, in essence, the 2013-14 team he played for in San Antonio. One year prior, Duncan had been the victim to the cruelest of sports breaks, as his team was one fluke/lucky/absurd play away from winning his fifth ring. They lost, and with it, the aging superstar lost possibly his final chance to win one last title.
The Big Fundamental had other ideas. He picked himself off the canvas, attacked every aspect of the coming year with ferocity, and got back to the finals. They faced that same team again. And they destroyed them. Duncan got his fifth ring, and he never quit in the face of adversity or heartbreak. Duncan entered the NBA as a prodigy from Wake Forest. He exits it as the greatest power forward in history, a top 10 player of all-time, and the owner of the greatest professional basketball career since that of Michael Jordan.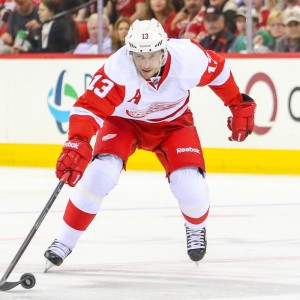 While Datsyuk will not be regarding in the same tier of the all-time company as Duncan, it's important to note just how impactful he was. Datsyuk's desire to be the best arguably made him the most well-rounded player in the NHL for multiple years, even while the likes of Sidney Crosby and Alex Ovechkin were equally dominant. And for people in the forthcoming generation (like myself), there was nothing but shock and awe when watching him play. You had to catch SportsCenter if the Red Wings played because you had to see what the Magic Man did next. He was must-see TV at all times. And I for one will never forget when he did this:
The coolest (or cruelest if you played defense or goalie) thing is, he did this all the time. Kids at every hockey rink in the world were always trying to master the patented Datsyuk backhand toe drag. In the words of Frank "The Tank" Ricard, everybody was doing it. Many people failed. Some got it down pretty good. But nobody could exceed the original version. There is only one Datsyuk, one hockey virtuoso with an unparalleled competitive nature, who became dominant at everything he set his mind to. And he set his mind to everything.
This is it for two pillars of this athletic generation. Two men that came in with great expectations, learned to listen and became as well-rounded as anyone in their fields. The time has come for the Magic Man and the Big Fundamental to exit the stage, in the same graceful manner through which they each conducted their careers. Another chapter of our collective sports lives is over, and now we also must move on. Datsyuk and Duncan leave the games of hockey and basketball in good hands, with high character superstars ready to carry the baton further and further. Perhaps that's their greatest legacy, one final ode to the good of the group instead of the individual. Seems fitting.
Just a hockey loving American. I grew up in Cleveland, Ohio, and attended Saint Louis University where I skated for the Billikens. From 2013-14 I covered the St. Louis Blues for ESPN Radio St. Louis. I currently work in sports video production in Los Angeles, and will always show solidarity for stay-at-home defenseman.