'Twas the night before hockey season,
And all through Columbus,
Every Blue Jacket was stirring,
Because they are SO EXCITED THAT THE JACKETS MIGHT ACTUALLY HAVE A SHOT AT THE PLAYOFFS THIS YEAR!
Okay. I'll stop right there because I can't rhyme to save my life. But more than they have in any previous year, this year, these Columbus Blue Jackets have a shot at something special. This year's promotional battle cry is "Defend Nationwide Arena". Or, if you are on Twitter, it is more commonly seen as #DefendNWA, and the battles begin on Friday night when the Calgary Flames come to town to open the season.
Nationwide Arena was built for the Columbus Blue Jackets on the site of the old Ohio State Penitentiary's parking lot. A fire on April 21, 1930 killed 322 prisoners locked in their cells. To this day, fans and employees think that the arena is cursed and haunted, and they are certain that they experience the paranormal at times. But don't let that scare you away. When you visit, don't just come for the hockey. In the short history of this beautiful cathedral of hockey, the Columbus Blue Jackets have set their facility apart with a variety of amenities and attractions that make Nationwide Arena a hidden gem in the NHL.
Find your high school's jersey in the "Hall of Hockey"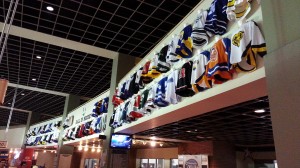 In much of Ohio, you'll find that we do things a little differently. One of those things is that we take extra pride in our high school alma maters. Behind sections 120-121 is the Hall of Hockey, dedicated to Ohio Hockey, and containing a replica of every Ohio high school hockey team's jersey hanging on the wall. There's an oversized bubble hockey game that you need a busload of people to play (no problem during intermissions), and a view of the attached Ice Haus. The Ice Haus facility made Nationwide Arena the first NHL arena with an on-site practice facility and still is just one of 2 arenas that has a practice facility attached to the main arena (Prudential Center, home of the New Jersey Devils, is the other). The third largest adult hockey league in the USA plays games in the Ice Haus (frequently during Jackets games), so stop by and watch some beer league hockey during intermission!
Go find the Nationwide Arena Cannon, talk to the guys, and get some history
Behind section 110 and 111 is a 1,500 pound, hand-crafted 1857 Napoleon cannon. That's right – it's the real thing and can actually shoot cannon balls! Attending to the cannon are several "curators" that stand along side and will be happy to give you some history behind the cannon as well as the meaning of the "Blue Jackets."
Buy a "Huntington Green Seat" and actually sit in the top row.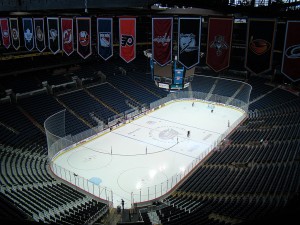 One of the great things I appreciate about Nationwide Arena is the ability to get cheap seats if you want to run down to a game at the last minute. Except for when the bigger rivals come into town (Detroit, Pittsburgh and Chicago), you can usually get a last minute seat at the $27 level. But when you can't, you can stand in line 2 hours before the game and get one of 250 $10 tickets. You may be disappointed to hear that they are way up in the nosebleeds. However, don't let that deter you. Sitting up there does feel like you're sitting on the face of the moon at times, and it will get a touch on the warm side. But try it once. The view is still good, and once in a while it's fun to have a bird's eye view of the great action below. And for those of you who, like me, enjoy your up close and personal views of the game, stay up there! The most epic of t-shirt gatling-cannons can still get those free tees all the way up to you, no matter where you're sitting!
Get a Corn Dog. You WON'T regret it. You WILL thank me later.
The corn dogs in Nationwide Arena are fantastic. You can only get them at one concession stand, and that is the one under/behind Section 105. It's a bit of a walk, especially if you're coming from the upper bowl. It's not near the stairs, nor the escalators, but you HAVE to make it there. It's $9.50 for a basket with the corn dog and more fries than any human should be able to eat or $6 for just the corn dog. But we're talking a hand dipped, and freshly dipped corn dog at that. Instead of being a fried mess, you can actually taste the cornmeal that they dip it in, and ooooooooie! It's just that good.
If you're looking for some more great food options, splurge and get tickets on the Club Level (or find a few friends that can get you up there). The Carver sandwiches and other game specific items are worth the extra fee. With your club level tickets, you'll have access to these special concession stands (and in-seat service), an awesome view of the ice and you get the stats report in between each period – not a bad deal.
Meet Kevin Schroeder – the Blue Jackets' biggest fan
The guy gets his 2 minutes of fame on the jumbo-tron every few games, and most certainly for opening night and the big games. Don't get in his way though…he will knock you out with his killer dance moves. This guy is the unofficial mascot for the Blue Jackets and Nationwide Arena erupts when his mug (and his oversized belly) appears on the newly renovated jumbo-tron. Don't say I didn't warn you!
$1 Cotton Candy? I'm in!
Instead of paying the $6 for a cotton candy inside the game, buy one for yourself the kids from the vendors outside the arena after the game for just a buck!
#DEFENDNWA
Most importantly, be sure to get your butts into the seats this season. Consistently rated as one of the better game-day experiences in the NHL despite the on-ice product, Nationwide Arena has the potential to be quite the home ice advantage for the Jackets during this and every season. The Jackets' latest promotional spot says it all.
Whether you're heading down to Nationwide Arena on Friday night or any of the other 41 home dates this year, and whether it's your first trip or your 400th trip to the Arena District, there isn't just one thing to do in one of the best arenas in the NHL. NWA is much more than just hockey, and I'm not saying that because they host an occasional basketball game or concert. The arena truly holds some hidden gems that you won't get to experience in just any arena. I'll let you find your own this season, but when you get down to the arena, take a walk around and see the sights! I promise you, Nationwide Arena will not disappoint.