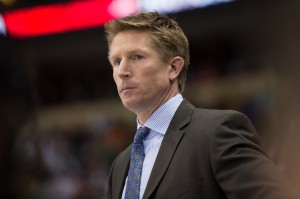 The theme of the 2013-14 University of North Dakota hockey team is change. First, there's a new league, the National Collegiate Hockey Conference. The NCHC will begin play on October 18, 2013. Coming into the season, there are also a few questions that linger and these questions will need to be answered.
Keeping with the theme of change, UND will also have a lot of new personnel on the 2013-14 roster. There will be eight freshmen on the 2013-14 UND hockey team. Many of these freshmen will be taking a regular shift, either at forward or on defense, and these freshman will be counted on to play a major role during the 2013-14 season.
UND head coach embraces change
During hockey media day, UND head coach Dave Hakstol talked about these a few of these new changes.
"The real theme over the last few months has been change," Hakstol said. "That's what everyone is talking about. Change in conferences – all through the county – not just the NCHC for us. New league teams, new league members. There are new players coming in, and other players going out. So, change."
The NCHC has created a buzz around the college hockey world. The new league is going to be a grind: There are no bad teams in the NCHC. Last season, four of the eight teams in the NCHC, made the national tournament. UND kicks off their NCHC schedule against league favorite Miami on national television October 18, 2013 in Oxford, Ohio.
"We will be starting off the NCHC in mid-October," Hakstol said. "Out in Miami, that should be a heck of series. We'll generate an instant rivalry (with them), in my opinion. Another road series that will be a highlight for us will be going out to Boston University, late in November. Not only will that be a great series on a national level, but it will be a great measuring stick for where we are at, a couple of months into our season.  Those are some of the highlights that we look to the early part of the year."
Coming into this season, the UND hockey team lost 43% of their scoring punch from last year. Those losses included two Hobey Baker Memorial candidates and a couple of All-Americans (Danny Kristo and Corban Knight).
"I have done quite a number of interviews over the last two, three and four weeks," Hakstol said. "A lot of the questions have been… yes about change. The questions have been how are you going to replace the players that you've lost? Everyone wants to talk about the players that have moved on from our program. Those guys, we couldn't be more proud of and what they gave to this program. What they brought day in and day out and what they're doing presently."
Focus turns to players that are returning
While the UND hockey team lost a lost a lot from last season, the bigger story is who's coming back this season. Even with all of the losses, the cupboard is not bare. The UND hockey team has a very talented junior class led by Rocco Grimaldi (14g-24a—38pts) and Mark McMillian (20g-28a—48pts).  UND also is backstopped by two very good goaltenders, sophomore Zane Gothberg (9-4-3, 2.46 GAA and .920 SV %) and senior Clarke Saunders (13-9-4, GAA 2.30 and .917 SV %). These two proved to be one of the better goaltending tandems in the WCHA last season.  The blue line is led by senior caption Dillon Simpson and sophomore Jordan Schmaltz.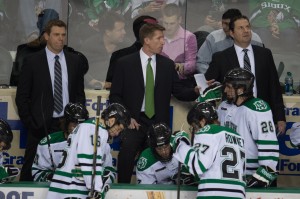 "I'll be honest with you: We're all excited about the players that are coming into our program, and the players that are still in our program," Hakstol said. "We got tremendous balance within our team. That's the one thing that we know, we don't know a lot of specifics, but we do know that we have a tremendous amount of balance on our hockey team. So, I am not worried, necessarily, about losing All-Americans or Hobey Baker candidates. I am thinking more towards who's going to emerge from this group as our next All-American, the next Hobey Baker candidate, but kind of in the true tradition of our program, those things aren't important, or what we're focused on and concentrating on. This team built with balance, built with depth and can be a great team. Not any one individual, but how we're going to work, and work every day, to become a great team. If we do that, we're going to have a hell of a lot of success on the ice."
There was a lot of excitement building around the UND hockey team. It wouldn't be an understatement to say that the players are chomping at the bit to get the season going. The way last season ended didn't sit well with the players. All the players that I talked to said losing to Yale in the NCAA West Regional Final left a bitter taste in their mouths. The season begins on October 6, 2013, at 7:00 p.m. against the Manitoba Bison.
Eric is a 1996, 1999 graduate of the University of North Dakota. Eric covers the University of North Dakota Hockey and Division I college hockey. Eric is the Contributing Editor for Inside Hockey.