By Mike Miccoli, Boston Bruins correspondent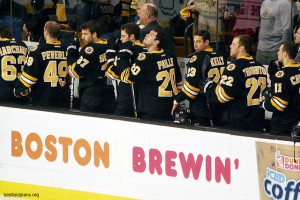 It's been difficult trying to define the 2011-12 Boston Bruins. Although most of the names are the same, this isn't the same team from last year.
How could that be?
The Bruins have been a wildly inconsistent team. They started out struggling with a 3-7 record before absolutely dominating their opponents in the months of November and December, finishing out 2011 with a 22-3-1 record in the final two months. Then, mediocrity hit. The Bruins went 56 calendar days without back-to-back victories, playing .500 hockey, alternating wins with losses at a pace that could be described as just average. They weren't bad, but they weren't all that great either.
Now that the Bruins are once again on a winning streak, has anyone come any closer to finding out exactly who these Bruins really are?
To be fair, injuries, something that the 2010-11 Bruins saw very little of, have hit the team hard so far this year. Nathan Horton hasn't played since suffering a concussion on January 20, with no timetable to return, while Rich Peverley was diagnosed with a third-degree MCL sprain on February 17 and was expected to miss four-to-six weeks. Factor in the day-to-day injuries along the way to key players such as Johnny Boychuk (who has since returned), Andrew Ference and Daniel Paille and you have some pretty gaping holes in the roster.
With the news out that Tuukka Rask will be sidelined for four-to-six weeks, more than likely the remainder of the season, another strain is put on an important part of the Bruins' key to success: solid goaltending.
Tim Thomas hasn't been himself lately. Quality starts from the soon-to-be 38-year old haven't been as consistent as they once were and his numbers are proving that. Since January, Thomas has let in three or more goals in 13 of 24 games. Though Thomas is still on pace for 30+ wins for the fourth time in his career, the fatigue has been ensuing and some of the softer goals allowed have showed just that. With no Rask to shoulder the workload, the Bruins must now rely on veteran Marty Turco to sub-in when Thomas needs a break. Not exactly an ideal position, but better to have a back-up goaltender with NHL experience than one from the AHL-affiliate Providence Bruins.
Another stat that sticks out during the Bruins recent run is their inability to score as much as they did during November and December. The Bruins scored five or more goals 11 times alone in November and December—they've done it four times since, only once since losing Horton to injury. On the other hand, the Bruins were shutout five times in February, a franchise record. Secondary scoring has become a concern but with the emergence of Jordan Caron's play, paired with the five-game point streak that the new first line of Milan Lucic, David Krejci and Tyler Seguin is riding, the offense is starting to roll again.
Maybe, in fact, the Bruins are coming around again. Maybe this is there way of dealing with a depleted lineup that has key players sidelined. Maybe it's all starting to turn.
It's possible that the Bruins have become complacent, even bored with the regular season. It's a horrible habit that successful clubs find themselves in, slumped in the doldrums of an 82-game season. With the trade deadline and all-star game in the rear-view mirror, all that is left is 60-minute intervals of games, sometimes night after night. Teams either get comfortable or give-up, two qualities that could be viewed as one of the same. If this is the case for Boston, they better hope they wake up soon. Though the playoffs are sometimes referred to as the second season of hockey, it's better to be to have the momentum going into them.
This season, we've seen what the Bruins can be both at their very best and at their very worst. It's possible that the B's are just that: inconsistent. With the playoffs a mere month away, the Bruins need to pick up a winning rhythm quickly if they are to succeed. Injuries can always be a factor for any team but it's up to the Bruins to show how they handle that adversity to become successful once again.The recipe for a championship team is more than just scoring goals and making saves, it's about how well they can come together with their backs against the wall. It's what they did so well in 2010-11.
They're getting there and their effort from the past two games is a start. The next challenge is staying consistent.
The second season of hockey is a month away and the B's could still be quite successful. It all depends on which Bruins team decides to show up.
Follow Mike on Twitter for more Bruins updates, news and commentary