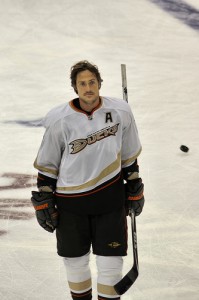 Sidney Crosby was recently cleared for contact, great news for the star center who has played only eight games since getting hit in the head in back-to-back games in January 2011. But just because he can take on contact in practice now, doesn't mean the Penguins should rush him back into the lineup. With his first comeback attempt only lasting only two weeks and the discovery of the neck injury he had all along, they should express as much caution as possible to keep their cornerstone in the lineup as many years as they can.
No one would look down on Crosby or the Penguins if he didn't suit up again this season. Concussions are a fickle thing and it is very difficult to know for certain when a player is able to come back and compete as they did before. They have nothing to lose and sitting him for the season and playoffs could mean saving him for another 15 seasons down the road. Crosby is only 24 years old, so he still has plenty of hockey left in him and since there is really nothing for him to prove, he's won just about everything a hockey player can win already, there's no need to rush anything. How many times did we see Eric Lindros come back to action far too soon? The Flyers wanted him in the lineup as quickly as possible, only thinking about the current moment, and by 30 he was a shell of his former self on the ice.
Sometimes sitting out a year can be the best thing for an athlete. While the will and determination to be a part of the team is certainly admirable, sometimes a year to recover fully is the best option. Teemu Selanne and Peter Forsberg are proof of that as both had separate trains of thought that affected their careers greatly coming back in 2005-06.
Selanne opted to undergo knee surgery and took the rest of the time to recover, resting his body and giving it time to heal. After recording only 16 goals and 32 points in 2003-04, he produced back-to-back 90-point seasons and won the Stanley Cup in 2007. In total he has recorded 206 goals and 241 assists for 447 points in 448 games since taking the year off and he is looking as good into his 40s as he did ripping it up with Paul Kariya back in the late 1990s.
Meanwhile Forsberg continued to play, suiting up for Modo Hockey Ornskoldsvik. However, he only managed to play 33 games out of the 50-game schedule, missing time due to a broken bone in his hand and surgery on his wrist. In the final season before the lockout, he only managed to play 39 games and could have benefitted from using the lockout as a time to rest as Selanne did. Forsberg is three years Selanne's junior and yet has played in only 11 games since the 2006-07 season, 275 fewer than the Finnish Flash in that span.
In total, Forsberg's NHL career post-lockout only lasted 128 games over four seasons and while he did score 144 points, he scored only 33 goals and had difficulty playing how he used to. His final comeback attempt last season only lasted two games before he retired for good. You have to give him credit for trying to play all those years, but a season off for his body to heal could have benefited him in the long run.
Granted the examples of those two players, who dealt with injuries to their bodies as opposed to their heads, are different that Crosby's situation, but the idea is the same. Time off is far from the worst thing for Crosby, especially when dealing with a concussion. Even though he wants to help his team out now, he can help them out the most by staying healthy for the next decade.
There's no shame in expressing patience and caution, but there is great shame in seeing yet another promising career cut short.