There are many constants in this world. The morning bus arrives at 9:17, despite its 9:14 scheduled time. The grass will turn green again come spring. The St. Louis Blues will be fully engulfed in a goalie controversy come February.
After proclaiming Brian Elliott as the team's starter to open the season, head coach Ken Hitchcock gave the reins to Jake Allen, last postseason's starter. Despite Elliott posting a 4-0-1 record with a .908 save percentage and a 1.04 goals-against average in October, Allen took control of the crease after his counterpart suffered an illness that kept him from starting on Oct. 27 against the Lightning. Allen never looked back, earning a shutout in that game, which started a 10-3-2 string in which he allowed just 26 goals on 408 shots (.936 save percentage).
Because of Allen's stellar netminding, Elliott was forced out of the starting role and he appeared in just 10 of a possible 35 games until Jan. 8. Stop me if you've heard a version of this story before.
Mirroring the end of last season when Allen's hot streak forced Hitchcock to put a hat on Elliott and sit him at the end of the bench, Allen had no question taken over the starting role again. That is, of course, until a lower-body injury on Jan. 8 caused him to leave the game against the Anaheim Ducks. Since that time, Elliott has returned to the crease and has played in every single minute, with the exception of youngster Jordan Binnington seeing his first 13 minutes of NHL action on Jan. 14.
What has Elliott done with his time as the starter?
We can't make this easy on the Blues' brass, says the Blues' all-time shutout leader. Elliott has shined again, posting a 7-3-3 record in that time while accumulating a sparkling .946 save percentage with a 1.74 GAA, including one shutout.
As impressive as the stats are, it's not what he has done, it's more how he has done it.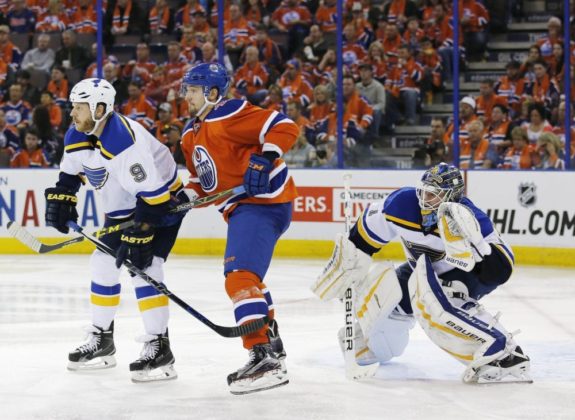 There have been multiple games that the Blues had no business winning or close to winning. Jan. 16 was no exception, as it seemed the club's defense never woke up from their pregame nap. Elliott was forced to make a career-high 46 saves in a 4-3 victory over the Montreal Canadiens, which included 22 Montreal shots in the second period — to put this into perspective, the Blues have allowed below 22 shots in an entire game four times for Allen this season.
Factor in that Elliott has faced 35-plus shots seven times this season, and you can see how hard the Ontario native has had to work between the pipes.
Allen's Return
Hitchcock and the entire Blues coaching staff has been very hush-hush about when fans can expect Allen to return. However, the second-year NHL netminder began skating with his teammates about a week ago and, more recently, began taking shots. It seems his return will be sooner rather than later.
Just in time to add some spice to the ongoing goalie controversy.
Whether Allen's return is days or weeks away, the Blues coaching staff will face a difficult decision in April. Since Hitchcock has taken his place behind the bench, the team has tried going with the surefire No. 1 (Jaroslav Halak in 2012, Ryan Miller in 2014), as well as the hot hand (Elliott in 2013, Allen in 2015). In three of the four instances, the result has been a first-round playoff exit. The other was a second-round sweep at the hands of the Los Angeles Kings.
When Allen returns, he surely deserves a chance to earn his spot back in goal. However, didn't Elliott deserve the same after being ill?
After missing just the one game, which he was able to still back up the younger half of the Blues' goalie squad, Elliott didn't see the crease again until Nov. 4 (four games later), in a barnstorming 6-5 overtime victory against the division-rival Chicago Blackhawks. He allowed four goals on 15 shots, rightfully being pulled in place of Allen, who eventually earned the win.
After that anomaly of a game, he didn't play until Nov. 12 (three games later), when he made a relief appearance after Allen allowed three goals on five New York Rangers shots. Elliott stopped 14 of 16 shots in the 6-3 loss.
After Allen's disappointing start, he was handed the keys to the crease nearly every game after — a move usually reserved for the team's starter. From the Rangers game forward, Elliott started just six of the next 27 games. It took an Allen injury for Elliott to receive regular starts again … and he's ran with with.
Barring a major collapse by Elliott, this is his crease to lose. The veteran has every right to assume he is the team's starter for the remainder of the season, as well as the playoffs.
That's only if he is provided the same treatment Allen has received.
No matter who wins Goaliegate 5.0, Blues fans can take solace in the fact that this is yet another version where it's who's better, not who's the lesser of two evils?
This isn't Patrick Lalime vs. Curtis Sanford anymore.