The Detroit Red Wings have made the playoffs for 24 straight seasons, which is the longest active streak in professional sports. However the team has not won the Stanley Cup since 2007, and hasn't passed the Conference Semifinals since the 2008-09 season when they lost in the Cup Final to the Pittsburgh Penguins. This past season, the team fell in seven games to the eventual Eastern Conference champion Tampa Bay Lightning in the Eastern Conference Quarterfinals.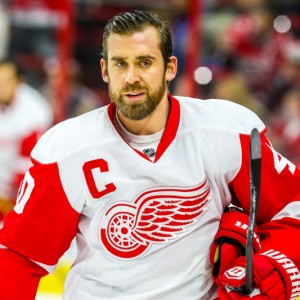 A mix of skilled veterans and an influx of talented young players from their farm system have enabled Detroit to be a perennial playoff team. They very rarely make splashes in free agency because they draft so well and managed to develop players at a pace that enables them to call up rookies whenever needed who can make an immediate impact.
The Wings are put together similarly this year but have a few new faces from free agency as well as a new coach behind the bench. With these acquisitions, the question isn't whether or not the Wings will make the playoffs, but if they have a good enough team to hoist the Stanley Cup.
2014-15 Season: 43-25-14 (100 pts – 3rd in Atlantic)
KEY ADDITIONS:
Brad Richards
Mike Green
Jeff Blashill
KEY LOSSES:
FORWARDS:
Projected lines: 
Zetterberg-Datsyuk-Abdelkader
Tatar-Richards-Nyquist
Helm-Sheahan-Pulkkinen
Miller-Glendenning-Jurco
Note: Frazen left off due to injury
Pavel Datysuk
Datsyuk spent almost 20 games of last season injured, but that didn't stop the 37-year-old Russian from contributing offensively. He only played in 45 games in 2013-14 and 47 in 2012-13 due to the lockout, but managed to score his most goals in a season since 2009-10 with 26 to go along with 65 points, his most since 2011-12. It'll be interesting to see how the aging center holds up injury-wise this season, and how Detroit is going to handle his desire to want to switch over to the wing at some point. If it means keeping him healthier and giving him less of a workload, of course the Wings will do everything in their power to try and move Datsyuk off to the wing as soon as this year. However, if there is no suitable replacement on the top line for him, he is going to have to stay there based on his ability to produce and how much that will help the team succeed. There are plenty of promising young player Detroit has both on the team now and in the AHL, but unless one of them step onto the scene this year and completely surprise, when healthy expect Datsyuk to be on the top line in the center position.
Henrik Zetterberg
The Red Wing captain played in 77 games last season, scoring 19 goals and 66 points, his most since 2011-12, while being the consistent veteran presence on the team's top line when injuries to Datsyuk and Johan Franzen left a hole in the team's forward depth. The 34-year-old Swedish winger, who can also play center if needed, will be atop the Red Wings' depth chart again this year. His veteran leadership will benefit the young forwards looking to make that next step to top six forwards, while at the same time complementing Datysuk as one of the better one-two punches on a top line in the league.
Johan Franzen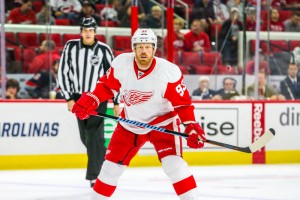 Franzen rounds out the 30-plus year old foreign players that make up the leadership in Detroit. He only played 33 games last season due to a slew of injuries and post-concussion syndrome, and will miss the beginning of this season as well. Much like Datsyuk, when healthy Franzen is a valuable asset to the Red Wings. He's scored 20-plus goals in four seasons, one being a 34-goal season in 2008-09, and in the 2013-14 season mustered up 16 goals and 41 points in 54 games. Having Datsyuk and Franzen healthy means more to the Wings than just help on offense. With a number of young forwards on the second and third lines, relieving them of as much scoring pressure as possible will be vital to their development. The reason the Red Wings have managed to make the playoffs for so many consecutive years in a row has been because of how solid their depth has been. This is in large part due veterans like Datsyuk, Zetterberg and Franzen handling much of the scoring while the younger players help compliment them. With Franzen and potentially Datsyuk on the shelf, however, it leaves all the responsibility of Gustav Nyquist, Tomas Tatar, Justin Abdelkader and others. So the sooner Franzen can get back healthy, the better off the Red Wings will be this season.
Justin Abdelkader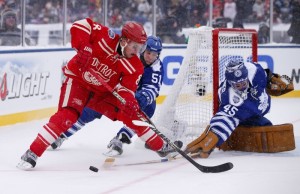 Abdelkader only scored 10-plus goals twice in his five-year career and both were ten goal seasons in 2012-13 and 2013-14. But that all changed this past season when the 28-year-old American scored a career-high 23 goals and 44 points. Showing he can be more than just a third line scoring threat with his performance last season, Abdelkader's development could be a key to the Red Wings potential this season. If he regresses it will obviously give the Wings a big hit up front, but if he maintains or even shows signs of progression offensively it gives Detroit just another series scoring threat.
Gustav Nyquist
I wrote early on in the summer that Nyquist was the Red Wings' most important free agent to re-sign, and it seems Detroit felt the same way. The 26-year-old Swede showed that his 28-goal season in 2013-14 wasn't a fluke, as he scored 27 last year along with 54 points, six more than in 2013-14. He and Abdelkader now add two more offensive scoring threats to the Red Wings top two forward lines who are still in their late 20s. Nyquist earned his 4-year, $19 million extension by being the team's top goal scorer in each of the last two seasons. With Datsyuk, Zetterberg and Franzen not getting any younger, the Wings need to hold onto talented youthful players like Abdelkader and Nyquist in order to maintain their playoff-caliber play season in and season out. It also seems as if Nyquist hasn't hit his ceiling yet, so the present, and future, is still bright for the Wings.
Brad Richards
Richards proved that he could still be a valuable contributor to an NHL team last season. The 35-year-old was bought out from the New York Rangers after 2013-14 due to cap constraints and a dip in performance in the playoffs, but was given a $1 million chance with the Chicago Blackhawks this past season and didn't disappoint. He only netted 12 goals and 37 points in the regular season, but scored three goals and 14 points, his most since 2011-12, in the playoffs. Having won two Stanley Cups now, Richards not only brings veteran leadership, but knows what it takes to go all the way. He also provides a bit of a security blanket up the middle for the Red Wings if Datsyuk gets injured as he has been prone to over the last few seasons. While Riley Sheahan and other young centers do show some promise for Detroit, it's nice to know that there's someone you can go to in a pinch who has been there before and knows how to make every player around him better along with himself. I expect Richards to be a very nice addition on the Wings' second or third line and, if they do make the playoffs, be a valuable asset.
DEFENCE:
Projected lines:
Ericsson-Kronwall
Dekeyser-Green
Smith-Kindl
Niklas Kronwall
Moving over to the defensive side of the ice, you have to start with the Red Wings heart and soul in Kronwall. The 34-year-old wears his heart on his sleeve and plays hard every game regardless of the score, as is evidenced by his hard hits being classified as a player getting"Kronwalled." Aside from his intensity in the defensive zone, he is also a valuable asset in the offensive end, with 35 assists a season ago. Kronwall is the defensive Datysuk for the Red Wings. Now of course I am not saying Kronwall has the ridiculous hands and scoring ability that Datsyuk has, but his incredible hitting ability and willingness to give his all on each shift is what you want to see in a veteran player who has plenty of younger players around him looking to see how to play the game the right way. Kronwall is also vauable on both sides of the ice, and has played in 70+ games in each of the last four full NHL seasons.
Jonathan Ericsson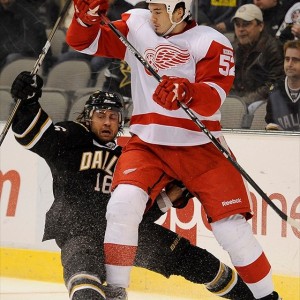 You might say Ericsson has the easy job of being Kronwall's defensive partner, but if anything he makes Kronwall's job easier. The 31-year-old Swede was drafted in the 9th round of the 2002 draft, and worked his way up to the top pair alongside Kronwall. While he isn't flashy on the stat sheet, Ericsson does a great job of being a defensive defenseman. He complements his hard-hitting countryman with a 6'4, 220 pound frame, while also making the job of the other pairs easier by handling penalty kill responsibility and other team's top offensive threats.
Danny DeKeyser
Another youngster out of their farm system, DeKeyser has developed nicely in the NHL at the age of 25. Last season, he had a career-high 29 assists and 31 points on the second pair. Now, with the addition of Mike Green from the Washington Capitals, DeKeyser gets an offensively skilled defenseman on his pair. The Wings now have a great defensive pair in Kronwall and Ericsson, a more offensively talented pair in DeKeyser and Green and a relatively young third pair of Brendan Smith and Jakub Kindl. With roles even more defined this year, this could be DeKeyser's best year yet in a Red Wing uniform.
Mike Green
Speaking of Green, he is part of the reason why the Red Wings might be even better than they were last season. If Detroit had one weak point aside from injuries it was on the right side defensively, so Detroit went out and spent $18 million over the next three years on the 29-year-old Capital. He scored 10 goals and 45 points this past year, and as mentioned above, will be a tremendous help on the second pair for the Wings. The additions of Green and Richards, rare free agent pickups for the home-grown Red Wings, fill holes that were holding Detroit back from making deep playoff runs over the last few seasons. And while Green's numbers haven't been as stellar as earlier in his career, perhaps a change of scenery will do him good.
GOALTENDING: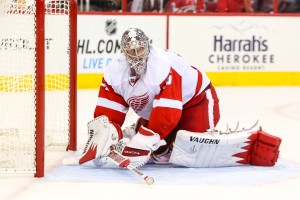 The Red Wings have two very solid goaltenders heading into this season, which might actually cause more of a problem than be a help. Jimmy Howard had been the starter for the last five seasons in Detroit, but an injury mid-season gave 23-year-old Czech Petr Mrazek a chance to show what he had to offer. Mrazek responded with a 16-9-2 record, 2.38 goals against average and .918 save percentage. When Howard returned he struggled, so Mrazek ended up being the Wings' starting goalie down the stretch and heading into the playoffs. Mrazek started in all seven of Detroit's playoff games and was only relieved by Howard once in garbage time. It appeared the Red Wings were turning the page on Howard, but not so fast. It appears Howard will be the starter heading into the season, as the Wings indicated they had no intention of trading the 31-year-old. Howard didn't play poorly last season, he had a 23-13-11 record with a 2.44 GAA and .910 save percentage, it's just that Mrazek played better. Having two goalies you can rely on doesn't seem like a problem, but it can be when you have a revolving door regarding who will start each game. If Howard is putting up worse numbers than Mrazek, he should start; if Howard returns to form and performs well, let him keep the starting job. It all comes down to who will give the Wings a better chance to win, not who has been on the team longer. As long as the Wings put their best option on the ice in net and come to that conclusion repetitively early on, they will avoid this issue.
BREAKOUT PLAYER:
Dylan Larkin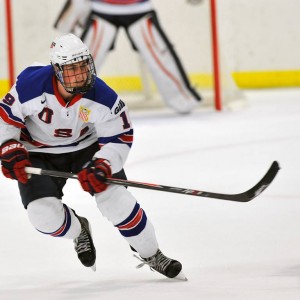 He might just be 19-years-old, but Dylan Larkin has shown that he has a lot to offer. In just one season at the University of Michigan, Larkin amassed 15 goals and 47 points in just 35 games, and made the decision to join the Red Wings professionally at the end of his freshman year. He will most likely start his season with the Grand Rapids Griffins in the AHL, but it isn't hard to believe that Larkin might find himself in a Detroit uniform by the end of the year. The Wings have no need to rush his development or force him into a position where he won't succeed, but this kid may just be that good. He's scored nine goals combined in the under 17, 18 and 20 tournaments for team USA and put up nearly a point a game two years ago on the under-18 U.S. national team. Larkin could help out at the center position or be a valuable scoring asset at the wing. Wherever he plays he will make his presence known, so don't be surprised if the Michigan native returns to his state in an NHL uniform this season.
PLAYER WITH MOST TO PROVE:
Kyle Quincey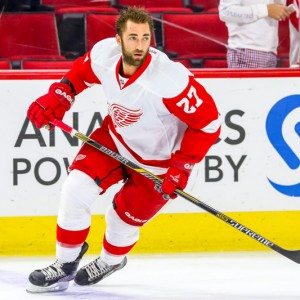 At the present moment, Quincey doesn't have a spot on the depth chart. With the addition of Green, it appears Quincey could very well be the odd man out on the blue line. I thought his $4.25 million a year clip was a bit high when the Wings gave it to him, and while Quincey hasn't been awful for Detroit he hasn't exactly improved either. He did have 18 points and a +10 rating this past season, both his best in a Detroit uniform, but that might not be enough. He has never been at the level he was before he was acquired from the Colorado Avalanche, and Quincey might very well have to fight for his job in the preseason or be at risk of being a healthy scratch until someone on the blue line gets injured. That's not what you want heading into the last year of your contract, and currently over a million over the cap according to LeftWingLock, if Quincey doesn't come to play early on this season he might not make free agency before he sees himself out of Detroit.
SEASON OUTLOOK:
Overall, the Red Wings have a very solid team. While the Tampa Bay Lightning and Montreal Canadiens should still remain atop the division, the Red Wings have done more than enough with the acquisitions of Richards and Green to remain third in the Atlantic if not higher. Injuries will be a big factor for them, but I expect Detroit to make their 25th straight playoff appearance. As for how far they'll go, if they are healthy and their young talent impresses they could make it all the way to the Eastern Conference Finals. But if Datysuk, Franzen and Zetterberg are on the shelf on and off throughout the year, it could be another early round exit in the Motor City.
Student at Fordham University studying Communications and Media Studies with a concentration in journalism. New York Rangers and New York Yankees beat reporter and producer at WFUV, 90.7 FM. Contributor for the Detroit Red Wings on The Hockey Writers. Contributor for TRL Hockey. Writer and Sports Editor at The Ram, Fordham University's newspaper.