The Red Wings scored big this past draft — few can deny that — but the Wings haven't always had the most success in the draft. Since 2013, the Wings have made some incredible choices that are finding their place among the elite. Dylan Larkin, Anthony Mantha, and Tyler Bertuzzi are making strong cases for the Red Wings' succesful draft strategies. Among their other picks, though, there is a fair amount of missed opportunities.
For this week's edition of The Grind Line, our Red Wings writing team of Jacob Messing, Tony Wolak, and myself dive into the worst moves Detroit has made in the last five drafts. Whether bad selections, missed chances, or wasted picks, we'll break down where we think Detroit's biggest draft blunder lies.
Rachel Anderson: Missing Out on Brayden Point
Taking it back to 2014, the Red Wings had some decent success in the draft. After getting Larkin in the first round, Detroit was set up for success. Turning the corner in the second round is where I start to scratch my head a bit.
The Red Wings picked up centerman, Dominic Turgeon 63rd overall. There is no denying Turgeon had the makings of a great hockey player. In his final year with the Winterhawks he finished with a career high of 70 points.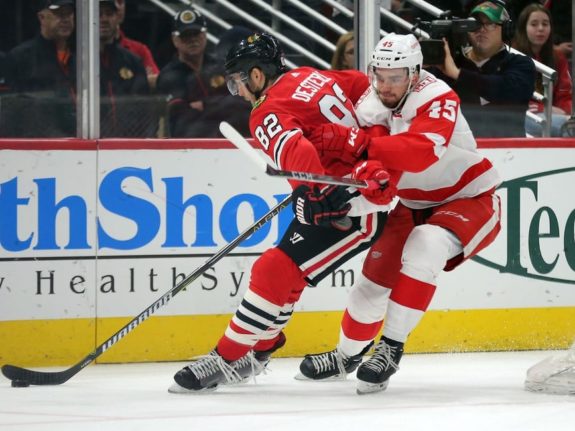 Brayden Point was also up for grabs in the second round. Point was picked up by Tampa Bay 79th overall. Prior to drafting, he was the owner of three consecutive seasons tallying over 80 points with the WHL's Moose Jaw Warriors. Point has completed two full seasons in the NHL so far, and last season, he finished with 66 points in the regular season, and earned an additional 16 points in 17 playoff games.
If we're going solely by the numbers, Point would have been the logical choice between the two, based on their junior performances. Turgeon is a very good skater, has incredible on-ice sense and is a top-notch special team center. However, Point is consistently present, strong, and producing.
The Wings were likely investing in future talent with Turgeon — allowing time for him to develop. That makes sense, and in Turgeon's case, he'll be worth the wait, I do believe. In the meantime, though, Point is continually a thorn in the Wings' side whenever the two teams go head-to-head, making him my choice for the team's biggest miss in the last five drafts.
Tony Wolak: Selecting Zach Nastasiuk
My first reaction to Detroit's missed opportunities at the draft was selecting Evgeny Svechnikov over Brock Boeser in 2015, but I'll give Svechnikov the benefit of the doubt since he is still young and I was ecstatic to see the Red Wings select him. Plus, Jacob will cover that draft mishap below.
In my opinion, Detroit's biggest draft blunder was choosing center Zach Nastasiuk in the second round back in 2013. When they chose the Owen Sound Attack forward, the Red Wings passed on the likes of Jake Guentzel, Pavel Buchnevich, Oliver Bjorkstrand, and Brett Pesce. Anyone of those players would be a valuable contributor for today's team. Meanwhile, Nastasiuk just left the organization to sign with Carolina's AHL team.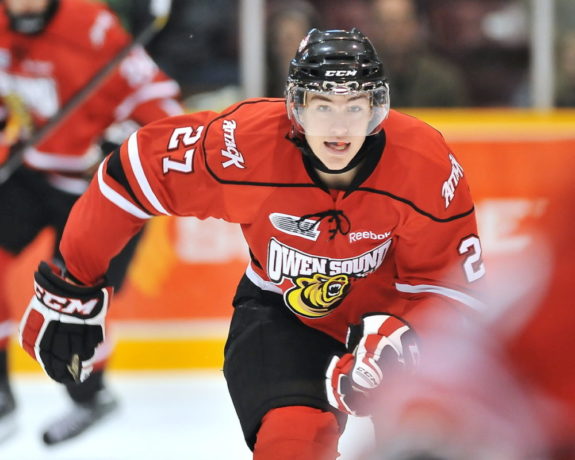 To be fair, Nastasiuk did come with a lot of promise then. NHL Central Scouting listed him as the No. 13 North American skater, three spots ahead of Vancouver's Bo Horvat, who would eventually go at No. 9 that year.
The others? NHL CSS listed Bjorkstrand at No. 36, Pesce at No. 40, and Guentzel at No. 80 (!) for North American skaters, and Buchnevich at No. 10 for European skaters.
While an intriguing prospect at the time — due to a 20-goal season and standout playoff performance — Nastasiuk just didn't develop into the middle-six forward that Detroit had envisioned. And, as a rebuilding team today, it stings Detroit to see the passed over players succeed elsewhere.
Jacob Messing: Missing Out on Brock Boeser
Heading into June 2015, the NHL Entry Draft was hyped up with game-breaking talent. Connor McDavid and Jack Eichel led the draft, but there has been no shortage of premier talent over the past three years.
In 2015, the Red Wings held the 19th overall pick, used to select Russian forward Evgeny Svechnikov. Svechnikov came with his fair share of expectations, as well, and had a strong rookie season with the American Hockey League's (AHL) Grand Rapids Griffins, scoring 51 points (20 goals and 31 assists) in 74 games.
Svechnikov earned a 14-game stint in 2017-18, appearing increasingly comfortable game by game, even as he registered just two goals and four total points. Still just 21-years old, the jury is still out on his NHL potential.
But, just four picks after the Red Wings called Svechnikov's name in 2015, the Vancouver Canucks selected a high-powered shot backed by some of the NHL's greatest hair.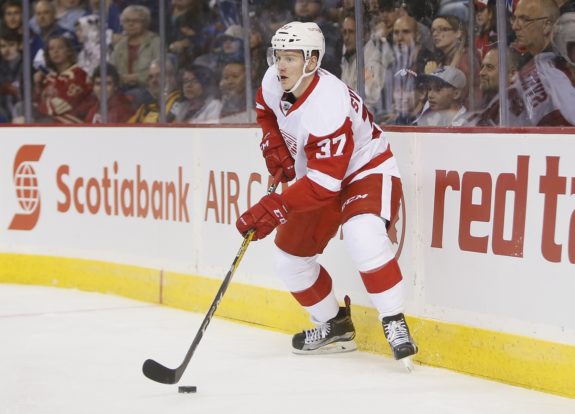 That player was none other than Brock Boeser, who already has 70 NHL games to his credit, with 33 goals and 60 total points. As a rookie, Boeser won the All-Star Game MVP and Accuracy Shooting competition. His finishing touch would have looked fantastic alongside the developing playmaking skill of Dylan Larkin.
Hindsight can be an infuriating thing, especially in sports. Truthfully, every team looks back with a sigh at some point, but they've all been on the other end, as well. If Svechnikov can continue to grow and show he deserved his draft position, the what-ifs will drop off and Red Wings fans will learn to love Svechnikov all the same.
I am a Detroit Red Wings prospect journalist for Access Hockey MI covering the Grand Rapids Griffins and Toledo Walleye prospect development. Draft analyst for USHL hockey with the Muskegon Lumberjacks.