Every fan base has favorite players. Frequently, those favorites are the kind of players that tend to go overlooked in the national media. The league's superstars get plenty of coverage. Everyone knows about Sidney Crosby, Alexander Ovechkin, Carey Price, and Erik Karlsson. But superstars need support, and the players who make these superstars look good are often undervalued. Let's take a look at each team's most undervalued player, those players who have a huge impact on their team, but tend to be overlooked by national media and rival fans.
Anaheim Ducks – Rickard Rakell
The Anaheim Ducks began their transformation for the future last season, but most still look past the young Swedish center Rickard Rakell as a centerpiece of their rebuild. A former 2011 first-round pick, he reached the NHL just one year after he was drafted.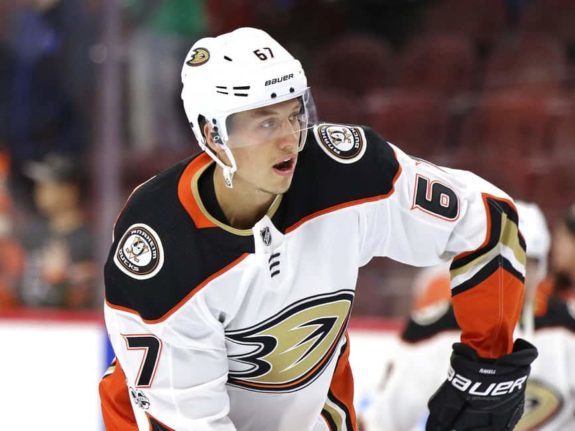 Last season was tough for Rakell, as injuries and the Ducks' struggles limited his points. But he had back-to-back 30-plus goal seasons the two seasons before that. His peak was 2017-18, though, when he scored 69 points in just 77 games. Additionally, he is on an extremely team-friendly contract. Ducks fans have realized just how valuable Rakell is to their future; perhaps the rest of the league will soon follow suit.
Arizona Coyotes – Vinnie Hinostroza 
When the Chicago Blackhawks dumped Marian Hossa's contract on the Arizona Coyotes, the chief incentive was receiving Vinnie Hinostroza in the deal. He validated the team's faith in him, scoring 16 goals and 23 assists in his first season of regular playing time.
Hinostroza had a relative Corsi for percentage (CF% rel) of 3.6, a statistic that indicates how well a team possessed the puck with a certain player on the ice when compared with his teammates' CF% scores, and Hinostroza was second, behind only Oliver Ekman-Larsson, among players with 50-plus games last season. The Chicago native is clearly adjusting nicely to his new home.
Boston Bruins – Jake DeBrusk
Considering what goaltender Tuukka Rask did for the Boston Bruins in the postseason in 2019 after years of a certain segment of the fanbase criticizing him, there's an argument for him to take this spot. But he's still recognized by most as one of the league's elite goaltenders.
Instead, the honor goes to Jake DeBrusk, who was sixth on the team in points with 42 in just 68 games. The 22-year-old former 14th overall pick hasn't quite established himself as one of the stars of the NHL yet, but his time is coming soon, and with him, the Bruins' future is in safe hands.
Buffalo Sabres – Evan Rodrigues
The Buffalo Sabres have had some difficult years recently, but things seem to be looking up after GM Jason Botterill began overhauling the roster last summer. One of the players who isn't a newcomer but could play a pivotal roll in the upcoming season is Evan Rodrigues.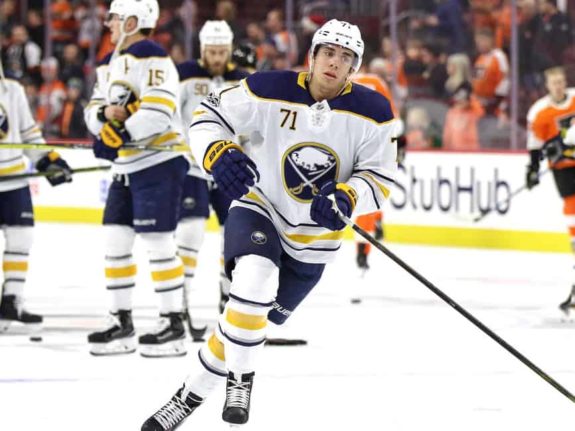 Rodrigues is a fast skater who served in a critical bottom-six role in 79 games last season, and he looks prepared to play an increasinly meaningful role over time. Rodrigues was a rare bright spot for the Sabres in 2018-19, and will look to continue to establish himself as the team grows into its new identity.
Calgary Flames – Sean Monahan
After years of waiting, Sean Monahan finally seemed to reach his potential as a star forward. The 24-year-old former sixth-overall pick broke out to a new level in 2018-19. But with the explosion of the entire team and the prominence of players like Johnny Gaudreau, Mark Giordano, and Matthew Tkachuk, Monahan's contributions faded to the background.
Still, he was second on the team with 82 points in 78 games. It was his third professional 30-plus goal season, an impressive feat at such a young age. He contributed a point share (PS), an estimate of the number of points in the standings one player was responsible for, of 8.9, trailing only Giordano and Gaudreau. If Monahan continues to play like this, the Flames will be a threat for many years to come.
Carolina Hurricanes – Jaccob Slavin
It is difficult to choose only one underrated player from the Hurricanes roster, as they have so many. One that stands out is Slavin: his impressive defensive game and puck-moving skills were on display last season and he can skate with the best of them. He also ranked second among defensemen and sixth at large in takeaways.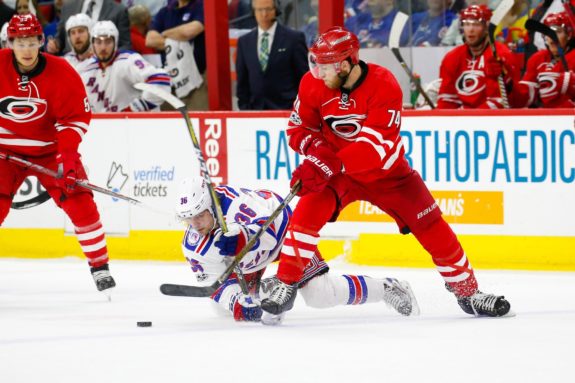 Slavin led the Hurricanes in time-on-ice, cementing himself as a centerpiece for the organization. Drafted in the fourth round back in 2012, he climbed up the ranks in an impressive prospect pool and earned a seven-year contract extension with an average annual value of $5.3 million.
In a few seasons, people are going to understand how good Slavin really is. Some already consider him a top defenseman in the league, but he was snubbed in Norris Trophy voting last season. If he can add more points to his stat sheet, he may well take home a few of those trophies in the future.
Chicago Blackhawks – Brandon Saad
Brandon Saad doesn't get much attention for his play these days, as he's more notable for being the other end of the trade that sent Artemi Panarin to the Columbus Blue Jackets. Critics who aren't focused on the trade focus on the $6 million dollar cap hit he will cost the organization for two more seasons.
With all of that against him, it's easy to understand why many overlooked the fact that Saad had something of a resurgence in 2018-19. His 47 points ranked sixth on the team and brought him much closer to his career norm than his first season back with the Blackhawks. Moreover, his 5.1 CF% rel was good for third on the team behind outgoing youngsters Dylan Sikura and Henri Jokiharju.
Saad is an easy scapegoat for disgruntled Blackhawks fans longing to return to the the Stanley Cup dynasty of a few seasons ago. But last year, his contributions were largely overlooked, even though he was much more like the Saad of old. As a result, he is arguably their most undervalued player.
Colorado Avalanche – Erik Johnson
Mikko Rantanen once took the title of the Avalanche's most underrated player, but after back-to-back 80-plus point seasons, the league has caught on. Even when Rantanen was lesser known, though, former first-overall pick Erik Johnson was there, one of the most undervalued players in the league.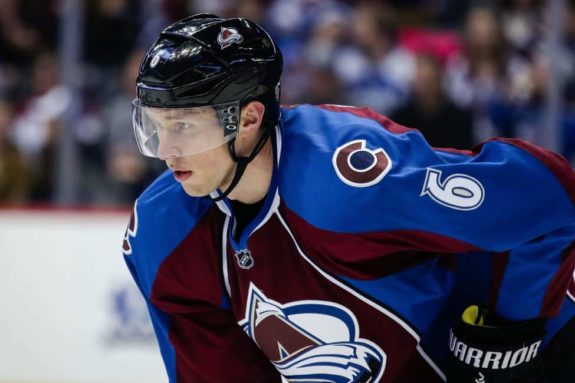 Considering his draft pedigree, many analysts have labelled Johnson a disappointment, but he is as steady as NHL defensemen come. Consider his 2017-18 season: despite missing twenty games, he still logged the 12th most shorthanded minutes in the NHL on the league's fourth best penalty kill. Johnson is indispensable to the Avalanche, as much as any other defenseman in the league. He deserves much more recognition than he gets.
Columbus Blue Jackets – Pierre-Luc Dubois
Pierre-Luc Dubois isn't regularly counted among the brightest young stars in the game, but that will soon change. The Blue Jackets shocked many analysts when they chose Dubois third overall in 2016 over Jesse Puljujarvi who was considered the consensus third-best prospect.
Three years later, and the Blue Jackets look like geniuses. The Swedish Puljujarvi hasn't yet made much of a dent in the NHL, while Dubois has 164 games and 109 points in two seasons. Management was undoubtedly more comfortable risking their future with multiple trade deadline acquisitions in 2019 because of young future stars like Dubois and Josh Anderson, who also warrants consideration for this list.
Dallas Stars – Miro Heiskanen
Speaking of players on the verge of a massive breakout, Miro Heiskanen was criminally overlooked in the 2018-19 season. The third-overall pick in 2017, he stepped right into the NHL as a borderline elite defenseman one year later.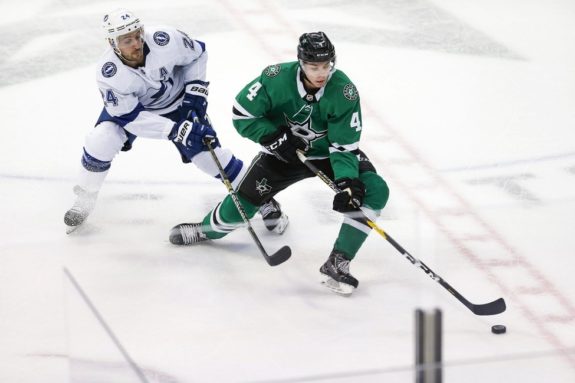 The Finnish blueliner put up 12 goals and 21 assists for 33 points in 82 games as a rookie and though his minus-14 isn't ideal, he contributed 6.5 point shares and was sixth on the team with a 3.8 CF% rel. Overshadowed somewhat by first-overall phenom Rasmus Dahlin, he was not a finalist for the Calder Trophy. But the pair will spend the rest of their careers trying to be the best 2018-19 rookie defenseman, and Heiskanen has the tools to win the race.
Detroit Red Wings – Anthony Mantha
Despite the recent struggles of the Detroit Red Wings, Anthony Mantha has quietly put up back-to-back 24 and 25-goal seasons. Selected 20th overall in 2013, the 24-year-old is poised to be an important veteran as the Red Wings rebuild around youngsters like Michael Rasmussen, Joe Veleno, and Filip Zadina.
Mantha's 2018-19 season was especially impressive. He put up 25 goals and 23 assists in just 67 games, and displayed an incredible 10.4 CF% rel, to lead the team. Dylan Larkin may steal the headlines, but Anthony Mantha is a hidden gem in the Motor City.
Edmonton Oilers – Ryan Nugent-Hopkins
Ryan Nugent-Hopkins was one of a series of three consecutive first-round picks for the Oilers, and the only one that remains in Edmonton. Yes, Taylor Hall went to the New Jersey Devils and won a Hart Trophy in short order, but that shouldn't discredit what RNH has accomplished in his career. He's eclipsed 40 points in six of his eight NHL seasons, and has topped 50 in four of those.
Last season was his best by far. He scored 28 goals and 41 assists, both career highs. He had 6.6 point shares on a team that only had 79 points. Though Connor McDavid and Leon Draisaitl are some of the league's elite forwards, no one should overlook the contributions of Nugent-Hopkins. He may be resented somewhat for his draft capital, but he shouldn't be faulted for being the top pick in a weak class. He's a very good NHL contributor.
Florida Panthers – Evgenii Dadonov
The Florida Panthers have the most underrated player in the league in Aleksasnder Barkov, according to the NHLPA's player poll. But he finished 10th in the NHL with 96 points and won the Lady Byng Trophy, so that may finally be changing.
Meanwhile, Evgenii Dadonov has put up two very strong seasons since returning to the Panthers from Russia. He put up 135 points in 156 games over the last two seasons, with back-to-back 28-goal performances. He has also only received 16 penalty minutes in that time.
Dadonov is one of the Panthers' many potent forwards, and Florida fans are hoping that the addition of Sergei Bobrovsky will be the bulwark the team needs for many seasons of extended success.
Los Angeles Kings – Tyler Toffoli
With star players like Drew Doughty, Anze Kopitar, Jeff Carter and Jonathan Quick on the squad, it's hard for Toffoli to grab some of the L.A. spotlight. Last season was something of a down performance for the 27-year-old, he still remains the best low-profile player in Tinsel Town.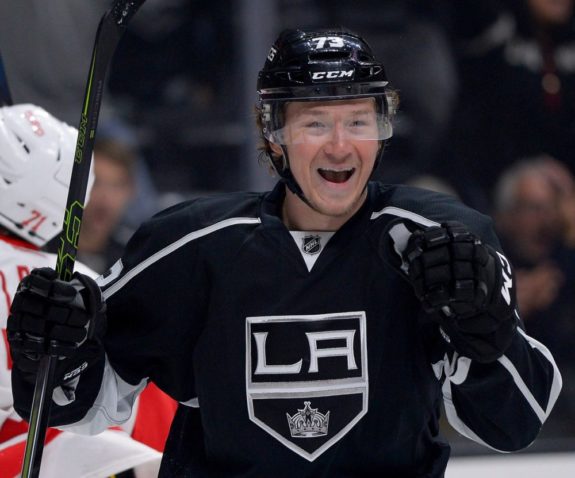 In 2018-19, Toffoli had just 34 points and was a minus-16 in 82 games. But the Kings were dreadful overall and Toffoli was arguably the best player on the team, leading the group with a CF% rel of 6.1. With just one season left on his contract, it will be interesting to see whether he re-ups with the Kings or looks for greener pastures elsewhere.
Minnesota Wild – Ryan Suter
Despite his massive contract and appearances for Team USA, Suter remains somewhat underrated and here's why: For the longest time, he's been at the top of the NHL in time on the ice and average time on the ice per game. He's been playing a shutdown role against opposing teams' top lines for his entire career while hovering around the 40-point mark.
It's a crime that Suter doesn't have a Norris Trophy to his name already, as he's been a workhorse on every team he's played for. No matter what situation he's put in, whether it's the penalty kill, power play or crucial even-strength situations, Suter is reliable.
Montreal Canadiens – Brendan Gallagher
Brendan Gallagher is one of the most quietly consistent NHL players anywhere. Five of his seven NHL seasons have seen him score 40-plus points, and he's surpassed 50 points and 30 goals in each of the last two seasons. He plays 16 minutes a night, and he has never had a CF% rel below 4.3.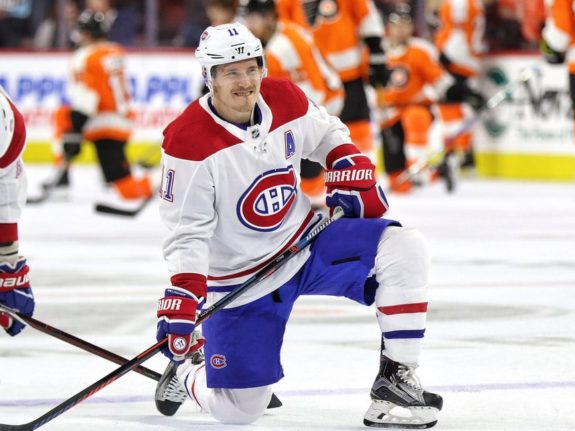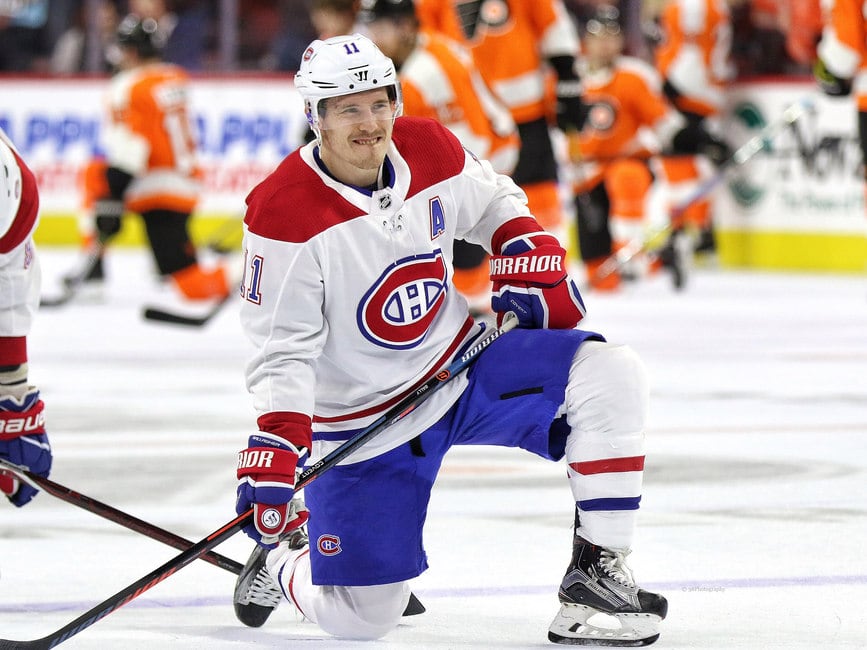 Gallagher may be diminutive, at just 5-foot-9, 181 pounds, but he brings a ton of talent to the ice. Additionally, at a cap hit of just $3.75 million per season for the next two years, he's an absolute steal for a Montreal franchise that is finally on the upswing. Gallagher is one of the more under-appreciated players in all of hockey.
Nashville Predators – Mattias Ekholm
Mattias Ekholm has long been an under-appreciated player with the Nashville Predators. A longtime member of the stout Predators' defensive core, he has faded into a background role behind Ryan Ellis, Roman Josi, and, before he was traded, P.K. Subban.
Last season, Ekholm set a career record and ranked second among Nashville defensemen in points with 44. Over the past five seasons, his plus-minus is a whopping plus-82, and he has never missed more than two games in any of those campaigns. Ekholm may not receive the same attention as his fellow Music City blueliners, but he is every bit as valuable, and at $3.75 million until 2021-22, he's an absolute steal.
New Jersey Devils – Nico Hischier
A number one overall pick is rarely undervalued (although we've already discussed another in Johnson). Still, Nico Hischier was shockingly overlooked in his rookie year. He posted 52 points and helped turn the Devils from an all but irrelevant squad into a playoff team. Taylor Hall even credited Hischier as a major factor in earning him the Hart Trophy.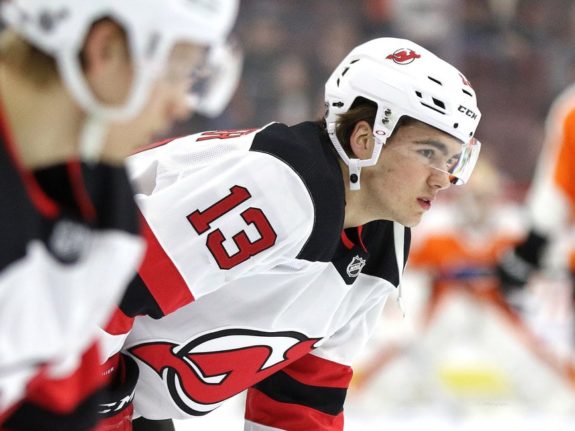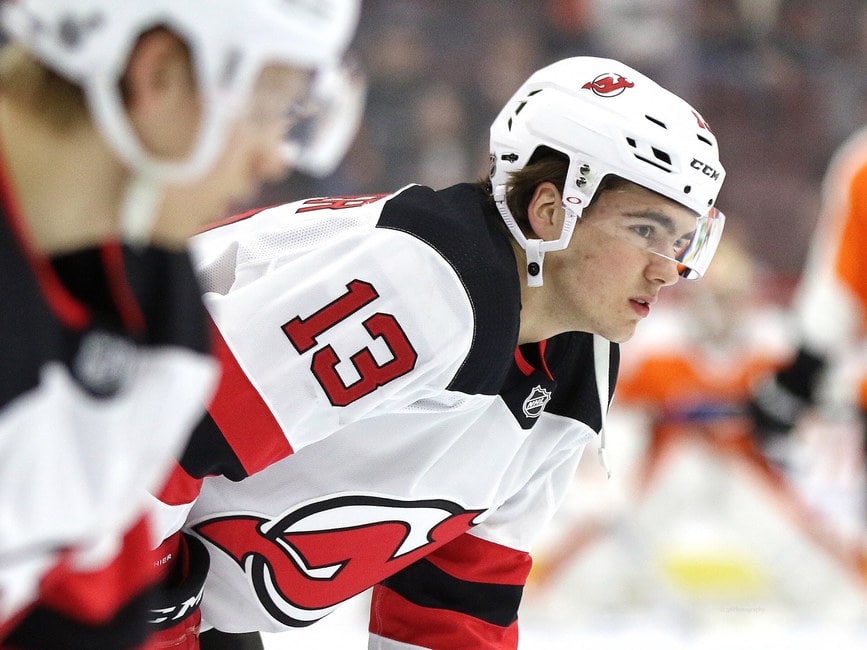 And yet, Hischier finished only seventh in the voting for the Calder Trophy behind a group of players who outscored him in points. He followed a strong rookie campaign by adding 47 points in just 69 games in the Devils' disastrous 2018-19 campaign.
Now, Hischier and new number one draft pick Jack Hughes will form one of the most potent pairings of young centers in the league. Of Hischier, Hall said it best: "He's a great young player, and he's going to be a great, great player for years to come."
New York Islanders – Anders Lee
Few 40-goal scorers have received less attention in recent memory than Anders Lee. As the whole Islanders franchise was preoccupied with the John Tavares drama, Lee quietly topped his 2016-17 34-goal performance by reaching the coveted 40-goal mark. He actually led the team, including the now-departed Tavares, in that category, following it up with a respectable 28 goals in 2018-19.
The Islanders honored Lee's commitment to the team by naming him captain in Tavares' place. But the relationship seemed troubled by free agency, when an Islanders captain had not re-signed with the team for a second straight season. The Isles averted disaster by locking down Lee on a seven-year deal, a proper reward for his years of steadfast service.
New York Rangers – 
Mika Zibanejad
When the Rangers sent Derick Brassard to the Ottawa Senators in exchange for Mika Zibanejad and a second-round pick, it was widely assumed that the Senators got the better end of the bargain. But Brassard has already moved on to Pittsburgh, whereas Zibanejad has become a fixture for the Rangers.
While the Rangers were completing a rebuild last season, Zibanejad quietly set a career high in points with 74, leading all other Rangers by 22. Now, with Artemi Panarin, Jacob Trouba, and Kaapo Kakko in the fold, the Rangers are poised for long-term success, and Zibanejad may well fade into the background. Make no mistake, he is a key part of the rebuild.
Ottawa Senators – Thomas Chabot
Last season, there was no question that Thomas Chabot was the best player to start and end the season with the Senators. So why is he on this list? Because he deserves to be numbered among the elite young defenders in the league.
Though he's earned the adoration of Senators fans, like superfan Brian 5or6, he isn't the household name around the league that he should be. His 7.5 point shares last season tied him with Jacob Trouba and Seth Jones, despite playing on a much worse team than either of them, and yet he remains a mostly unknown commodity. That is sure to change, but until it does, he's severely undervalued.
Philadelphia Flyers – Travis Konecny
Sean Couturier was a strong consideration for this spot, for many of the same reasons Chabot made the list. But that would be unfair to Konecny, who has quietly put together back-to-back strong seasons despite the Philadelphia Flyers' struggles.
Konecny has put up 47 and 49 points in the last two seasons, with 24 goals in each effort. He was also an important power-play contributor, averaging over 1:30 a game. And now, with Wayne Simmonds in New Jersey, Konecny should be poised to step into a much bigger role.
Pittsburgh Penguins – Patric Hornqvist
Hidden behind Sidney Crosby and Evgeny Malkin, Patric Hornqvist is arguably one of the best net-front presence players in the league. He has been tallying 50 points per season for a while. He was a 30-goal scorer in Nashville and has never scored less than 20 goals per season in a season when he played more than 70 games.
He has the ability to get under his opponent's skin and isn't afraid to go to the dirty areas to get the puck. Obviously, playing with Crosby, Malkin, Kris Letang and, until recently, Phil Kessel, Hornqvist doesn't see much of the spotlight, but he's still managed to produce; pretty impressive for the last pick in the 2005 NHL Draft.
San Jose Sharks – Marc-Edouard Vlasic
He finally got the raise he was looking for, but Vlasic still doesn't get his dues from other fanbases. His lack of production is what makes him overshadowed by his teammate Brent Burns, but Vlasic gets the job done in the defensive zone, playing the tough minutes against the best players from around the league and doing a very good job at shutting them down.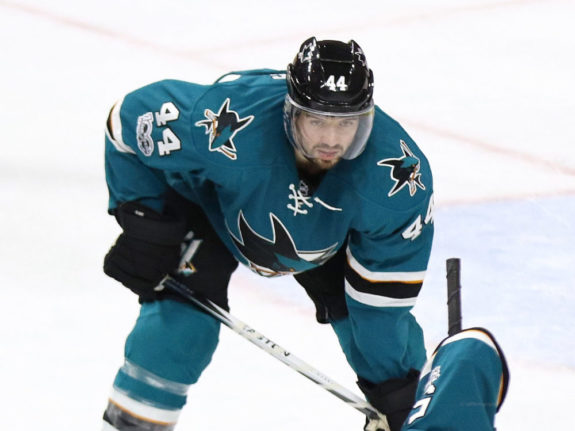 Other coaches and managers know just how good he is, which is why he represented Canada at the 2014 Olympics and 2016 World Cup and received an eight-year contract extension.
St. Louis Blues – David Perron
Jaden Schwartz has long been the St. Louis Blues' secret weapon, but last season was the worst of his career by far. So, for at least one season, David Perron will take his place.
The Quebec native holds a unique distinction: he has played for five different NHL teams, but has never signed a contract with any team but the Blues. So Blues fans should already appreciate Perron more than they do.
Last season, in the first campaign of his third stint with the team, he finished fourth in scoring with 46 points. He was one of the few players on the team with Stanley Cup Final experience, having lost it last season as a member of the Vegas Golden Knights. But this time, Perron changed the story, and helped the Blues capture their first ever Stanley Cup.
Tampa Bay Lightning –
Steven Stamkos
Is it possible that a former two-time Maurice "Rocket" Richard Trophy winner could be "undervalued"? Well, on a team that has elite superstars like Nikita Kucherov, Brayden Point, and Victor Hedman, he may be. Stamkos has missed significant time with injuries in his career, but when healthy, he's one of the league's unparalleled goal scorers.
Last season, Stamkos quietly amassed 98 points, his highest total ever, while being totally overshadowed by Kucherov's 128. It could be argued that no team, save maybe the Penguins, has two forwards as elite as Stamkos and Kucherov, but since it's now Kucherov in the spotlight, Stamkos can be tabbed as undervalued.
Toronto Maple Leafs – Morgan Reilly
Last season, it was Nazem Kadri representing the Toronto Maple Leafs on this list, and it would have been again had they not proved the point by trading Kadri to the Colorado Avalanche. While anyone who thinks Mitch Marner should make less than $9 million a season undervalues him, there's one player who surpasses him without question.
Even though Marner, Auston Matthews, John Tavares, and William Nylander steal all the headlines, there's a strong argument that Morgan Rielly is the most important player on the team. He leveled-up last season, surpassing his career high in points by 20 with 72. His 11.7 point share was 14th in the league and second on the team behind goaltender Frederik Andersen, who also could occupy this spot.
Vancouver Canucks – Bo Horvat
In back-to-back seasons, the Vancouver Canucks have had Calder Trophy finalists in Brock Boeser and Elias Pettersson, who won the award in 2019. So, it's easy to see why Bo Horvat, the young center who continues to improve each season in the NHL, is overlooked. At just 24, he already has four 40-point seasons to his name, and he set a new career high last season with 61.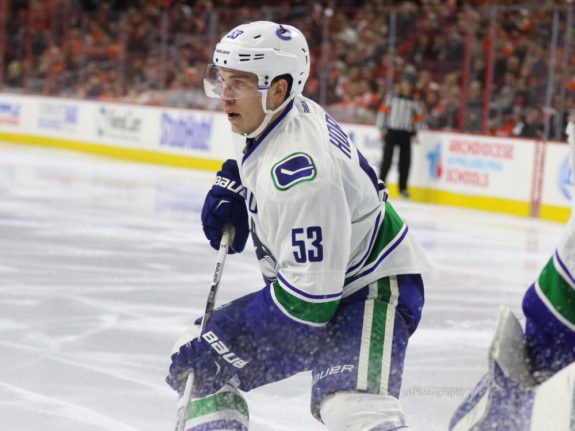 Horvant adds a strong defensive game to his offensive skills, making him a complete player. Vancouver is slowly turning it around with their prospects, but there is still a long climb ahead and Horvat is going to help carry the load as a top center for years to come. As his totals climb, so will his recognition around the league. He's just that good.
Vegas Golden Knights – Reilly Smith
Entering the Vegas Golden Knights' third season of existence, William Karlsson and Jonathan Marchessault are tied for the franchise lead in points with 134. But Reilly Smith is close behind with 113, after posting back-to-back 50-plus point seasons.
In his two seasons in Vegas, Smith has 28 power-play points and is a plus-44. Both Smith and Marchessault arrived with the Knights from the Panthers in one of the most controversial player movements of the last expansion draft. Now, they are two centerpieces of the Golden Knights' forward corps, and Florida is left wondering what might have been.
Washington Capitals – Nicklas Backstrom
Nicklas Backstrom is the reason lists like this exist. He finished last season with 873 career points and, at just 31, it seems likely he'll shatter the 1,000 point threshold. Still, he's played second fiddle his whole career to scoring superstar Alex Ovechkin and now even younger players like Evgeny Kuznetsov.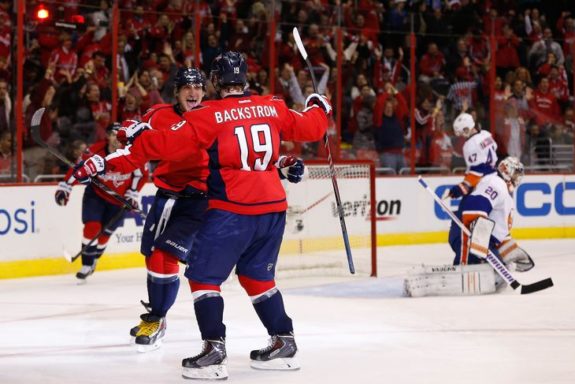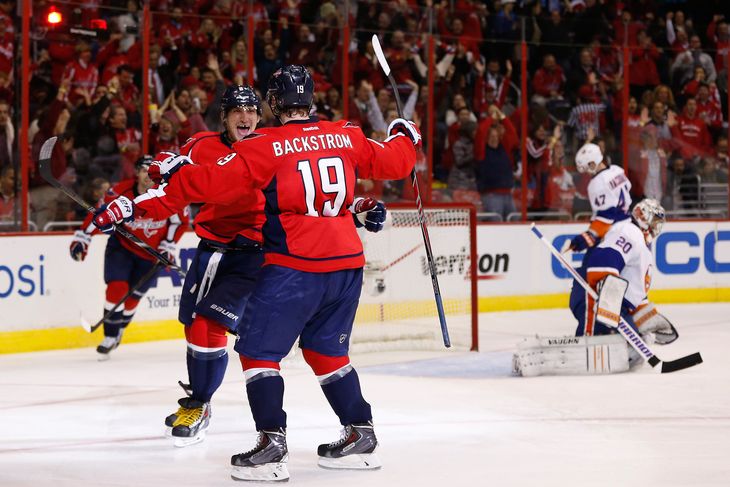 The Swedish center seems nonplussed, though, as he continues to put up 70-point seasons (something he's done each of the last six years). Besides, Backstrom will probably trade a higher profile in the league for the Stanley Cup he finally won in 2018 any day.
Winnipeg Jets – Blake Wheeler
Blake Wheeler has led the Winnipeg Jets in points three of the last four seasons. He has a rare combination of size, speed and skill that all come together to make him one of the most well-rounded players in the NHL, which he's proven by putting up back-to-back 91-point seasons. He's represented the US at almost every international tournament and is one of the best leaders in the league.
There's little question at this point that Wheeler is the best player on the Jets. And yet, he's overshadowed by youngsters like Mark Scheifele, Patrik Laine, and Kyle Connor. That won't stop him from continuing to play at an elite level; it is the definition of "undervalued" for a 91-point player to be overlooked as one of the top players in the league.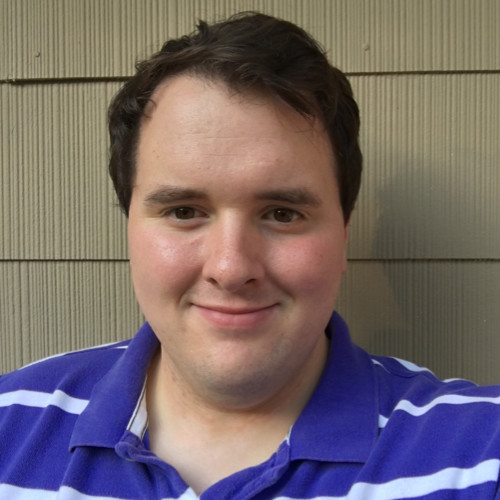 Stephen Ground is a veteran of over three years at THW, focusing on the St. Louis Blues, NHL goaltending, and the annual World Junior Championship. He is the co-host of the Two Guys One Cup Podcast, a hockey podcast focused on the Blues.