In an environment where management sometimes receives criticism for not being willing to spend money to improve, the Carolina Hurricanes did an excellent job extending the contract of defenseman Jaccob Slavin on Wednesday. According to the Hurricanes' press release, the team and Slavin came to terms on a seven-year contract extension that will begin during the 2018-19 season and has an average annual value of $5.3 million.
Securing Slavin Part of Offseason Priorities
In an offseason that has seen executive vice-president and general manager, Ron Francis, make a variety of moves to get his young squad playoff ready, he possible made his most significant move in securing Slavin for a long time.
Francis was quoted as saying, "We think Jaccob is one of the best young defensemen in the National Hockey League. We think he has tremendous upside in addition to that. He's also a man of extreme character. Both he and his wife, Kylie, do an awful lot in the community already at their young age, and I know that will continue. We are thrilled to have him as part of our organization moving forward."
Slavin was also quoted in the team's release as saying, "It's definitely been a really fun journey and experience so far. There's eight more years here, and we're definitely looking forward to that."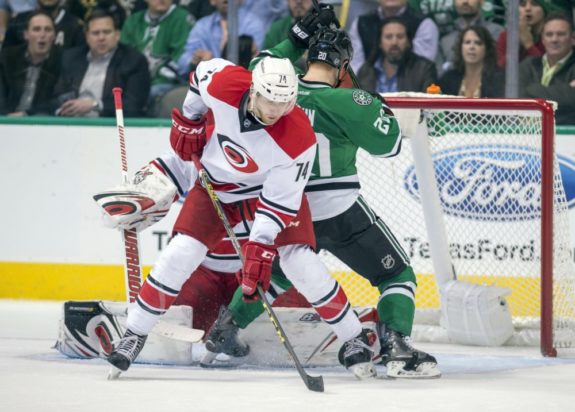 The NHL, and its varied observers, have increasingly been noticing Slavin and usual linemate, Brett Pesce, as a formidable defensive pair. In December 2016, Matthew Barlowe wrote for cardiaccane.com that he had recently started looking at the two as a pair, and was delighted with his findings. Barlowe wrote,
As I noted…this is the first time I've looked at Slavin and Pesce as a pair as my other analyses focused on each player as an individual.  But when you combine the two they still shine like the crazy defensive diamonds they are.
But, Marlowe was not the only 'Canes observer taking notice of the two. Also in December 2016, Peter Dewar wrote a post for canescountry.com that highlighted Slavin and Peace as the Hurricanes' best defensive pairing. Dewar wrote,
The secret to their success obviously lies rooted in natural talent, but it's impossible to ignore the benefits of the chemistry between the two. You can pick any two defensemen in the League and put them together, but unless they can adjust to the tendencies of one another and, at the very least, tolerate each other, they will not be successful. Carolina has won the lottery in that regard.
Familiarity breeds contempt is an old axiom, but in the case of Slavin and Peace, it has bred a top-NHL defensive duo. Slavin has gotten an excellent contract that assures fans of the Hurricanes that at least one-half of that pairing will be around for a long time. According to capfriendly.com Peace is still playing at a cap hit of around $809,000 on a two-way contract. That will likely change in the near future, as he has one year left on that deal.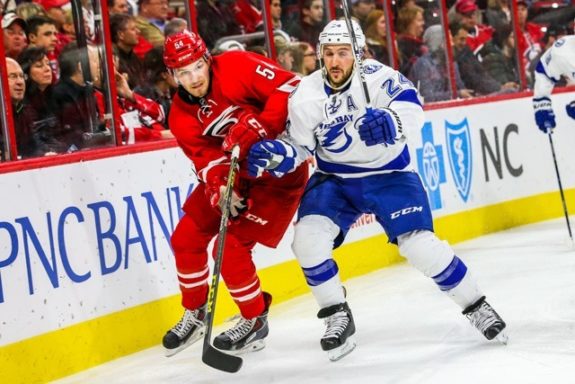 Slavin, Character and Leadership
Also in the team's release, Slavin said, "We love it here, and we definitely made it a home ever since we first got out here. The people we've met through the church and all the friends we've made, we have family out here now and it's been awesome."
Slavin is a man of faith and while not wearing it on his sleeve, does not shy away from his relationship with God. As I wrote last April in "Hurricanes' Slavin: Believer on Ice" Slavin's faith is well-known. Slavin said, "Oh yeah, guys in the locker room don't give me too hard of a time about it. They obviously know what I stand for. I mean I don't stand in the locker room preaching the Bible, but, I'm definitely going to stand for what I believe in and live it out the best I can on and off the ice."
What sets Slavin apart off the ice is that his faith is genuine, as Francis pointed out in the team's release:
Jaccob is part of that young leadership group we have in the room. As he said and we've come to know over the years, his character is outstanding, He's got high morals. He's not going to change or be drawn into anything he doesn't want to be a part of. We think he's on very solid ground in that regard. He will be a leader in that locker room with our young players moving forward, no question.
Obviously, the Hurricanes are a young team, and adding a player like Justin Williams in the offseason will go a long way in providing leadership for the team. But, Slavin is also leading and doing so by example.
Mark lives in the Raleigh, NC area and covers the Carolina Hurricanes.