As the Vegas Golden Knights have progressed through the 2018 Stanley Cup Playoffs, the hockey world has taken notice of the seemingly inexplicable actions of the Florida Panthers that paved the way for the most successful expansion team in National Hockey League history.
For the uninitiated, Jonathan Marchessault was left exposed for Vegas to select in last summer's expansion draft, on the condition the Golden Knights also take on fellow forward Reilly Smith.
In return, the Panthers received nothing but Vegas' fourth-round pick in 2018.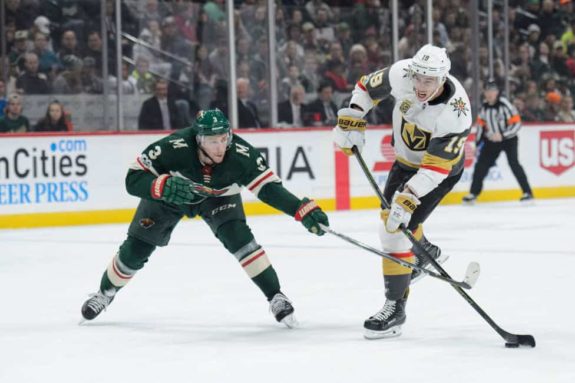 Marchessault went on to finish second in team scoring with 27 goals and 75 points in 77 games for the Golden Knights, while Smith ranked fourth with 22 goals and 60 points in just 67 games.
The pair have continued their strong play in the playoffs, with Marchessault leading the Golden Knights with 18 points (including eight goals, also tops on the team) in Vegas' 15 games, while Smith is a close second with 16.
Related: Golden Knights Bandwagon Easy to Hop On
Not surprisingly, Florida's handling of the expansion draft looks worse with each passing day.
Some have defended the Cats, with explanations ranging from the well-reasoned to absurd attempts to curry favour.
Regardless, it absolutely boggles the mind how any organisation, let alone a professional sports franchise worth hundreds of millions of dollars, could make such a poor decision.
Nevertheless, here are three theories that try to explain it.
Criteria and Qualifications for Evaluating the Panthers
But first, let's lay down some ground rules.
As with any decision, it's only fair the Panthers be judged primarily on what they knew leading up to the expansion draft. Though their actions look especially idiotic with the fantastic seasons Marchessault and Smith have had, it's not fair to apply the full force of these developments to the evaluation of the decision. Of course, one could argue the Panthers employ a group of professional talent-evaluators and, thus, they should have seen this coming. However, scouting is an inexact science, so some slack is warranted.
Next, given the tumult that's surrounded the Panthers the past couple years, one has to wonder whether it's fair to place all the blame on general manager Dale Tallon. Certainly, Tallon wears the fallout of the deal but, one would imagine he would have at least consulted owners Vinnie Viola and Doug Cifu, who have proven to be very hands-on in the past. Given the owners' history, it's not exactly a stretch to suggest they might have had at least some hand in the deal.
Furthermore, it should be noted the epic dismissal of then-head coach Gerard Gallant – who now coaches the Golden Knights, along with some other former Panthers staffers – was not at the behest of Tallon, given that he wasn't actually the GM at the time. Though Gallant was fired by the owners, it was Tom Rowe who was serving as GM, before sliding behind the bench to replace Gallant. Rowe had only ever been a coach before being named GM in Florida and, lo and behold, he ended up taking over as coach. What a coincidence!
Don't forget, it doesn't end with Marchessault and Smith. It's Gerard Gallant. Video coach Tommy Cruz. Assistant Mike Kelly. And so on. These Knights have the Panthers to thank. There's no hiding from it.

— Scott Wheeler (@scottcwheeler) May 19, 2018
Finally, let's not make this another Old-School™ versus Computer Boys™ debate. Both sides played significant roles in the inexcusable incompetence of the Panthers the past couple of seasons. That said, it's important to note the former camp certainly seems to have been in charge at the time of the expansion draft.
So, with that out of the way, let's get to it.
Theory #1: Tallon's Great Gamble
This theory poses that Tallon suspected neither Smith nor Marchessault could be relied upon for consistent production and, thus, were not going to be good long-term investments. Instead, Tallon gambled that protecting the likes of Alex Petrovic, Mark Pysyk and Nick Bjugstad, along with preserving Florida's somewhat-depleted stock of draft picks, would be the better bet.
The Rationale
Smith had been signed to five years and $25 million in the summer of 2016, coming off a career-high 25 goals and 50 total points in the 2015-16 regular season. He was also easily the Panthers' best player during their six-game playoff loss to the New York Islanders that spring, notching four goals and eight points.
That said, Smith had been an up-and-down player up until that point in his career, a reputation seemingly validated by a dreadful 15-goal, 37-point season on the heels of his breakout campaign. With his new contract yet to kick in, it's no surprise the Panthers were looking for a way out.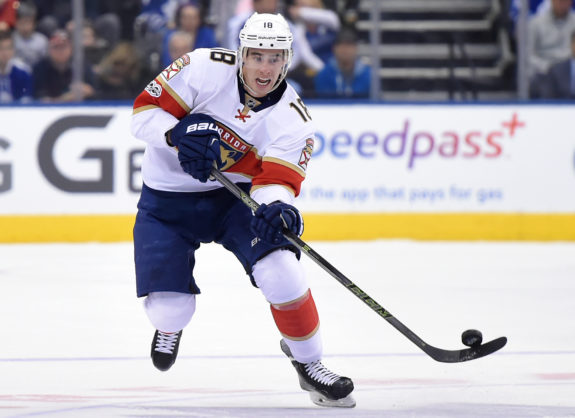 As for Marchessault, he went undrafted and bounced around the minor leagues before getting a 45-game audition for the powerful Tampa Bay Lightning in 2015-16, where he tallied seven goals and 18 points.
Then, after joining the Panthers ahead of the 2016-17 season, Marchessault potted 30 goals and racked up 51 total points. However, Marchessault's shooting percentage was rather high, at 15.5 percent, and he was second-worst on the Panthers with a -21 plus/minus rating. Furthermore, it could be argued he only really received the opportunity to play as much as he did due to the Cats being significantly banged up for much of the year.
Plus, the Panthers knew University of Denver standout centre Henrik Borgstrom would be ready in short order and that, with their 10th-overall selection in the 2017 NHL Entry Draft, they had a shot at getting another very good player (they ended up selecting scoring winger Owen Tippett). Tallon also said he felt it necessary to build the team from the blue line out.
Why It Doesn't Make Sense
Like many Panthers, Smith had a miserable year in 2016-17 due to a combination of a low shooting percentage and the coaching change which brought in Rowe's thoroughly ineffective style of play.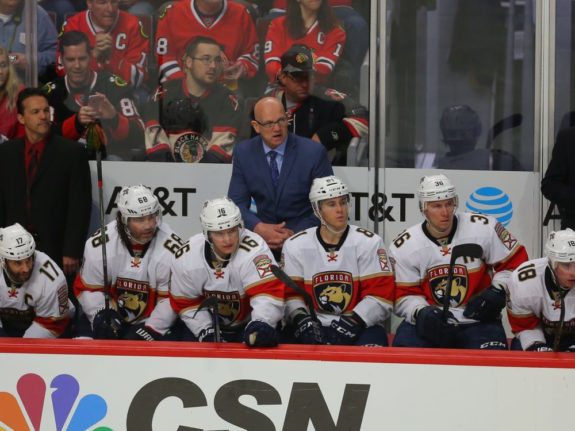 Yes, Smith's career hasn't been the most consistent and yes, $5 million was probably a little much for him at the time. However, Smith had already proven more than capable of scoring regularly at the NHL level. The Panthers must have known that, with the departure of Jaromir Jagr and the pending buyout of Jussi Jokinen, their ability to score beyond their top line would be already be sorely lacking. Overpaid or not, getting rid of Smith was a mistake anyone could spot from a mile away.
In Marchessault's case, no one with any credibility can, with a straight face, cite plus/minus as a strong indicator of the quality of a player. Besides, if there were concerns about his defensive game, the organisation could have worked with him to improve. Defense can be taught; offensive instinct cannot.
The Panthers were also terribly unlucky last season (their team shooting percentage was abysmal much of the year) and should have scored far more goals, meaning Marchessault's stats probably should have looked even better than they did.
Marchessault was found money and one of the few bright spots in a Panthers season full of chaos and disappointment. Signed as a free agent, he cost the Panthers nothing to acquire, made only $750,000 and proved to be a very good offensive player.
This isn't at all similar to the William Karlsson situation, where both the Anaheim Ducks and Columbus Blue Jackets couldn't figure out how to put a young player in a position to flourish. At the time of the expansion draft, Smith and Marchessault were established scorers with the speed and finesse to succeed in the modern NHL, along with the proof of concept for doing so.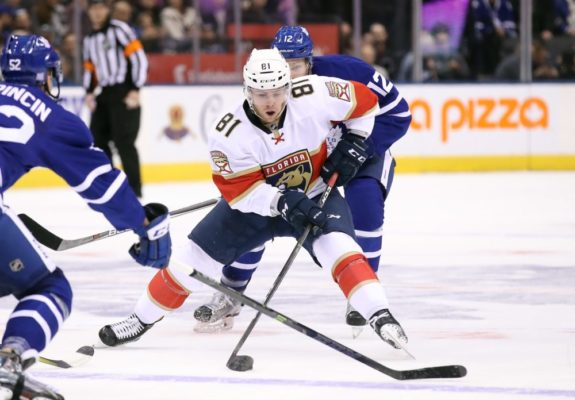 Instead of holding on to such proven talent, the Panthers decided that hoping and praying their prospects, along with Tallon's ability to draft and develop – which isn't quite as impressive as advertised, would be better options than relying on Smith and Marchessault to replicate their past production.
That's a hell of a gamble. Florida lost badly in the first year of said plan, and a lot of things will need to go right for the Panthers to even come close to breaking even on the deal.
Related: Capitals vs Golden Knights: A Winner for Everybody
Theory #2: The Salary Dump
A second theory involves the Panthers being unwilling to pay $5 million per season for Smith, and unwilling to pay Marchessault, should he have replicated – or even exceeded – his 2016-17 production in the final year of his contract.
The Rationale
As mentioned, Smith's 2016-17 left much to be desired, so it's no surprise the Panthers were less than enthusiastic to start paying him $5 million this season.
Additionally, Marchessault was heading into the final year of a contract that paid him a paltry $750,000 per year season – one of the truly incredible contracts (from the team's point of view) in recent memory. However, he would have been an unrestricted free agent at the end of the year and, if he scored at a pace similar to that of 2016-17, he would have commanded a hefty sum on the open market.
For further context, the Panthers were reportedly under an "internal mandate" to cut spending, meaning Tallon was no doubt scrambling for simple ways to shed payroll.
Jokinen buyout saves #FlaPanthers $1.2 million in real cash, $2.7M on cap this yr + next. Gets them closer to internal mandate to shed $10M.

— Frank Seravalli (@frank_seravalli) June 30, 2017
Why It Doesn't Make Sense
This might be the most viable excuse the Panthers have for ditching Smith. Given what they knew at the time, it wasn't totally unreasonable for them to want to get rid of that contract. Yes, he had established himself as a competent NHL contributor, but $5 million was a little stiff at the time of the deal, and no doubt seemed especially so after a dismal 2016-17.
However, using Marchessault as the bait was utterly ridiculous. You're telling me no team wanted anything to do with Smith? You're telling me there was no deal out there for a forward who plays in all situations and reliably scores 40 to 50 points? You're telling me there was no way to throw in a draft pick or retain salary to tempt a team to take him? Could the Panthers not have kept Jokinen, who only had one year remaining on his deal, and simply bought out Smith, instead?
Come on, now.
As for not wanting to pay Marchessault, I do sympathise with the Panthers. Isn't it just so awfully bothersome, having to pay good players? I mean, what kind of twisted organisation wants to retain talent?? Absolutely unheard of! Preposterous, I say!!
Basically, in not wanting to pay either of Smith or Marchessault, and not wanting to lose the latter in free agency for nothing, the Panthers gave both of them away for a fourth-round pick. If you find a world in which that makes sense, please let me know.
What makes this whole situation even stranger is the fact that, as mentioned, the Panthers chose to protect Bjugstad, a player who's never quite lived up to expectations – and certainly not his salary; he makes $4.1 million against the cap until 2021 on a deal that only gets worse towards the end.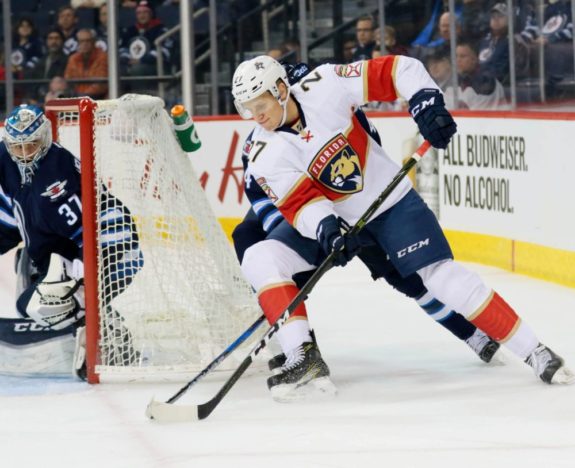 The Panthers also proved perfectly willing to take on salary, adding Evgenii Dadonov (three years at $4 million per season against the cap) and Radim Vrbata (one year, $2.5 million, with the chance for an additional $1.25 million in performance bonuses) during the offseason, and re-signing defenseman Mike Matheson to an eight-year, $39 million contract ($4.875 million against the cap each year) during the year.
Clearly, money was not the issue. It appears, then, that the contracts of certain players were what irked the Cats. As mentioned, such doubts were understandable, to an extent. But you can't just give away two of your top scorers and come away with nothing but a fourth-round pick. You just can't.
Theory #3: Tallon Takes Care of His Own
The third and final theory involves Tallon showing preference towards players he himself brought into the Panthers organisation.
The Rationale
As mentioned, Florida inexplicably protected the struggling Bjugstad. However, Bjugstad was a first-round pick of the Panthers back in 2010, Tallon's first draft with the squad. Petrovic was another recipient of expansion-draft protection, a curious choice, given his role as a bottom-pairing defenseman. Petrovic was also selected by Tallon in the 2010 draft.
Conversely, though Smith was brought to South Florida by Tallon in what was a very astute trade, Tallon was not the GM at the time Smith signed his extension. The Computer Boys authored Smith's new deal, and were responsible for finding Marchessault, too. It's just a little too convenient that two players signed by the short-lived, analytics-heavy regime that briefly usurped Tallon back in the spring of 2016 were the ones jettisoned in the expansion draft.
This theory is further strengthened by the horrendous trade involving Jason Demers – another Computer Boys acquisition, for whom the Panthers received only Jamie McGinn in return, while retaining some of Demers' salary. Like Smith, Demers might have been slightly overpaid, but the Panthers were desperately short of quality defensemen this past season, with no immediate remedy in sight going forward.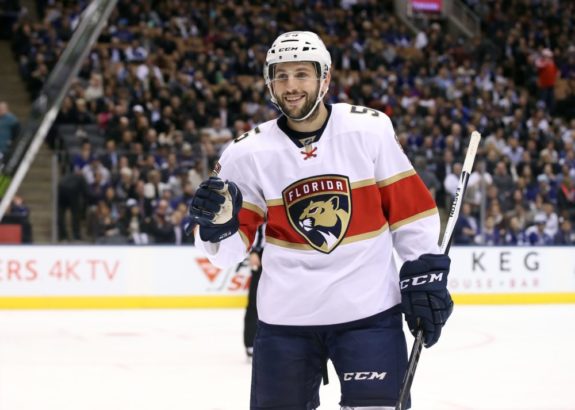 Given how inexplicable this trade was, it's not unreasonable to suggest Demers, like Marchessault and Smith, was a victim of Tallon simply wanting to rid the Panthers of any and all traces of the regime that displaced him.
It certainly seems the Panthers had ample opportunity – with multiple outs – to avoid this set of circumstances. So, the question needs to be asked: Why didn't they?
Why It Doesn't Make Sense
No, I don't wrap myself in tinfoil to leave the house, why do you ask?
True, this theory does involve a certain amount of imagination. Either a seasoned NHL executive with 20 years of experience let his judgement be clouded by his feelings (some have called it "spite"), or else he legitimately thought the players he personally vetted were better than the alternatives. Whatever way you interpret this theory, it's certainly a big jump to an unprecedented (if true) conclusion.
However, from an outsider's perspective, with nothing else but observations to go on, and considering all the information the Panthers would have had at their disposal to make their expansion draft decision, is this theory not the most plausible of the three?
Related: Did Vegas Steal the Panthers' Cup Run?
Panthers Contending With Expansion Draft Consequences
At the end of the day, we're all just outsiders looking in on one of the most fascinating organisations in the NHL. Maybe there's a simple explanation we just don't know about. Or maybe the truth is even stranger than we ever thought possible. We might never know.
What we do know is that the Smith-Marchessault situation reflects poorly not just on Tallon, but on the Florida Panthers as a whole. It was shockingly bad asset management, the likes of which the NHL has rarely seen.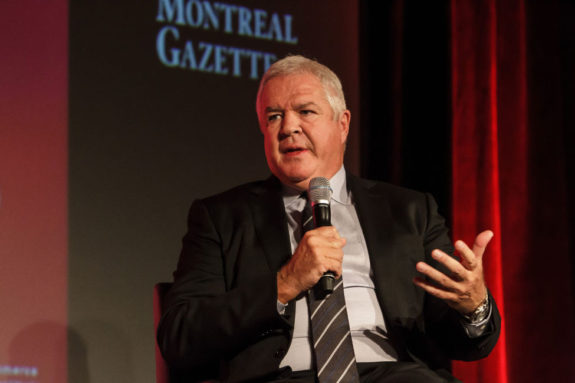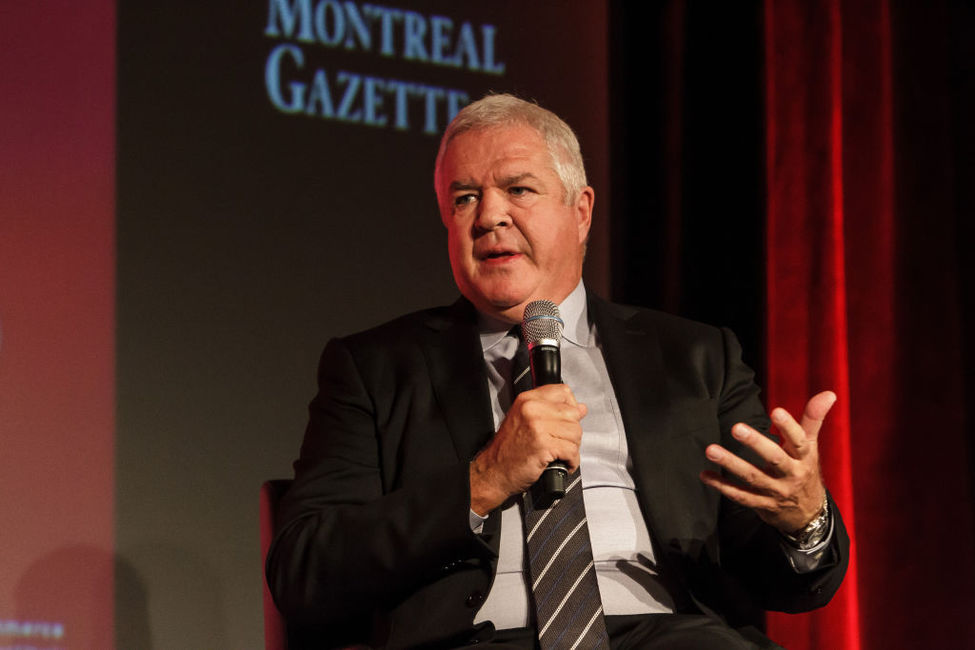 No theory can soften the blow; the Panthers gave up two top-six – at the very least – forwards in exchange for nothing but a fourth-round draft choice. It was a terrible decision at the time, and only looks worse now.
Thankfully for the Panthers, they'll have another kick at the can once Seattle enters the league; who knows, at the next expansion draft, maybe another team will do something even worse!
Regardless, the Panthers now have to live with the fact they unquestionably made one of the worst decisions in NHL history, the repercussions of which will be felt for years to come.