What's The Grind Line? Apart from the once-famous line of Kris Draper, Kirk Maltby, and either Joe Kocur or Darren McCarty, The Grind Line is also The Hockey Writers' weekly column about the Detroit Red Wings. Jacob Messing, Rachel Anderson, and newcomer Jake Nagy are the muckers who make up THW's forechecking unit and sound off on Red Wings topics.
---
The Detroit Red Wings surprised many with a 7-1 preseason record, backed by consistent strong play from top prospects, a few roster locks, and a handful of exhibition MVP candidates.
Exhibition play was a fun showing of the future for many Red Wings fans. However, the likelihood of the team's success spilling over into the regular season is minute, as the Red Wings still have a few steep steps to take before a winning future arrives in Detroit.
Still, the bright spots are worth talking about, and this week The Grind Line dives into which player has been the Red Wings' MVP after eight preseason games.
Jacob Messing: Dennis Cholowski
An off-the-radar pick in 2016, the Red Wings selected Cholowski 20th overall after trading down four spots to unload the final year of Pavel Datsyuk's contract — coincidentally passing on a highly-touted defenseman in Jakub Chychrun. Labeled a stretch by some, the then-undersized Cholowski has come a long way since then, adding muscle and height to help balance his strong two-way game. He entered training camp at 6-feet and 194-pounds.
Cholowski carried a monster performance at the Traverse City Prospects Tournament to the preseason. He showed his ability, recording seven points (two goals and five assists) in six games. The 20-year-old added a plus-five rating and 10 shots on net while averaging 22:55 of ice time per game.
For you @DetroitRedWings fans that haven't been focusing on the preseason much, Defenseman Dennis Cholowski (one year at St. Cloud State, Juniors last year in WHL) has been really good and will make the Wings opening night roster. Silky, Saucy backhander right here tonight. https://t.co/NugdpvKV8J

— Bucci Mane (@Buccigross) September 29, 2018
Cholowski's skating range and instinct helped him contain all-star opponents, seemingly with ease, as he went up against players including Patrick Kane, Evgeni Malkin, Phil Kessel, Auston Matthews, and John Tavares. Following John Buccigross' prediction, Cholowski did in fact play his way onto the opening night roster and has shown he could be the savvy puck-moving defenseman Detroit has missed since Nicklas Lidstrom.
Rachel Anderson: Vili Saarijarvi
Saarijarvi didn't play every preseason game, but his potential and growth are obvious. He accumulated six shots on goal throughout the exhibitions, along with two goals. His two-way game is refusing to let him get lost among the other great defenders vying for roster spots. His skating is tight and his passing has been spot on. Despite not playing every game, Saarijarvi's accuracy and boldness were noticeable.
Finding himself among the headliners in the preseason finale against the Toronto Maple Leafs, Saarijarvi has definitely laid claim to any future roster spots following the 2018-19 season. According to Helene St James of the Detroit Free Press,"He looks like he can play at the pro level." He's physical and consistently one of the hardest workers on the ice.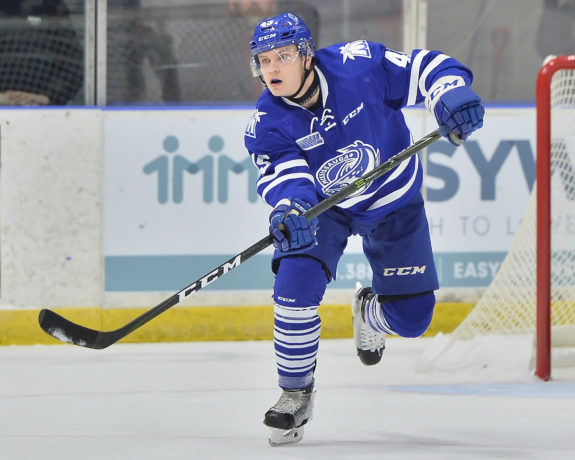 He's proven he can defend against the biggest guys and utilize his size and the space effectively — much like Joe Hicketts. With his work ethic, Saarijarvi will improve at the AHL level this coming season. I would be surprised if we don't see him on the Red Wings roster for good in the next season or two.
Jake Nagy: Andreas Athanasiou
Avoiding another offseason of drama-filled contract negotiations, Athanasiou inked a two-year, $6 million contract this summer in an effort to prove his worth to the Red Wings and the rest of the league. Critics have argued that his game is one-dimensional, pointing out his lack of effort on the defensive side of the ice — but those naysayers have been silenced as of late.
Throughout the preseason, AA showcased the dazzling speed and finish Red Wings fans are accustomed to, but so much more. During the Red Wings 8-6 victory over Chicago, Athanasiou finished with two goals and two assists, displaying a well-rounded, inspired game. While on a penalty kill, he stripped the puck from two-time Norris Trophy winner Duncan Keith, deked him, and threw a perfect pass to Larkin for a shorthanded goal.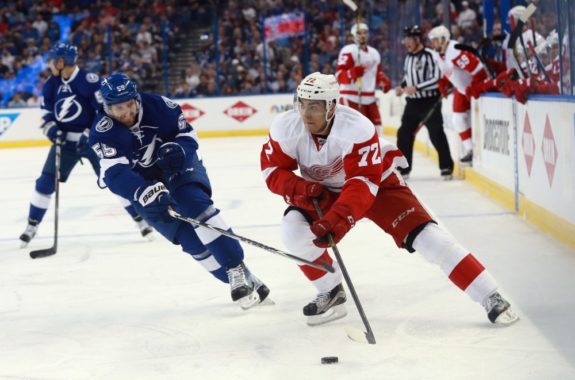 With six points (four goals and two assists) in just four games, there's no doubt the player known as  "Double A" is motivated and prepared to fill in a massive gap at center left by Henrik Zetterberg's long-term injured reserve retirement.
This kind of effort is what coach Jeff Blashill has been calling for in Athanasiou, and he answered emphatically this preseason. His chemistry with former linemate Thomas Vanek could boost him to a career high offensive season and finally showcase how talented a player he can really be on both ends of the ice.
I offer opinions and insight on the Detroit Red Wings organization and its prospects.